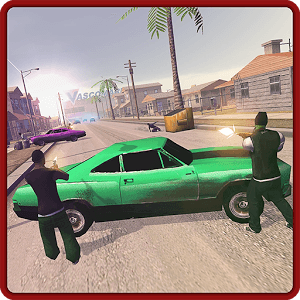 California Straight 2 Compton
EXPAND YOUR GANG TERRITORIUM AND RULE THE HOOD!
Your gang has been in hard times but now you are back, and ready to bring your gang the San Andreas Thugs back on the map. You have been locked up for some time, five long years behind bars. Surviving the gang wars going on inside the prison facility. But today they put you back on the street, arriving home you see your old neighborhood is been taken over. It seems your main rivals from the past have most of the hood under control. They call themselves the hood dogs basterds, you see there gang colors everywhere. Its time to prepare yourself and to take back what was once yours.

HOW TO TAKE OVER THE DIFFERENT AREAS OF THE HOOD,
To take over an area you need prepare yourselves in a good way, buy the right guns and ammo to make sure you will not run out during a gunfight. The hard part of the gang wars is taking over the parts of the hood one by one. You need to make sure you take on the gangsters with the right amount of weapons and ammo. To start a gang war you need to shoot two rival gang members in the same area, then a gang war automatically starts and you need to survive and take out all the gangsters in that area to take over that part of the hood.

WATCH OUT THAT YOU DON'T GET SHOT IN THE GANGWAR
What happens if you die during a shoot out, then you need to start over again. You can try later on to take over the same part or go for another gang hood area.

CALIFORNIA STRAIGHT 2 COMPTON GAME FEATURES:
Look for the right gun and take over the hood
Buy guns, cars and rule the streets of the hood
Try to control 100% of the neighborhood
Check out the different rides and guns in the store
Earn money and provide yourself with best guns and ammo around

Please give us some support by rating California Straight 2 Compton on Google Play or following us on:
Facebook - https://www.facebook.com/VascoGames
Twitter - https://twitter.com/VascoGames
YouTube - http://goo.gl/HChVVx
Developer
VascoGames
Category
Action
Last Update
August 1, 2016

Step Harder When You Play California: Straight 2 Compton on PC and Mac
It's been half a decade since you have tasted the sweet air of freedom. Being locked up in the pen gives a man a lot of time to think about things, especially putting your street gang the San Andreas Thugs back on the map. You have survived life inside prison and the gang wars that ensued, but now you have the hardest challenge of your life. While you were avoiding shanks in the Big House, your street rivals the Hood Dogs were stepping into your territory and taking over. Show the streets who is the boss and let them know you are back and in charge!

So much action and excitement, such a little screen to see it all unfold on. It seems a shame to trap such a large gaming experience into a tiny package. With the free Bluestacks Android Emulator program, you can download and install California: Straight 2 Compton on Mac and PC to enjoy anytime you want. When you Play Bigger and use the new Bluestacks tool to take over the streets, you will enjoy the benefits of a steady internet connection, larger screen with crisp graphics, and the peace of mind knowing your game data is automatically backed up.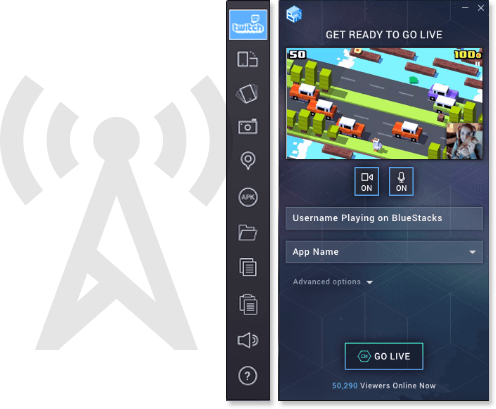 Use the New BlueStacks to Stream Your Game Footage
With the latest version of the free BlueStacks 2 player, you can now broadcast California Straight 2 Compton footage straight to the largest gaming site in the world. Twitch.tv is packed with millions of users sharing and watching video game footage. No matter what your taste, there are tons of great gamers streaming right now. More than just a place to watch people play video games, Twitch has become a hub of activity for all things video game related. Stream California Straight 2 Compton and begin forming your own close group of friends and followers today.