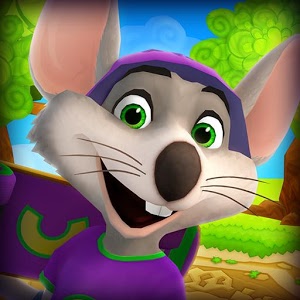 Chuck E 's Skate Universe
Grab a skateboard and help Chuck E. Cheese shred some sidewalk in Chuck E.'s Skate Universe.
Plus, win some real tickets you can redeem on your next visit to Chuck E. Cheese's! See how far you can skate as Chuck E. attempts to go for the ultimate distance record. The only limit is what you can get away with! Help Chuck E. hop, dodge, and duck obstacles along the way.
Earn points by picking up Golden Pizza points and other objects.
Plus, you can unlock some sweet gear along the way – insane items like "The Giant Pickle Board" or "The Tongue" – you'll have to skate them to believe them. See how you rank on the Leaderboards where you can try to beat Chuck E. Cheese super star Steve Waters!
Game Tip -
• Change lanes - Swipe left or right
• Duck - Swipe down
• Jump - Swipe up
• Super Jump - Swipe down then up
Developer
Chuck E. Cheese's
Category
Action
Last Update
August 12, 2016
Update notes
Yeti River Run and all of the Yeti bonus gear are now unlocked for free. Thanks for playing!
Go skating in Yeti River Run, the latest and coolest park to ever open in Skate Universe! Collect as many gold fish as you can to unlock all kinds of new items including an awesome sled, the ice cream sundae helmet, a skateboard shaped like a fish & gigantic moose antlers!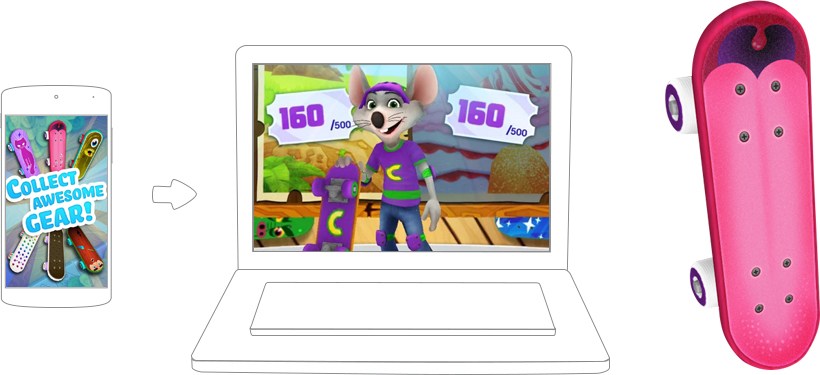 Skate Your Way to Real World Prizes
Join Chuck E. ahd his friends on the skating adventure of a lifetime, Download Chuck E.'s Skate Universe on your home computer to pull off some of the sickest stunts in the history of the sport. Play the coolest runner game that actually gives real world rewards for playing. Chuck's world is full of amazing skate parks just waiting for you to challenge them. Use easy to learn keyboard controls to help Chuck E. kate his way through each one of these skate parks. Dip, dive, hop, and swerve to avoid obstacles and gather Golden Pizzas and other special items. Use these to unlock new gear and unique power-ups like The Tongue and The Giant Pickle Board. In Chuck E.'s univerwe, there is no limit to your fun. Skate as long as you can and try to climb the leaderboards while you win free tickets to cash in on your next visit to Chuck E. Cheese.