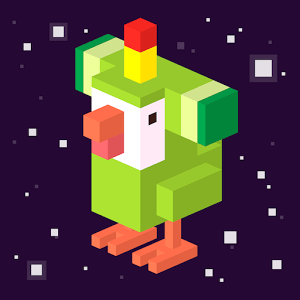 Crossy Road
- Featuring Tap My Katamari
- Halloween Update
- 7 New Figurines!
Play as DADDY by PSY!
- 3 new PSY figurines
- floating dance floor islands
- yachts and dancers
- 3 all-new dance beats
- playable in multiplayer!

Crossy Road Multiplayer!
- connect to the same wifi network as your friends
- play with 2-4 friends at the same time
**HOW-TO CONNECT TO MULTIPLAYER:**
1. Make sure you are connected to the SAME wifi network as your friends
2. From the game start screen, click on the bottom right button with a triangle to open more button selections
3. At the top, click the button with two chickens and a wifi signal
4. Player 1 should click "Create Game" (one player creates the game; all other players join this game).
5. All other players should wait for the game to be created. Once a game is detected you will automatically enter the game and can then choose your character and name
6. Game play is dependent upon a strong wifi network. If there are lots of users on the same wifi network, game performance will decrease. For best performance, play on a strong wifi network with few other users
7. Playing with different characters opens up hilarious different gameplay scenarios!
Join over 120 MILLION players worldwide and experience Hipster Whale's massive viral #1 hit!
Play Crossy Road on the Big Screen with Android TV!

Why did the Chicken cross the road?
Why did the Pigeon leave THAT there?
Why did Specimen 115 abduct that cow?
Why did Unihorse eat all that candy?

FEATURES:
- Supports 2-4 players in Multiplayer mode over wifi
- Play Crossy Road on your big screen with Android TV
- Collect over 150 retro-styled, pop art inspired characters
- Cross roads, train tracks, and rivers – endlessly hop forever
- Dodge traffic in a candy wonderland with the Android Robot
- Simple, pure, innovative gameplay
- Free to play

Have any problems or suggestions? You can reach us at gpsupport@yodo1.com.

**DON'T LOSE YOUR CHARACTERS!**
- Go to game Settings and Sign-in with Google Play to save your characters, game progress, scores, and achievements!
- After signing in, your progress will be saved to your Google Play account
- To restore your game progress, go to Settings and click Restore Game to restore all of your characters
- You can only restore saved progress that was saved from version 1.0.6 onwards
- We are working to support saving from multiple accounts on a single device in a future version. The current version works well with one account per device or one account across multiple devices.
The game require access to the following Permissions ----------
- Read device state and identity - READ_PHONE_STATE permission
- The game requires the LOCATION permission to target and deliver video-based advertising:
The game implements opt-in video ads that players can watch to earn free coins if they choose. Watching video ads is voluntary if players want to speed up the rate they earn coins to win new characters. We require the Location permission to provide location based video ads to provide more relevant ads to players.
Developer
Yodo1 Games
Category
Action
Last Update
November 30, 2016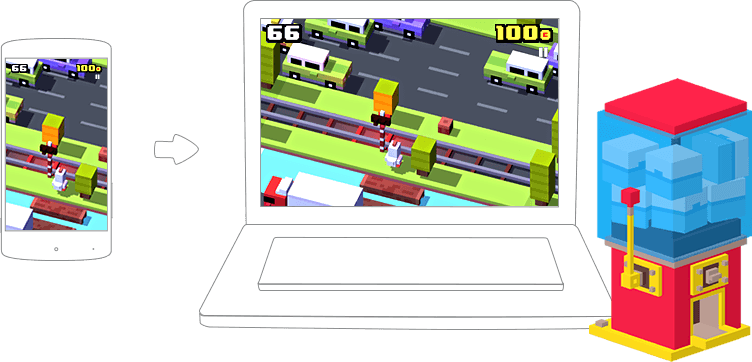 Why Did the Chicken Cross the Road?
This is your chance to answer that ultimate question - and so many more! Crossy Road is an Award-Winning video game similar to the classic Frogger. This endless hopper gives you the chance to choose from a wide variety of characters like the chicken, Frankenstein's Monster and a fish. The goal for each character is the same. You have to cross a never-ending series road, train tracks river and more without getting run over, smashed or blown up. With all of this crazy fun, it seems a bit of a shame to reduce it to a cell phone screen.

Luckily you don't have to anymore. Download the new Bluestacks Android Emulator for your computer and you can instantly play Crossy Road on PC. Bluestacks works by syncing up your computer with your Google Play account and allowing you to download and install almost any Android app on your computer. The first step is downloading the free Bluestacks app for your computer via the links on this page.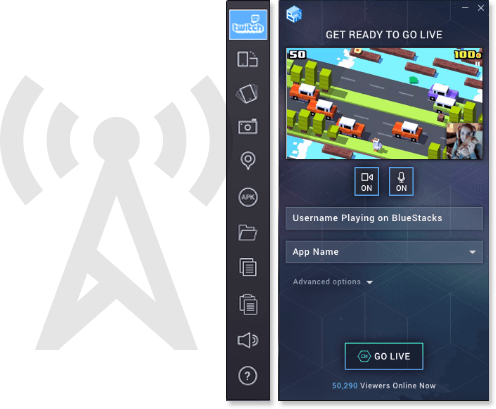 Jump Across the Road to Twitch.tv
Twitch.tv is a social networking site dedicated to video games and those that love them. Primarily a place to broadcast video game footage, Twitch allows users to meet and connect over their love of video games and even specific titles. Players can follow their favorite titles to watch new players give them a shot or follow their favorite players. By sharing your own gameplay footage, you may be able to start growing a list of followers for yourself. When you Play Bigger, you will have quick and easy access to all things Twitch when you stream Crossy Road with one-click controls.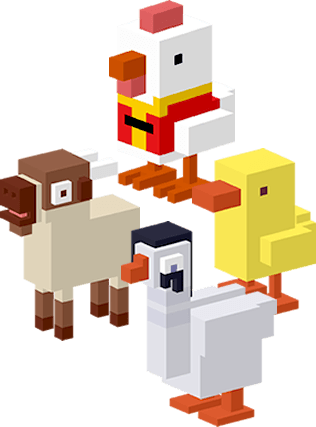 Play Crossy Road on PC
Crossy Road has taken over the world with its retro-style graphics and cute, blocky characters. Don't just limit this rewarding gaming experience to your tiny phone. Remember, the only way to experience all the crazy fun of Crossy Road on your computer, you have to download the free Bluestacks Android Emulator through the link below. After that, there is nothing standing between you and hopping victory.