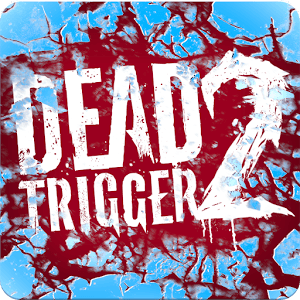 Dead Trigger 2
BEST ZOMBIE SHOOTER EVER
Take your part on saving the world and win unbelievable real prizes in specially designed tournaments. Earn the money every day from oil fields!
*50+ Millions survivors from all over the world are now part of Global Zombie Warfare!*
*Join them and begin the mega fight for your life.*
"Hours of fun in marathon sessions or short bursts." - Gamezebo
"The game is improving upon everything that made the first title great." - Arcade Sushi
Download Dead Trigger 2 for FREE and enter a dark world where humanity is engaged in the ultimate battle for survival in the face of a global Zombie apocalypse.
MASSIVE, CONTINUOUSLY UPDATED CONTENT. EVOLVING STORYLINES.
Dead Trigger 2 is constantly evolving and expanding. Every update features new content intended to make your game even more enjoyable.
- Travel across 10 regions in different parts of the world.
- Explore 33 unique environments.
- Grab your favorite Zombie annihilator from 37 kinds of weapons.
- Go for the action in more than 600 gameplay scenarios.
TOURNAMENTS FOR REAL PRIZES
Get ready people, here they come. Join warriors from all around the world and fight in the Arena under custom gladiator rules every week. Become a legend in new Purgatory Arena.
MOUTH-WATERING GRAPHICS
You'll be dazzled by cutting-edge graphics, including real time water reflections, dynamic vegetation and enhanced ragdolls. Explore multiple locations and slaughter the undead in diverse places like eerie Shanghai alleyways, abandoned mines or the African desert, Europe, South America …
THE FINGER IS MIGHTIER THAN THE GUN
Choose between a touch control scheme created especially for casual players or an enhanced virtual joystick.
Do you prefer console gaming? Then go ahead, Dead Trigger 2 supports MOGA.
REAL TIME STORY DEVELOPMENT
You are not alone. Take part in the Global Resistance, tune in to the to stay informed as the global gameplay develops, directly influenced by the participation of every single player. Enjoy different types of operations such as story or global missions and side-quests.
REWARDS FOR EVERYONE
Participate in global missions and receive rewards. Complete achievements, meet challenges and receive exclusive in-game currency.
THE HIDEOUT
Explore your personal hide-out and meet the Gunsmith, Medic, Scientist, Smuggler and Engineer. These NPCs will help you unlock incredible new weapons and gadgets.
ORIGINAL AND FUN GAMEPLAY
Forget easy-to-kill Zombies. Get ready for Kamikaze, Vomitron and other bosses – powerful Zombies with an inventive approach to your elimination. Also be sure to try out non-traditional melee weapons such as the Big Hammer, Boat Motor or Machete. What's our favorite? You gotta try the Grenade Chickens, Rocket Chickens and special Machine-Gun Mounted Chickens. You're gonna love them…
Developer
MADFINGER Games
Category
Action
Last Update
November 29, 2016
Update notes
Happy Winter Carnage!
Get into the festive spirit with 2 new signature weapons! Crush zombies with shatterproof baubles shot from the Santa's Ball Launcher, or sweeten up the undead with the Candy Cane! Limited offer: December only!
Discover Kyle's Christmas decoration in the hideout, and unwrap the Christmas gifts together when IT has arrived...
The Santa Crusader Collector's Hunt is here, with amazing prizes waiting for you - just look around and see what you can find!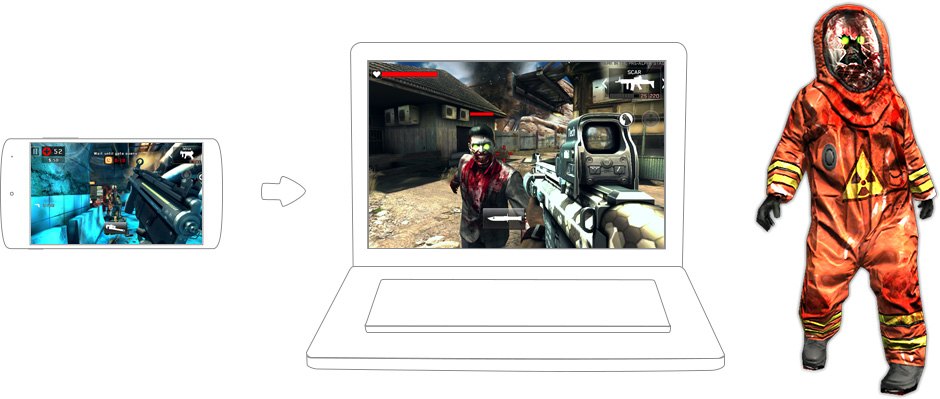 Save the World from the Dreaded Zombie Virus on Your PC
One of the best mobile shooter games is coming to your home computer. Play Dead Trigger 2 on PC and Mac to experience life or death situations played out before your very eyes. The world is a different place after the dead started to turn into flesh eating monsters. Survivors may be fewer in numbers than the undead, but with over 20 million other survivors playing Dead Trigger 2, you may have a fighting chance to bring mankind back from the brink.

Band together with millions of other players as you struggle to find answers and a way to survive in this dark, new world we live in. Play Dead Trigger 2 on PC and Mac to experience even greater gaming fun and excitement. Stunning graphics are just as crisp and clear as their original Android counterpart and the sound quality is even better. Aim better and make more precise kill shots using your computer mouse instead of touch screen controls. The only way to gain the advantage over the dead and other survivors is to download the new BlueStacks Android Emulator from the link above.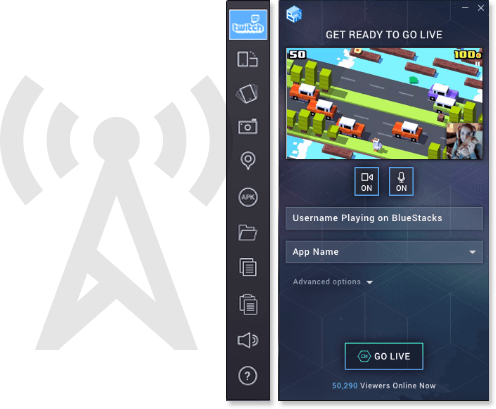 Eliminate Hordes of the Undead in Front of the World
The zombie threat is not only contained to your local area. To help others in the same dire situation, be sure to broadcast Dead Trigger 2 to Twitch.tv with the free BlueStacks 2 player. The controls are easy to use and accessible to all users. Twitch is a social networking site that aims to bring gamers closer together through the viewing and sharing of live gaming footage. Follow your favorite players and games or share your own Dead Trigger 2 footage to start gaining some followers of your own.