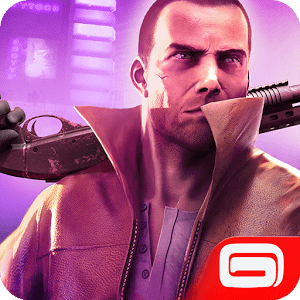 Gangstar Vegas
Roll up on a dangerous new trip through the City of Sin in the latest episode of the acclaimed open-world action game!
Get ready for fun, immersive, and wild gun wars!
* Because of the high-quality graphics used in this game, once it's installed on your device, this title will use 2.5 GB of space. *
WELCOME TO OUTRAGEOUS LAS VEGAS
√ Play as a mixed martial arts (MMA) fighter in a BLOCKBUSTER STORY MODE
√ Make your way through 80 MISSIONS filled with action
√ Build up a gangster squad to take over Vegas and win mafia wars
ENDLESS SANDBOX FUN
√ Explore a BIGGER CITY, 9x the size of the previous Gangstar game
√ Perform amazing stunts with ragdoll effects making use of HAVOK PHYSICS
√ Climb the leaderboards in tough CHALLENGES including air, water and street racing, MMA fighting & more!
√ Become Vegas's finest shooter in Carnage & Heist modes
√ Break the bank in addictive CASINO GAMES
A RIDE ON THE WILD SIDE
√ Access INSANE WEAPONS like Molotov cocktails, flamethrowers & an electric guitar!
√ Drive CRAZY VEHICLES including monster trucks, muscle cars & fighter jets
√ UPGRADE YOUR SKILLS & GEAR and customize their appearance
√ Enjoy an amazing soundtrack featuring Skrillex, Kavinsky, Chromatics and more
Game storyline:
In this third-person shooter action game, you will play as a rising MMA champion. Framed by the mafia, you are supposed to throw your bout at the fighting event of the year. But when your opponent beats you to the punch and goes down first, famous crime lord Frank Veliano's perfect plan goes down too. You have just become the most wanted man in the city. In a place where crime is everywhere, you will have to hold your gun tightly and take part in the wildest mafia wars ever!

Welcome to Las Vegas, where fortunes are made and lives are lost with a roll of the dice!
----
Visit our official site at http://www.gameloft.com
Follow us on Twitter at http://glft.co/GameloftonTwitter or like us on Facebook at http://facebook.com/Gameloft to get more info about all our upcoming titles.
Check out our videos and game trailers on http://www.youtube.com/Gameloft
Discover our blog at http://glft.co/Gameloft_Official_Blog for the inside scoop on everything Gameloft.
Certain apps allow you to purchase virtual items within the app and may contain third party advertisements that may redirect you to a third party site.
Privacy Policy : http://www.gameloft.com/privacy-notice/
Terms of Use : http://www.gameloft.com/conditions/
End User License Agreement : http://www.gameloft.com/eula/
Developer
Gameloft
Category
Action
Last Update
January 5, 2017
Update notes
INVENTORY UPGRADES
It's now easier to manage equipment & items. Also, Health Kits, Bulletproof Vests & Repair Kits activate automatically (you can switch this off)!
RIDE TO GLORY
Gigawatt – A power plant on wheels that's sure to shock everyone in Vegas.
LH96 – A deadly helicopter dispensing high-flying havoc.
SkydMark – One wheel, all destruction.
Shenlong – A furious dragon cycle with a roar to match!
ONE BIG GUN
The Quantum Hangover can end any entanglement with a matter-shattering BOOM!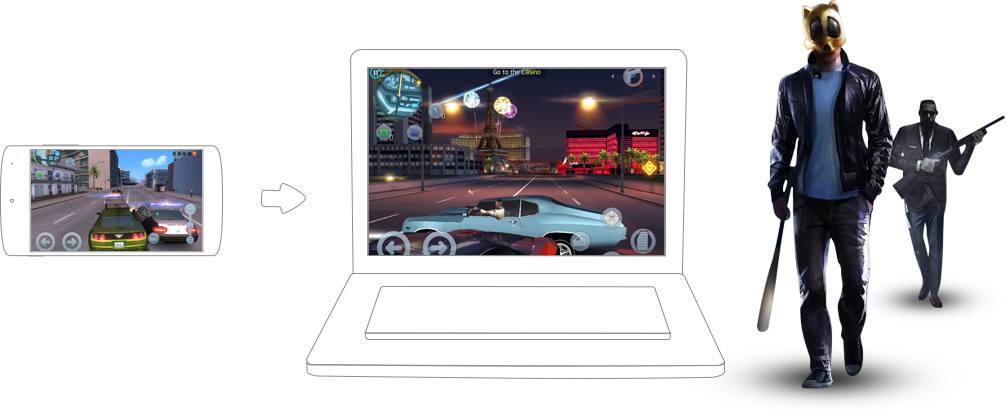 Take Over the City of Sin with the Strongest Gang
At one time, you were a famed MMA fighter. A danger in the ring, you were climbing the charts and about to become a star. That was until you were framed by the mafia. Now under their thumb, you have been ordered to take a dive in the biggest fight of the year. When you opponent goes down in the first round, your life is suddenly flipped upside down. Frank Veliano, a notorious crime lord, has just had his plan go down in flames, and he wants you to pay for it in Gangstar Vegas.

Take your crime wave to the next level by downloading the new BlueStacks Android Emulator for Windows. The free BlueStacks app allows you to play almost any Android app right on your Windows powered computer. Before long, you will have the City of Sun under your control when you use the BlueStack advantage. Fight better and race faster using your mouse for precision control and handling. The larger playing area brings Las Vegas to life while the realistic sounds make you feel like you are right in the heart of the city.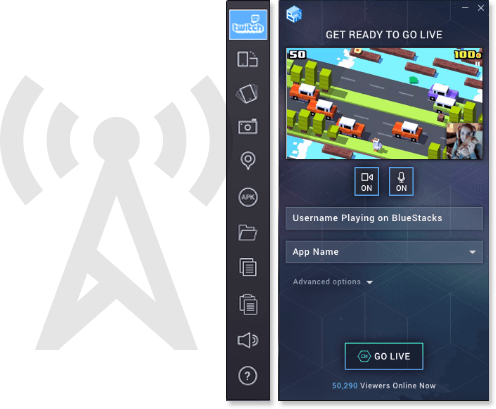 Rule the Vegas Streets - Then the World
The streets of Las Vegas are no place for the timid, so show the rest of the street thugs what it's like when you mess with the best. Stream Gangstar Vegas to millions of users via the Twitch.tv network and you can show off your skills to the largest gathering of passionate gamers on the web. Broadcasting Gangstar Vegas allows you to tackle crazy challenges in front of a live crowd or simply get a few tips on your playing style to help you rule the Vegas streets. BlueStacks 2 now features one-click access to Twitch.tv broadcasting so any gamer can be a star.