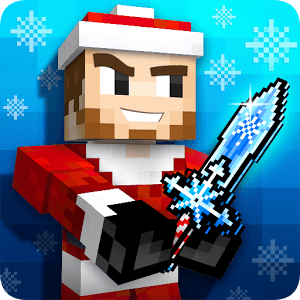 Pixel Gun 3D
Try Pixel Gun 3D in MULTIPLAYER MODE
with Cooperative, Deathmatch & Deadly Games! Also it is a cool modern block world shooter with singleplayer campaign and survival arena.
This is a pocket edition for mobile devices. Now you have a perfect chance to battle with your friends, classmates and colleagues or anyone else around the world! You can create and customize your character using a special skins maker and then show off on the battlefield! It is an awesome pocket FPS shooter for all kinds of players!
*** MULTIPLAYER MODES***
Deathmatch mode benefits:
• WORLDWIDE and local.
• unique maps of various shapes and sizes.
• Varied weaponry, ranging from Magic Bow, Combat M16 Rifle, Golden Desert Eagle and Lightsaber to the simplest things, in case you want to butcher someone with a knife.
• Up to 8 players in one game.
• Now chat is available! Talk with friends right in the battle!
• Challenging and exciting experience that can really get you hooked!
*** COOPERATIVE MODE ***
Cooperative mode features:
• Up to 4 Players in one game.
• Chat is available as well!
• 8 special maps.
• Hardcore gameplay.
• Coins as a prize for top results.

*** SURVIVAL CAMPAIGN ***
In this story mode your character is "face to face" with hordes of zombies attacking you from all sides. A lot of enemies from cops & robbers to nurses and swat members! You have to wipe them out otherwise you are doomed!
Your only task is not an easy one - to whack all the monsters. Don't let the seeds of fear grown in your head. If you survive all the attacks of the dead, you'll face an EVIL ZOMBIE BOSS in this mod. Having made mincemeat of him, you open the portal to the next battlefields! Start your combat.
New cool features in a campaign mode:
• A new training camp for first-timers.
• More detailed graphics.
• New cool maps like a Forest full of seeds.
• Cool new songs
• More challenging gameplay: now you are not able to pass through enemies & different mobs. Watch out for narrow passages and lanes! There you almost have no chance to get out alive!
Make up your mind about the gun (though you may prefer a bow or a knife) and polish your killing skills! Perform at your best and share your high score on Facebook and Twitter!
Main Features of a campaign mode:
• Wide choice of arms, such as Colt, Heavy machine gun, AK47, MP5, and many others.
• A lot of absolutely different maps.
• Many types of zombies and enemies.
• Awesome HD pixel graphics with dynamic light.
• Breathtaking sound effects and songs. Use headphones for maximum fun!
• Cool fun on the age of PC FPS shooters.
*** SKINS MAKER ***
Now you can make your OWN SKIN and USE IT IN THE MULTIPLAYER GAME!
Thank you for all the comments and advices, we really appreciate it. In this version we tried to fulfill your wishes. Wait for the next updates with new cool features!
——————————————————————————————————
This is not an official Mojang app. RiliSoft is not associated or connected with Mojang AB and its game Minecraft - Pocket Edition. Minecraft is a trademark of Mojang AB and it is not endorsed by or affiliated with the creator of this game or its licensers.
Developer
RiliSoft
Category
Action
Last Update
November 29, 2016
Update notes
The Christmas update is HERE! Special sales are waiting for you :)
NEW CHRISTMAS FESTIVE CONTENT
- Pack of weapons: XMAS DESTROYER, HEAVY GIFTER, SNOW STORM and others!
- New GADGETS: FIREWORKS, LEADERS DRUM, PET BOOSTER and STICKY CANDY
- New winter PETS. Added 10 awesome species!
- New DUEL arena: ICE PALACE
- New winter map: CHRISTMAS TOWN
- Pack of CHRISTMAS skins
IMPROVEMENTS
- ARMOR and SKINS now in WEAR category
- Reduced memory usage
- A lot of bug fixes

Save the World from the Dreaded Zombie Virus on Your PC and Mac
One of the best mobile shooter games is coming to your home computer. Play Dead Trigger 2 on PC and Mac to experience life or death situations played out before your very eyes. The world is a different place after the dead started to turn into flesh eating monsters. Survivors may be fewer in numbers than the undead, but with over 20 million other survivors playing Dead Trigger 2, you may have a fighting chance to bring mankind back from the brink.

Band together with millions of other players as you struggle to find answers and a way to survive in this dark, new world we live in. Play Dead Trigger 2 on PC and Mac to experience even greater gaming fun and excitement. Stunning graphics are just as crisp and clear as their original Android counterpart and the sound quality is even better. Aim better and make more precise kill shots using your computer mouse instead of touch screen controls. The only way to gain the advantage over the dead and other survivors is to download the new BlueStacks Android Emulator from the link above.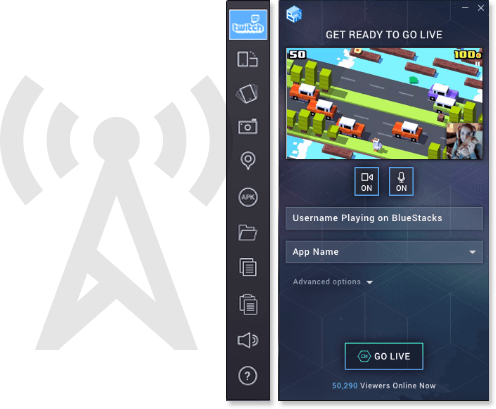 Best Multiplayer Game Ever Goes Truly International
The internet knows no boundaries, which is why gamers love broadcasting their video game footage to the massive Twitch.tv network. This growing social gaming community pulls in more than one million visitors each day that come to watch live Pixel Gun 3D broadcasts and to chat with players from all over the globe. When you Play Bigger with the latest version of the free BlueStacks 2 player, you now have one-click access to start broadcasting Pixel Gun 3D to Twitch. Join other users in following your favorite gamers and titles and making true connections around the world.