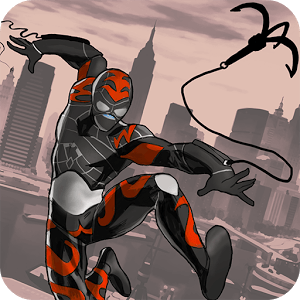 Rope Hero
* Incredible super abilities: climb the walls, jump on the roofs of buildings!
* Fulminant maneuvering strategy in the city!
* Fantastically enthralling gameplay!
The gang of offenders appeared in the city and now they threaten entire population. Act as a defender of the people. Use weapons of high level to eliminate enemies. Become the most courageous and fearless hero! After all, soon as you are capable protect the city from offenders!
Developer
Mine Games Craft
Category
Action
Last Update
August 3, 2016
Update notes
- Fix some bugs

The City Needs a Defender of Truth and Justice
The city you have spent your whole life in has come under siege from a new wave of criminals. Almost as if popping out of thin air, thugs, criminals, and villains have been making the crime rate soar. The police are spread so wide that they are unable to do anything to help the fine citizens of the city. Fed up with everything, you decide to take action and begin a career as a city defender. Travel through an expansive 3D environment as you look for criminals and complete missions to keep the city streets safe. At your disposal is a whole host of cool gadgets and high-tech gear. Play through an exciting storyline as a man who just can't handle the way his fellow citizens are being abused. Download Rope Hero on Mac or PC and begin a life of fighting crime and defending the city.