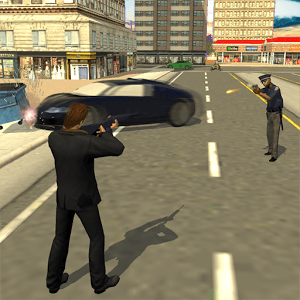 San Andreas Real Gangsters 3D
VISIT THE WEST COAST STATE OF CALIFORNIA IN SAN ANDREAS: REAL GANGSTERS 3D
Your first order of crime business in San Andreas is to put up your crime empire within the City of Angels. You just got of jail, after spending five hard years in the slammer of the San Andreas county prison. You can do two things struggle to make living or you can start playing in the criminal underworld. The streets of San Andreas are full of gangs crooked cops and other low life scum. Dive into the gang warfare and hope nothing goes sour, make sure you win back your old influences over the City of Angels.

WHAT IS NEW TO SAN ANDREAS: REAL GANGSTERS 3D A REAL UNDERWORLD ACTION GAME
Unlike in any other previous crime simulator game in the crime games series from VascoGames. San Andreas also has a linear mission line that takes you through the different types of missions inside the game. These missions are super fun to do and to play. You get to drive people around, take out other gang members and deliver packages. As you progress through this game, the missions become crazier and sicker. Along the way you will steal cars or bikes, clean out warehouses, and deliver packages to the right destination. All to earn some cash that you can spend on gun, cars and fun. Save your Family and take control of the streets.

WITH SAN ANDREAS: REAL GANGSTERS 3D YOU'LL GET MORE STUFF THAN MOST PEOPLE CAN HANDLE
You as a player are given a full sized city where you can go nuts, but don't go on a rampage because then the cops will be upon you. The action in this crime simulator 3D game revolves around shooting and killing your enemies.
SAN ANDREAS: REAL GANGSTERS 3D : GAME FEATURES:
- Ride on awesome looking motorbikes and in insane fast sports cars
- Massive improvements to the gameplay, epic crime simulator vibe
- Pick up goods, earn cash in different missions, drop packages, steal cars and kill rival gangsters
- Become a real old school San Andreas Gangster
- Set in a 90 style open world, enjoy the music, enjoy the feeling
- Buy guns, cars and make your way to the top
- Police wanted level, make a mess will come to clean it up
- Character level system, become bigger, stronger

Please give us some support by rating our game on Google Play or following us on:
Facebook - https://www.facebook.com/VascoGames
Twitter - https://twitter.com/VascoGames
YouTube - http://goo.gl/HChVVx
Developer
VascoGames
Category
Action
Last Update
October 14, 2016
Update notes
- small bug fixes
Have fun playing this newest update!

The Sun Isn't the Only Hot Thing in California
After a five-year stint in prison, you are ready to get out into the world and begin building your empire. You can get a crappy job like the rest of the sheep and struggle to make ends meet, or you can do what you do best and hit the streets of San Andreas and dive head first into the crime world. Play through a series of solo missions that will take you all over the city and have you stealing cars, killing enemies, and reaping the rewards the whole way. The open world of San Andreas: Real Gangsters 3D will bring you into this deadly and violent world unlike any game before. Stop listening to the Man and begin building your criminal empire today. Play San Andreas: Real Gangsters 3D on Mac or PC with BlueStacks.