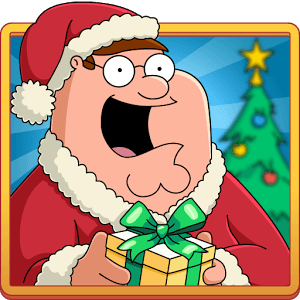 Family Guy: The Quest for Stuff
After another epic battle with the giant chicken, Peter Griffin has accidentally destroyed Quahog! Play for FREE and rally your favorite FG characters (even Meg) to save the city in a hilarious new adventure from the writers of Family Guy. Or don't, and regret it forever!
Game Features:
• It's Free! Freakin' free? Freakin' sweet!
• Create a living Quahog that fits enjoyably in your pants
• Unlock hilarious outfits for your characters like Mermaid Peter, Bikini-Clad Quagmire, and Rambo Lois
• Send your characters on ridiculous quests
• Keep Quahog safe from pirates, evil chickens, and other invasions
• Peterfy your town with decorations such as The Petercopter, The Peterdactyl, and The Hindenpeter
• Unlock hundreds of brand new and classic animations
PS: You can play this game in French, Italian, German, Spanish, Russian, and Brazilian Portuguese!
PPS: Don't forget to watch new episodes of Family Guy on Sundays - only on FOX!
Check out all the latest news & updates for Family Guy: The Quest for Stuff:
• Like us on Facebook: www.facebook.com/playfamilyguy
• Follow us on Twitter: https://twitter.com/playfamilyguy
• Follow Peter on Instagram: www.instagram.com/peterpumpkineater69
• Check out awesome Family Guy clips, episodes, pictures, and more: www.fox.com/family-guy
Developer
TinyCo
Category
Adventure
Last Update
December 1, 2016
Update notes
Chris' dreams become the stuff of Quahog's nightmares when Stewie's malfunctioning Dream Machine brings to life the Christmas gifts that Chris is dreaming of, some showing up in the guise of the Griffin family and friends!
Will the Christmas Morning Peter of Chris' nightmares steal all of the gifts? Will Q*bert and PAC-MAN take over the town? And how will Stewie and Brian deal with this plight before Christmas? Play "Quahog's Not-So-Silent Night" to find out!

Quahog - The Place Where Pop Culture and No Culture Meet
Join everyone's favorite family as they attempt to rebuild the zany town of Quahog from scratch. After the ongoing battle between Peter Griffin and the giant chicken reach epic proportions, it is up to Peter Griffin to save everyone and rebuild the town. Join Peter and the entire Family Guy crew as they go on crazy quests to unlock buildings, decorations and even new characters. All of your favorite people are here: Mayor Adam West, Brian, Joe, Stewie, and even Meg (like anyone cares). Play through regularly updated special events and cross-promotions with your favorite shows and movies.

Rebuilding the town of Quahog is not going to be easy, but with the help of the new BlueStacks Android Emulator, it can be much easier. Playing a city building game like this on your tiny mobile device can get annoying at times. Tiny screens and big fingers do not mix well, especially when you have a town full of insane characters and interesting animations. See Quahog in all its glory and splendor on your computer screen when you download and install Family Guy: The Quest for Stuff on PC and Mac.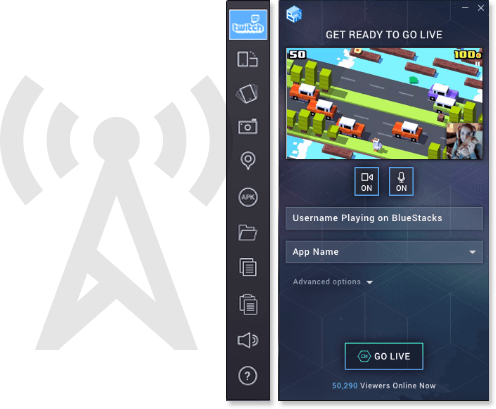 Share the Crazy With Your Followers
Twitch is the largest and craziest site for gamers to connect and find other fans interested in the same, obscure titles. Now, with the latest version of the BlueStacks emulator, users can broadcast the crazy antics of the Griffin family to twitch.tv for millions of users to watch and enjoy. By broadcasting Family Guy: The Quest for Stuff, BlueStacks users can help spread their love of mobile gaming, start building a following of their own, and even make some new friends. Let's get social again and broadcast Family Guy: The Quest for Stuff with the free BlueStacks 2 player.