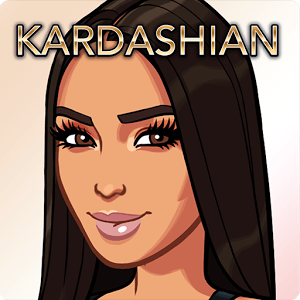 Kim Kardashian Hollywood
Join KIM KARDASHIAN on a red carpet adventure in Kim Kardashian: Hollywood! Create your own aspiring celebrity and rise to fame and fortune!
⋆ CREATE YOUR OWN STAR and customize your look with hundreds of style options, including Kim Kardashian's personal picks!
⋆ STAR in a huge interactive adventure as you encounter other celebs, dedicated fans, persistent paparazzi… and even hang out with Kim herself!
⋆ RULE THE RED CARPET as an A-list movie actor, cover model, fashion designer and more – what you do is up to you!
⋆ TAKE OVER L.A. in a virtual world complete with exclusive clubs, upscale boutiques, and luxury homes! Travel to New York City and Miami!
⋆ DATE AND DUMP CELEBS at the best parties and hottest clubs! Flirt and become the next huge celebrity power-couple!
⋆ BRING YOUR FRIENDS ALONG FOR THE RIDE using Facebook – help each other rise to fame, compare styles, send gifts, and see who can be the biggest star!
High-end, immersive tablet gameplay!
FOLLOW US:
facebook.com/GluMobile
Twitter @GluMobile
"Would you play the Kim K game? Of course you would!" – MTV News
"… Check out the resemblance! Digital Kim is a spitting image of the real thing!" – E! Online
"Bible, I've actually never downloaded or used a single-player cell phone game before this one." – Fashionista.com
" If you've always wanted to be part of the Kardashian family, it's your lucky day." – Marie Claire
"You better start practicing your Vogue pout, y'all" – Glamour
© 2014 Glu Mobile Inc. All Rights Reserved.
Kim Kardashian: Hollywood,TM and © 2014 Kimsaprincess, Inc. All rights reserved. Kim Kardashian and Kardashian Kollection and all related designs, stylizations and images are trademarks and copyrights owned by, in part or whole, by Kimsaprincess, Inc. and used under license herein.
PLEASE NOTE:
- This game is free to play, but you can choose to pay real money for some extra items, which will charge your Google account. You can disable in-app purchasing by adjusting your device settings.
-This game is not intended for children.
- Please buy carefully.
- Advertising appears in this game.
- This game may permit users to interact with one another (e.g., chat rooms, player to player chat, messaging) depending on the availability of these features. Linking to social networking sites are not intended for persons in violation of the applicable rules of such social networking sites.
- A network connection is required to play.
- For information about how Glu collects and uses your data, please read our privacy policy at: www.Glu.com/privacy
- If you have a problem with this game, please use the game's "Help" feature.
FOLLOW US at
Twitter @glumobile
facebook.com/glumobile
Developer
Glu
Category
Adventure
Last Update
January 4, 2017
Update notes
January Update: "Northern Exposure" (v6.1.0)
Visit your adoring fans in Canada!
* Join Kim for new adventures in TORONTO (level 20+)
* Collect 3 NEW PARTNERSHIPS to win exclusive clothing
* Own a FASHION BOUTIQUE
* Take CLOSE-UP SHOTS in the photo booth
Plus:
Millions more fans added for A-Listers to earn
Bug fixes and other improvements
Thanks for playing!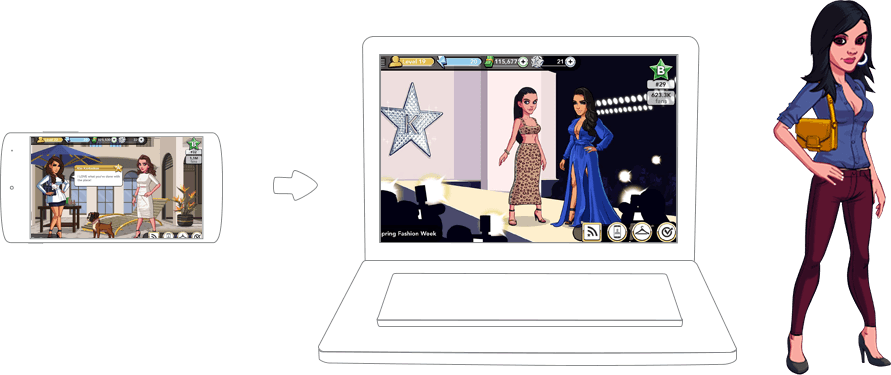 Rise to Fame and Fortune with Kim Kardashian on Your PC
Kim Kardashian has taken the world by storm with her great looks, strong talent and impeccable fashion sense. Now you can grow up to be just like Kim K. in her brand new gaming adventure. Create a celebrity and work hard to make your way through the Hollywood ranks to become an A-list celebrity. Choose your career, make the perfect style choices and enjoy the perks of being a superstar with Kim Kardashian: Hollywood.

Just like Kim Kardashian herself, there is just too much star power in this game to keep it contained in your cell phone. Explore the world of the rich and famous the way it was meant to be - large ad in charge! Download the new Bluestacks Android Emulator from the links at the top and bottom of this page and you can have access to almost any app in the Android marketplace. The free Bluestacks app allows you to play or use Android apps right on your home computer. Bring all of the fabulous fun of fame to your living room when you install Kim Kardashian: Hollywood on PC and Mac.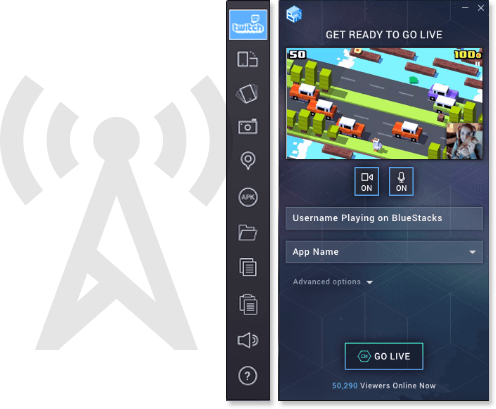 Kim's Taking the World by Storm
Show the world what makes Kim Kardashian special by broadcasting Kim Kardashian: Hollywood gameplay footage to the largest gathering of gaming fans in the world. Twitch.tv is the only place to find millions of live gaming broadcasts each day covering all platforms and genres. Join Twitch to follow other gamers, chat while watching broadcasts, and find other Kim Kardashian fans to share your mobile experience with. BlueStacks 2 now features easy to use controls for streaming Kim Kardashian: Hollywood to Twitch.tv without the need for a lot of extra cables or new equipment.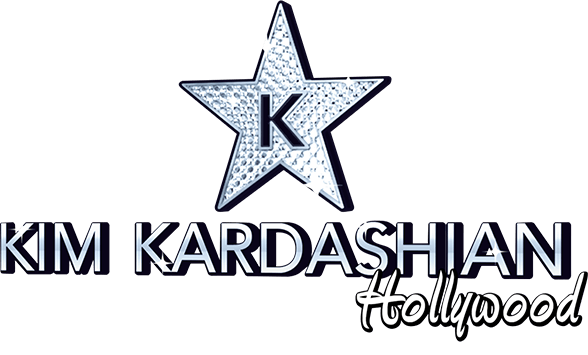 Playing Kim Kardashian: Hollywood on PC and Mac
You have always wanted to be a shining star, and now is your chance. The screenshots above show you how glamorous being an A-list celeb can be on your computer. Download the free Bluestacks Android Emulator and install Kim Kardashian: Hollywood on PC and Mac to take your stardom to the next level.