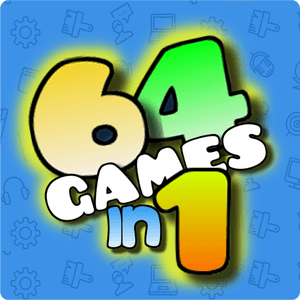 64 Games
This App is a free collection of 64 games in 1!
64 games for all tastes in one pack! It is the best bundle for Android that you can imagine!
This collection is enough to satisfy all your gaming needs and increase your gaming skills!
Puzzle and logic games, fast paced arcade action, racing, sports, drawing, cooking, shooting, water games, Sudoku and many many more!
Run with us to the Planet of games called 64 Games-in-1! Choose between hundreds of characters: angry bears, cute zombies, clumsy birds, Santas, sumo wrestlers and many more!
Supported Languages: English, French, German, Italian, Spanish, Russian, Dutch, Japanese.
Developer
Adil Hameed
Category
Arcade
Last Update
2016-02-09

Super Max is Jumping Into your PC or Mac
In a fantastical world full of shiny coins, spiky enemies, and heroes with awesome 'staches, Super Max must jump up and be the hero everyone needs. 64 Games is a retro-style Android game that will have you remembering the good ol' days of gaming. Explore a vast world and several dungeons to unlock mysteries and jump on many different enemies. Besides featuring many nods to classic video games in its retro style and story, 64 Games brings a lot of new and unique features to the gaming world.

Help those feelings of better days flood back by playing 64 Games on your Mac or PC. As children, we didn't have the luxury of smartphones and tablets. Instead, we had giant television sets with large screens. Click the link above to download the free Bluestacks Android Emulator app and turn your home computer into a mobile gaming hotspot.