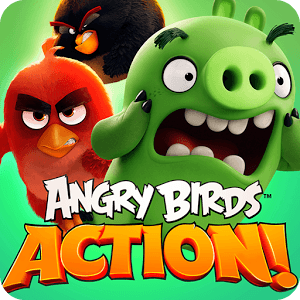 Angry Birds Action
Pull, aim, action! Send the birds of the Angry Birds Movie crashing through obstacles and bouncing from wall to wall like a wrecking ball – all in the name of saving some eggs.
Explore the world of The Angry Birds Movie for the first time ever in Angry Birds Action!
– Pinball meets anger!
Pull back and send Red and his flock of friends careening into obstacles to save the eggs and collect valuable items.
– Play as the heroic trio from The Angry Birds Movie! (and Terence)
Blast obstacles to pieces with Red, speed through challenges with Chuck, or blow stuff up with Bomb. And then there's Terence. He just destroys everything.
– BirdCodes. BirdCodes everywhere!
Scan these round badges in Angry Birds Action to access loads of new content, mini-games, power-ups for the game, and more! BirdCodes can be found all over the place – on Angry Birds toys, at your local theater, and in many more locations. Keep your eyes peeled for BirdCodes everywhere!
–Movie Magic is in the air.
Take Angry Birds Action to the Angry Birds Movie to unlock exclusive content. How does it work? Just wait until the end of the Angry Birds Movie and launch Angry Birds Action when the end credits roll, and you can unlock a whole new area to explore in the game, as well as an exclusive movie clip!*
– Saving the day one level at a time.
Rescue eggs from their precarious perches, pick up precious items, and protect the hatchlings in 90 levels.
–––
*Movie Magic requires that Angry Birds Action have access to your device's microphone.

This game may include:
- Direct links to social networking websites that are intended for an audience over the age of 13.
- Direct links to the internet that can take players away from the game with the potential to browse any web page.
- Advertising of Rovio products and also products from select partners.
- The option to make in-app purchases. The bill payer should always be consulted beforehand.
- This application may require internet connectivity and subsequent data transfer charges may apply. After the initial download, additional content will be downloaded and this may include data charges.
Developer
Rovio Entertainment Ltd.
Category
Arcade
Last Update
August 1, 2016
Update notes
The Big Pig Update is here! Pig Island unlocked - get revenge on the egg stealing pigs in 90 brand-new, action-packed levels! Plus, listen to the new hit song "Action!" by De La Soul in the game NOW!

The Angry Birds Get Some Action
The always popular Angry Birds series has seen many incarnations and millions of downloads, but now things are going to get really action-packed. Join Red, Chuck, and the rest of your favorite feathered friends as they do head into their most intense battle yet. Play Angry Birds Action on PC and Mac to crush the Evil Piggies in a whole new way. Grab your Bird and pull back to slingshot him around the level like a mad wrecking ball. Anything brave enough to stand in his way will be destroyed. Take on hundreds of insane levels and defeat thousands of those nasty Pigs. Based on the hit Angry Birds Movie, Angry Birds Action puts you in the shoes of the heroic trio of Chuck, Red, Bomb... And Terrence. Take your Pig fights to a new level and unleash the Angry Bird inside of you with Angry Birds Action, now available on PC and Mac.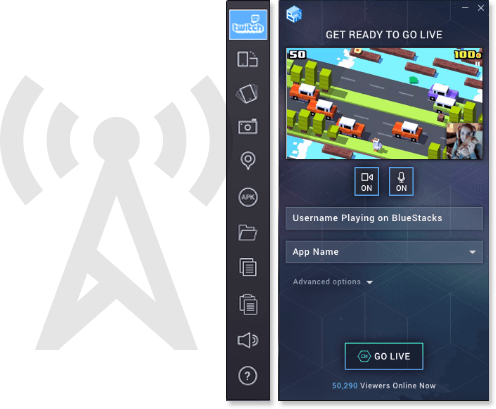 Ready. Set. Broadcast!
When you change the game with BlueStacks, you can now stream Angry Birds Action to millions of gamers around the world with the ease of one-click access and controls. The Angry Birds Movie is winning over fans all over the world and you can get in on the action with Twitch.tv. Each day, there are more than one million live video game broadcasts featuring games from all genres, areas, and platforms. Be the first of your friends to broadcast Angry Birds Action on Twitch with the free Bluestacks 2 player. Show off your skills, get some tips, or simply meet people.