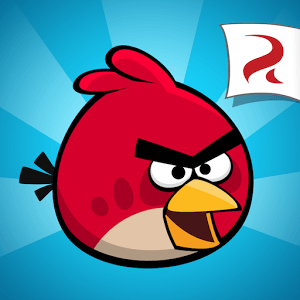 Angry Birds
Use the unique powers of the Angry Birds to destroy the greedy pigs' defenses!
The survival of the Angry Birds is at stake. Dish out revenge on the greedy pigs who stole their eggs. Use the unique powers of each bird to destroy the pigs' defenses. Angry Birds features challenging physics-based gameplay and hours of replay value. Each level requires logic, skill and force to solve.
If you get stuck in the game, you can purchase the Mighty Eagle! Mighty Eagle is a one-time in-app purchase in Angry Birds that gives unlimited use. This phenomenal creature will soar from the skies to wreak havoc and smash the pesky pigs into oblivion. There's just one catch: you can only use the aid of Mighty Eagle to pass a level once per hour. Mighty Eagle also includes all new gameplay goals and achievements!
In addition to the Mighty Eagle, Angry Birds now has power-ups! Boost your birds' abilities and three-star levels to unlock secret content! Angry Birds now has the following amazing power-ups: Sling Scope for laser targeting, King Sling for maximum flinging power, Super Seeds to supersize your birds, and Birdquake to shake pigs' defenses to the ground!
HAVING TROUBLE? Head over to https://support.rovio.com where you can browse FAQs or submit a request to our support flock!
#1 IPHONE PAID APP in US, UK, Canada, Italy, Germany, Russia, Sweden, Denmark, Finland, Singapore, Poland, France, Netherlands, Malta, Greece, Austria, Australia, Turkey, UAE, Saudi Arabia, Israel, Belgium, Norway, Hungary, Malaysia, Luxembourg, Portugal, Czech Republic, Spain, Ireland, Romania, New Zealand, Latvia, Lithuania, Estonia, Nicaragua, Kazakhstan, Argentina, Bulgaria, Slovakia, Slovenia, Mauritius, Chile, Hong Kong, Pakistan, Taiwan, Colombia, Indonesia, Thailand, India, Kenya, Macedonia, Croatia, Macau, Paraguay, Peru, Armenia, Philippines, Vietnam, Jordan and Kuwait.
#1 IPHONE PAID GAME in more countries than we can count!
Terms of Use: http://www.rovio.com/eula
Privacy Policy: http://www.rovio.com/privacy
This application may require internet connectivity and subsequent data transfer charges may apply.

Important Message for Parents
This game may include:
- Direct links to social networking websites that are intended for an audience over the age of 13.
- Direct links to the internet that can take players away from the game with the potential to browse any web page.
- Advertising of Rovio products and also products from select partners.
- The option to make in-app purchases. The bill payer should always be consulted beforehand.
Developer
Rovio Entertainment Ltd.
Category
Arcade
Last Update
November 21, 2016
Update notes
We addressed some minor issues in order to improve the user experience. Thanks for playing, and keep popping those pigs!

Play the Most Popular Mobile Game of All-Time!
The Angry Birds have been battling the Bad Piggies for more than six years and they aren't about to quit yet. Play Angry Birds on PC or Mac to experience the most popular mobile game of all time like never before. Play through more than 500 levels of Piggie destruction as you try to save all of the eggs from those pesky Pigs. Slingshot your birds into the crazy Piggie defenses and smash them to smithereens. Be careful as the real-world physics of Angry Birds makes every hit more important than the last. Unlock new Birds with unique special abilities to help smash the Piggies. On the six-year anniversary, the Birds are bringing even more achievements to unlock, more levels to challenge, and a lot more Piggies to smash. In addition to all of this new awesomeness comes the new MightyEagle, which can be called upon to come in and rain terror on the evil Piggies.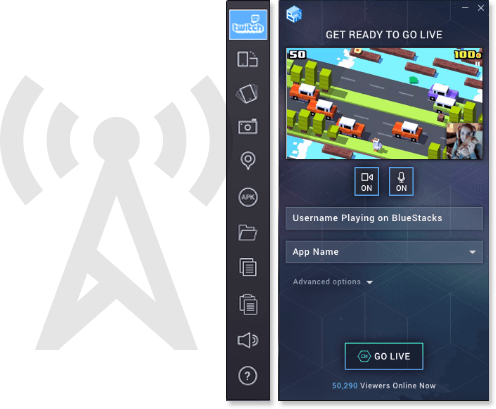 Keep Things Flying on Twitch
Twitch.tv has grown to be the most popular social gaming site on the net by giving players a chance to enjoy and share their very own gaming footage and live broadcasts. Each day, you can find more than one million live gaming broadcasts being hosted on Twitch.tv, with millions more gamers coming out to watch them. It used to take a lot of equipment and cables to mirror your screen and broadcast your mobile experience but not anymore. Now, you only need to click one button and you can begin broadcasting Angry Birds across the vast Twitch.tv network.