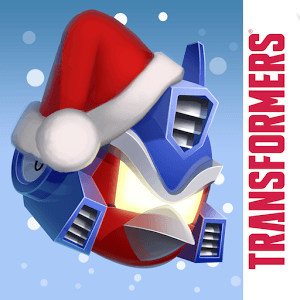 Angry Birds Transformers
Angry Birds and Transformers collide in this action-packed, 3D shoot 'em up adventure! The EggSpark has transformed the eggs into crazed robots who are destroying Piggy Island, but who can stop them?! Autobirds, ROLL OUT!
Have you ever seen an alien robot Angry Bird? Enter the AUTOBIRDS! This brave band of heroes features Red as Optimus Prime, Chuck as Bumblebee and… well you'll meet the rest soon. They've got lasers and they turn into cars. Plus they have arms and legs – that's a first!
But the courageous Autobirds can't save Piggy Island on their own – to stop the EggBots they'll need to join forces with their arch rivals the DECEPTIHOGS (like Decepticons only smellier). Can these bitter enemies team up and put aside their differences? Yeah right...
*NOTE: Angry Birds Transformers is completely free to play, but there are optional in-app purchases available.
--------------
- COLLECT! Unlock a roster of heroes (and villains) with unique attacks and abilities!
- DESTROY! Leave the slingshot at home – this time you have some SERIOUS firepower!
- VEHICLES! Oh, yes! Car, truck, tank or plane – transform to dodge falling hazards!
- UPGRADES! Get stronger weapons and new abilities for every Transformer!
- TAG TEAM! Borrow a friend's character to unleash a devastating two-bot assault!
- TELEPODS™! Scan 'em to unlock, revive or boost your bots!

*NOTE:
A network connection is required for some game features.
When you play for the first time, there is a one-off download of additional content in the background.
--------------

Visit Angry Birds Transformers Headquarters:
http://transformers.angrybirds.com/

Follow the flock:
http://twitter.angrybirds.com

http://facebook.com/angrybirds

Discover the rest of the Angry Birds universe:
https://www.angrybirds.com/

--------------

Terms of Use: http://www.rovio.com/eula

Privacy Policy: http://www.rovio.com/privacy

Important message for parents:
- Direct links to social networking websites that are intended for an audience over the age of 13.
- Direct links to the internet that can take players away from the game with the potential to browse any web page.
- Advertising of Rovio products and also products from select partners.
- The option to make in-app purchases. The bill payer should always be consulted beforehand.
Developer
Rovio Entertainment Ltd.
Category
Arcade
Last Update
November 30, 2016
Update notes
INCOMING TRANSMISSION FROM TELETRAAN 1
'Tis the season…
/PROMOTIONS! Collect spark and promote your characters to earn higher event scores!
/NEW CHARACTER! Wheeljack reporting for duty!
/NEW ACCESSORIES! Unlock new unique accessories for your characters and watch out for some festive hats!
/OPTIMISED EXPERIENCE! Transformers power levels returned. Bigger advert rewards during the holidays.

The Angry Birds Meet the Transformers
Angry Birds - more than meets the eye! When the powerful The Eggspark has fallen from the sky and landed on Piggy Island. Now, all of the eggs have turned into deadly robots that are wreaking havoc on Piggy Island. Only one team can help the evil Piggies now. Enter the Autobirds, defenders of truth, justice, and the birdie way. Unfortunately, the threat is too great for the Autobirds to handle alone. They will need to work with their lifetime enemies the Deceptihogs. Together, these great and powerful robots must defeat the eggs and save Piggy Island.
Join the Angry Birds on a 3D shoot 'em up adventure as they star as your favorite Transformer heroes. Meet Red as Optimus Prime, Blues as Bluestreak, and a lot more. Fight your way through a series of levels as the Birds and Hogs work together for the greater good of Piggy Island. When things get too rough, transform into a vehicle and high-tail it out to safety. Unlock more heroes and villains as you delve deeper into the mystery of the Eggspark and upgrade their powers to become the strongest fighting team around.