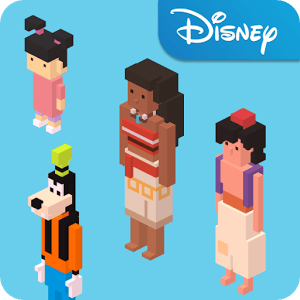 Disney Crossy Road
Why should the chicken get all the fun?
From Hipster Whale, the makers of the original Crossy Road™ with over 120,000,000 downloads, and Disney comes Disney Crossy Road—an all-new take on the 8-bit endless adventure to cross the road without splatting!
Tap and swipe your way to a record-setting number of steps with 100+ Disney and Pixar figurines while dodging crazy and unexpected obstacles in the 8-bit worlds of Toy Story, Zootopia, The Lion King, The Haunted Mansion, Tangled, Wreck-It Ralph, and more.
• COLLECT over 100+ Disney and Pixar figurines, including Mickey, Donald, Buzz Lightyear, Rapunzel, Mufasa, Sadness, Wreck-It Ralph, Madame Leota, and other favorites (many with fun surprises)!
• JOURNEY through 8-bit depictions of Al's Toy Barn, the Pride Lands of Africa, the Haunted Mansion, San Fransokyo, and more while enjoying 8-bit versions of familiar tunes like "You've Got a Friend in Me" and "I Just Can't Wait to be King!"
• MASTER special themed challenges unique to each of the worlds, such as weathering blizzards, collecting cherries to earn special power-ups, avoiding thundering stampedes of wildebeest, staying clear of falling barrels, and then some!
You can upload and save content from this app to your device
Visit the official Disney Crossy Roads website - http://lol.disney.com/games/disney-crossy-road
Privacy Policy – http://disneyprivacycenter.com
Terms of Use – http://disneytermsofuse.com
For additional information about our practices in the United States and Latin America regarding children's personal information, please read our Children's Privacy Policy at https://disneyprivacycenter.com/kids-privacy-policy/english/
Developer
Disney
Category
Arcade
Last Update
November 22, 2016
Update notes
Minor bug fixes and optimized performance.

Everything Awesome About Crossy Road Mixed With Disney!
It all started with one, lonely chicken just trying to cross the road. Fast forward millions of downloads and happy players later and now it's time for your favorite Disney characters to try crossing the road. Play Disney Crossy Road on Mac and PC to play as more than 100 different Disney and Pixar characters like Mickey Mouse, Buzz Lightyear, Wreck-It Ralph, and more. Every endless level is randomly generated so every game is a brand new challenge. Enjoy trying to avoid the classic obstacles and keep an eye out for some new ones. Take an 8-biy voyage through some of the most iconic Disney locations while rockin' out to classic Disney tunes with an 8-bit twist. More than another version of Crossy Road, Disney Crossy Road takes the hit video game, gives it an extreme makeover, and takes it up to 11!Play Disney Crossy Road on PC or Mac today.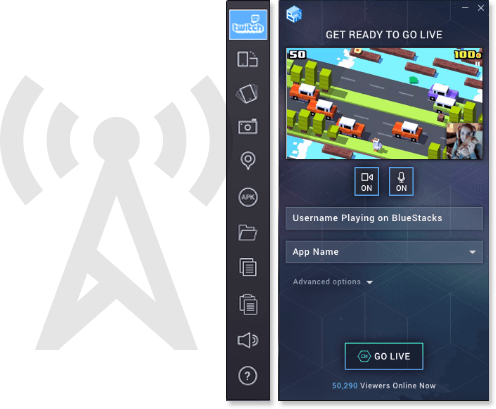 Cross the Road in Front of a Live Audience
The best part about endless runner games like Disney Crossy Road is the sheer bragging rights. If you think you have unlocked the most characters or can travel farther than anyone else, then show off your mad Disney skills via the awesome Twitch.tv network. Every single day, millions of gamers flock to twitch.tv to watch more than one million live video game broadcasts. More than just a place for the elite to show off, Twitch gives every gamer the ability to become a gaming superstar while making friends all over the world. With the new BlueStacks 2, you get one-click access to Twitch.tv broadcasting.