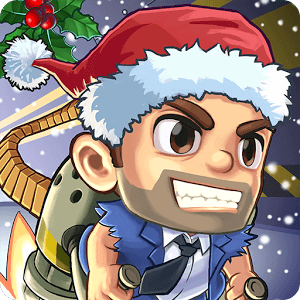 Jetpack Joyride
Bullet-powered jetpacks! Giant mechanical dragons! Birds that poop money! Suit up with a selection of the coolest jetpacks ever made and test your skills as legendary action hero Barry Steakfries. Over 500 million players can't be wrong. Download FREE and start your adventure today!
FEATURES:
* Fly the coolest jetpacks in gaming history
* Dodge lasers, zappers, and guided missiles
* Storm the lab in crazy vehicles and giant mechs
* Earn achievements and battle it out against friends
* Customise your look with ridiculous outfits
* Equip high-tech gadgets and vehicle upgrades
* Complete daring missions to boost your rank
* Test your reflexes with simple one-touch controls
***
This game contains optional in-app purchases. You can disable this feature in the settings menu of your device.
View our privacy policy at http://halfbrick.com/pp
View our terms of service at http://halfbrick.com/tos
Developer
Halfbrick Studios
Category
Arcade
Last Update
December 2, 2016
Update notes
Get Ready for the holidays - Festive Update
CHRISTMAS THEME
The most magical time of year is here. Let it snow, let it snow, let it snow!
BARRY'S BUNDLE
'Tis the season for rocket-powered reindeer. The Sleigh of Awesome is back!
EXTRA GADGET SLOT
Boost your score, collect more coins, or get creative with a third gadget slot!
NEW PICK-UPS
Let loose with three upgradeable pick-ups: Boost, Shield and Cash Dash!

Evil Doers Beware. Barry Steakfries is Here!
Mad scientists around the world are trembling in fear because Barry Steakfries is on the scene. In an effort to thwart evil scientists, Barry has broken into a lab and stolen their experimental jetpacks. You begin your adventure with the famed machine gun jetpack, which allow you to rain bullets over your enemies. As you continue to stop evil doers, you will find and unlock even more interesting jetpacks with all kinds of powers. Use special power-ups to give Barry even more of a boost.

Now you can play Jetpack Joyride on PC or Mac by downloading the free BlueStacks Android Emulator app from the link above. BlueStacks allows you to install and run almost any app or game from the Google Play store. Experience faster action with a steady internet connection and a larger screen. Helping Barry has never been easier now that you can use your mouse to control all of the zany jetpack action when you download Jetpack Joyride on Mac and PC.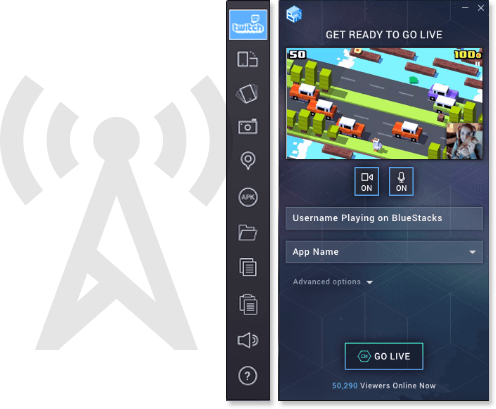 Take a Joyride Through Twitch.tv
Twitch.tv has become the number one spot on the web for gamers to come and share their video game footage with the world. Each day, millions of broadcasts are streamed live on twitch.tv featuring players rocking out with titles across all platforms and genres. More than just a place to show off, broadcasting Jetpack Joyride gameplay to Twitch can help others give you some great gameplay tips or a little advice to help you go even farther. With the free BlueStacks 2 app, you can now stream Android games and app to twitch.tv with simple controls and easy access.