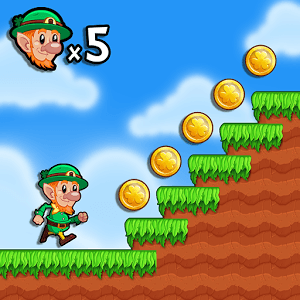 Leps World 2
From the creators of the number 1 hit Lep's World –
over 175 million downloads!
nerByte presents the long-awaited successor of Lep's World with more Levels, more Items, more enemies, better game physics, awesome graphics and beautiful new sound effects. Thanks for all your feedback! We took the best ideas and packed them into Lep's World 2, and the result is an incredibly good and addictive game.

It is a beautiful sunny day in Leprechaun Village. Lep and his friends enjoy the sun, when suddenly the sky darkens and lightning fills the sky. An evil wizard appears, he steals the Leprechaun's gold, and kidnaps all the villagers except Lep, who luckily escapes. The wizard is planning to use the Leprechaun's magic and combine it with his own to take over the world.
Lep has to save his friends and family all alone. So help him to gain more powerful abilities to defeat the wizard. Jump and run through Lep's world and have fun with 80 awesome well-designed levels.
Note: Get more abilities after each World.
FEATURES:
+ Beautiful new graphics with more detail
+ 10 unique Worlds with 90 Levels
+ 10 items and abilities
+ 13 demanding enemies
+ Challenging boss fights

Join us on the Lep's World 2 Facebook Page:
http://bit.ly/LepsWorldFB
Follow us on Twitter:
https://twitter.com/LepsWorld
For more informations visit Lep's World 2 homepage:
http://www.lepsworld2.com

We hope you enjoy the game.
Have fun!! :)
Developer
nerByte GmbH
Category
Arcade
Last Update
November 7, 2016
Update notes
+ new World Map
+ 26 new levels
+ optimized controls for tablets
+ Better Performance
+ Bug Fix
+ Full HD Resolution Bug Fixed

When the Sky Fills With Darkness, Only Lep is Left Standing
Leprechaun Village is a happy and peaceful place. Today, the sun is shining brightly as it always does and Lep and his friends are enjoying some fun leprechaun games. The games come to an abrupt halt when the sky fills with darkness and lightning brings the only flashes of light. An evil wizard appears amidst the clouds and steals all the gold from Leprechaun Village. In all the panic, the wizard manages to kidnap every villager except Lep. Now, alone and scared, Lep must travel a treacherous road on the greatest adventure of his life in Lep's World 2. Help Lep run and jump through more than 60 levels over multiple worlds in this old-school platformer. As Lep progresses on his journey, he will meet a wide variety of new and old enemies and creatures that will stand in his way. Join us on a trip to Leprechaun Village to help Lep save his friends.