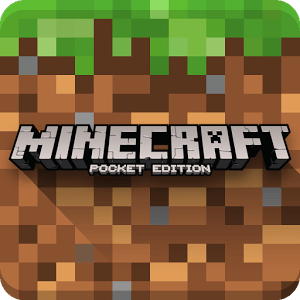 Minecraft
Our latest free update, The Boss Update, includes the Wither, ocean monuments, slash commands, and ADD-ONS. Learn more at minecraft.net/addons, where you can try some examples for free. And don't miss the Campfire Tales skin pack for mythical monsters, horrible hauntings and other strange sightings this October!
Explore randomly generated worlds and build amazing things from the simplest of homes to the grandest of castles. Play in creative mode with unlimited resources or mine deep into the world in survival mode, crafting weapons and armor to fend off the dangerous mobs.
Craft, create, and explore alone, or with friends on mobile devices or Windows 10.
Developer
Mojang
Category
Arcade
Last Update
November 17, 2016
Update notes
What's New in Version 0.16.2:
- Cartoon Texture Pack
What's New in Version 0.16.0:
- We're rolling out the first iteration of Add-Ons, so you can begin to change the way things in your game look and behave. Learn more at minecraft.net/addons where you can try some examples for free.
- One of the most ferocious mobs ever devised..the Wither!
- Slash commands to let you tweak how the game plays - you can give items away, summon mobs, change time of day, and more.
- Lazer-shooting elder guardians!

Battle Mobs and Create Your Own World
It seems everywhere you turn, Minecraft has taken over. From the playgrounds and schools to the large offices and executive buildings, there is no place that's safe from the lure of Minecraft. To seep even further into our culture, the new Android game Minecraft: Pocket Edition has been released to rave reviews. Now, players from all over the world can enjoy the best things about their favorite game right on their Android-powered device.

Minecraft: Pocket Edition brings many of the great features of the original game but also adds a great deal of new content. Journey through randomly generated worlds as you build and create items and buildings for your survival. Along the way, you will encounter a wide assortment of enemies and creatures that you will need to deal with with. Go it alone or bring some friends to take your gaming to the next level. Stop playing old versions and get into the now with Minecraft: Pocket Edition on Mac or PC with BlueStacks 2.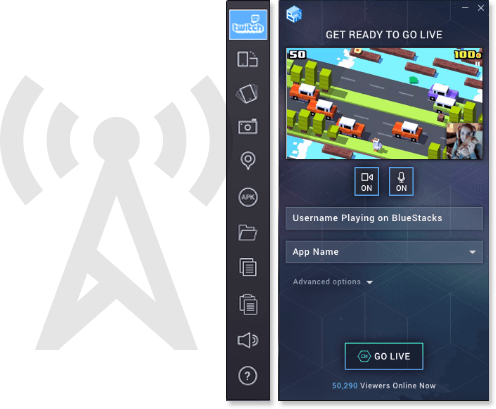 Twitch and BlueStacks Crashes Your World Into Theirs
With the new version of the free BlueStacks 2 emulator, users can now stream Minecraft footage directly to the Twitch.tv network for others to watch, enjoy, and, of course, comment on. Twitch is a large community full of hardcore gaming fans that take their video games very seriously. Now, when you Play Bigger with BlueStacks 2, you have one-click access to stream Minecraft on Twitch, or any other Android game or app. Build your own dedicated following or decide to follow other great gamers to see what they're playing now.