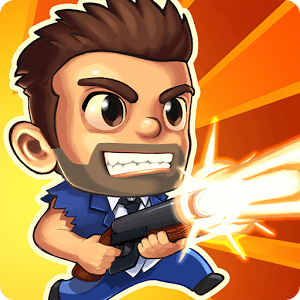 Monster Dash
Welcome to the new evolution of Monster Dash, part of the legendary Barry Steakfries Trilogy along with Jetpack Joyride and Age of Zombies!
Run like the wind, jump like a gazelle and shoot like mad! This is lightning-fast action you won't soon forget as our hero chases down hordes of monsters across six incredible worlds, portal-hopping and guns blazing!
Weapons like The Pacifier, Rocket Launcher and Mr. Zappy can dispatch your foes in short order. Vehicles include the HOG and Machine Gun Jetpack for maximum velocity, and the new Daily Event mode throws completely fresh challenges into the mix every day!
With online leaderboards, majestic medals and a new leveling system, this is the definitive version of Monster Dash and one of the greatest runner games ever made.
Do the Dash. Do the Monster Dash!
IMPORTANT NOTICE:
This game contains optional in-app purchases. You can disable this feature in the settings menu of your device.
View our privacy policy at http://halfbrick.com/pp
View our terms of service at Http://halfbrick.com/tos
View font license at http://www.apache.org/licenses/LICENSE-2.0.html
Developer
Halfbrick Studios
Category
Arcade
Last Update
July 5, 2016
Update notes
This update includes a number of bug fixes and minor improvements. As always, keep the feedback coming!

The Legendary Barry Steakfries Trilogy Comes to Your Computer
Barry Steakfries is more than just an adventure seeking macho man. He is a sensitive man who knows the importance of bringing just the right arsenal to a fight. In his latest adventure, Barry must take on hordes of crazy monsters and evil creatures as he battles his way through six amazing worlds of horror and terror. In this side-scrolling runner game, players will have to do battle with the forces of evil as they run, jump, and shoot their way through throngs of deadly creatures. Along the way, find amazing weapons like The Pacifier and Mr. Zappy to help make light work of the monsters you will face. Show you are the best monster hunter by climbing the leaderboards, earning medals, and taking on the Daily Challenge for awesome rewards.