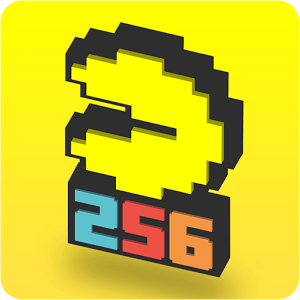 Pac-Man 256
** Google Best Games of 2015 **
** Facebook The 10 Most Talked About Games of 2015 **
** The Game Awards 2015 Nominated Best Mobile/Handheld Game **
From the creators of Crossy Road…

Cherries are red
Ghosts are blue
Munch a power pellet
Get Lasers too!

PAC-MAN 256 is the maze that never ends. But the Glitch is coming for you…
-------------------------------
FEATURES:
• PAC-MAN perfectly reinvented for your mobile phone or tablet
• Outsmart ghosts with over 15 ridiculous power ups: Laser, Tornado, Giant and much more
• Stay ahead of the super-villain lurking in PAC-MAN since the beginning: The Glitch
• Take on a new gang of revived retro-ghosts including Sue, Funky, and Spunky
• Waka waka on PAC-DOTS and string a 256 combo for a super special surprise
• Controller support
• Play it on NVIDIA SHIELD
Featured on NVIDIA SHIELD Hub!

Like us:
facebook.com/CrossyRoad
facebook.com/Pacman
facebook.com/BandaiNamcoEU
facebook.com/BandaiNamcoCA
Follow us:
@CrossyRoad
@BandaiNamcoEU
@BandaiNamcoCA
@3sprockets
Have any problems or suggestions? You can reach us at support-pacman256@bandainamcoent.eu.
Developer
BANDAI NAMCO Entertainment Europe
Category
Arcade
Last Update
October 6, 2016
Update notes
Minor bug fixes

The Original Ghost Buster is Back!
Sometime in the early '80s, the world was taken over by a great, yellow guy named Pac-Man. The addictive gameplay and fun ghost hunting made this arcade game an instant classic. Well, now you can say hello to the newest game in the Pac-Man family. Pac-Man 256 is the newest version of this classic arcade game, completely updated for a modern audience and today's intense gamers. In this newest version, you can take our yellow hero on an endless maze adventure full of pac-dots, ghosts, and power pellets. Watch out, though. Am evil has been lurking just behind the scenes of Pac-Man games since the beginning - the Glitch!

Take this newest Pac-Man sensation for a spin on your home computer by installing the new Bluestacks Android Emulator tool. With Bluestacks, you can Play Bigger and take Pac-Man on the adventure of a lifetime. Bluestacks allows you to download and install any Android app or game right on your hard drive. No more wasting space on your phone or other mobile devices. Bluestacks gives you the freedom to game whenever you want.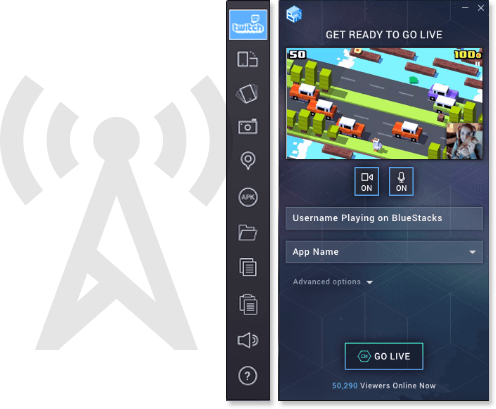 A Classic Has Returned to the World's Arcade
The arcades of yesterday may be long gone for the most part, but in today's increasingly mobile and wireless world, there is a new world's arcade to enjoy. Twitch.tv is the social gaming community that is set up to allow gamers from all over the world to watch live gaming broadcasts featuring games across all platforms and genres. Join this new arcade of the world and broadcast Pac-Man 256 on Twitch.tv to show why the classics are still the best around. Use the new BlueStacks 2 to stream Pac-Man 256 with easy to learn, one-click controls.