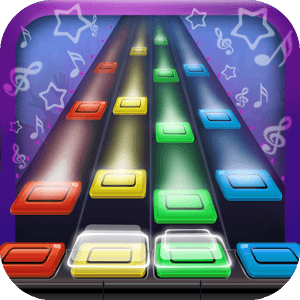 Rock Mania
Calling all rock stars! Have you ever dreamed of becoming a true rock hero? Here is your chance to make those dreams come true!
Rock Mania is the most addictive rhythm game for music lovers! You need to pay attention to the rhythm: sync your taps with the sick beats of the songs playing. The goal of the game is to tap the colored buttons when they reach a line at the bottom of screen. Are you ready to rock now?
Game Features:
- Amazing art, animation and piano audio effects
- 30+ preload songs in Free Play mode
- 50+ challenging levels in Idol mode
- You can also play your local music files (mp3)
Copyright Notes: All the preload songs are under Creative Commons License (http://creativecommons.org/licenses/by/3.0/). Please click the 'CC' label for detailed copyright information of each preload song.
Developer
Candy Mobile
Category
Arcade
Last Update
August 19, 2015
Update notes
v1.0.3: Added support for more audio file formats of local files. Thanks.

The Road to Rock Stardom Takes Hard Work
We've all dreamt of rockin' out before a sold-out stadium. The rush of playing our music to thousands of screaming fans fills our body as our fingers strum across the guitar at lightning-fast speeds. Stop dreaming and start rocking with Rock Mania on your PC or Mac. This addictive, rhythm-based game puts you in the hot seat as you attempt to play some of the most challenging riffs of any music game. Hit the right colored chords as the music plays to make your fans squeal with delight. Pay attention because it won;t be long before your simple songs become rock operas with more challenging chords and progressions. More than just a great music-based game, Rock Mania features awesome art and character designs that make even the most casual gamer stand up and take notice. Play through more than thirty pre-recorded tracks or use your own mp3 tracks as you rise to rock idol status.