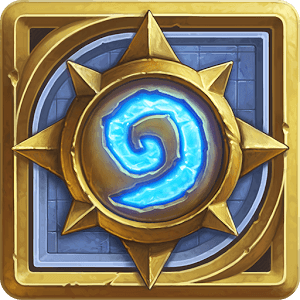 Hearthstone app
DECEPTIVELY SIMPLE. INSANELY FUN.
Pick up your cards and throw down the gauntlet! In Hearthstone, you play the hero in a fast-paced, whimsical card game of cunning strategy. In minutes, you'll be unleashing powerful cards to sling spells, summon minions, and seize control of an ever-shifting battlefield. Whether it's your first card game or you're an experienced pro, the depth and charm of Hearthstone will draw you in.

JUMP RIGHT IN: Fun introductory missions bring you into the world of Hearthstone's intuitive gameplay.

BUILD YOUR DECK: With hundreds of additional cards to win and craft - your collection grows with you.
HONE YOUR SKILLS: Play in practice matches against computer-controlled heroes of the Warcraft universe. Thrall, Uther, Gul'dan - they're all here!

COLLECTION TRAVELS WITH YOU: Your card collection is linked to your Battle.net account - enabling you to switch your play between tablet and desktop with ease.

AND FIGHT FOR GLORY: When you're ready, step into the Arena and duel other players for the chance to win awesome prizes!

Post feedback about the game in our forums:
http://us.battle.net/hearthstone/en/forum/13619661/
Languages Supported:
* English
* Français
* Deutsch
* Español (Latinoamérica)
* Español (Europa)
* Italiano
* Português
* Polski
* Русский
* 한국어 (Korean)
* 简体中文 (Simplified Chinese)
* 繁體中文 (Traditional Chinese)
* 日本語 (Japanese)
* ไทย (Thai)
©2016 Blizzard Entertainment, Inc. All rights reserved. Hearthstone, Battle.net and Blizzard Entertainment are trademarks or registered trademarks of Blizzard Entertainment, Inc., in the U.S., and/or other countries.
Developer
Blizzard Entertainment, Inc.
Category
Card
Last Update
November 29, 2016
Update notes
*The Mean Streets of Gadgetzan expansion will be available in early December. It includes:
**132 new cards
**All-new Tri-Class cards
**A gritty new game board.
*The following card backs have been added: Jade Lotus, Grimy Goons, Kabal, and maybe one more
*A search for "missing" in the Collection Manager has been improved
*Fixed various audio, visual, gameplay, AI, and UI issues
For more information, please visit www.playhearthstone.com

Bring the Heroes of Warcraft Home
From the World of Warcraft comes one of the most anticipated mobile games of the year, Hearthstone is a classic card game that will suck you in and never let go. This deceptively simple Android game is insanely fun and already attracting millions of players worldwide. No matter what your experience with card games is, Hearthstone will have you right in the middle of the action and defeating players in no time at all.

While, on the surface, Hearthstone is a simple card game, deep down you will discover an intense story full of action and magic. Collect special cards and build the ultimate deck. Fight against heroes of the Warcraft universe, like Thrall, Uther, and Gul'dan. With regular updates and new content being added, Hearthstone is sure to keep topping the bestseller lists. Free the heroes of Warcraft and play Hearthstone on PC and Mac with the new BlueStacks Android Emulator tool. BlueStacks is a program that enables your computer to play more than a thousand different Android games and app.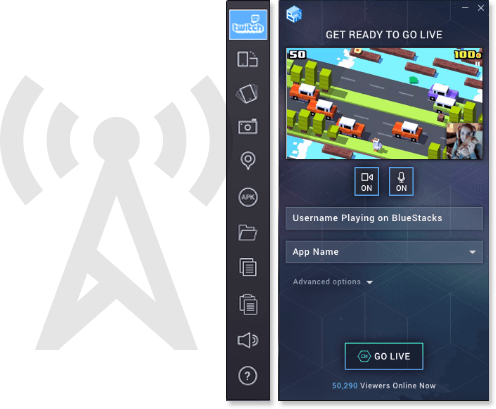 Stream Matches Directly to Twitch.tv
In the gaming world, the newest craze to hit the scene is actually more retro than groundbreaking. Twitch.tv gives players from all over the world access to millions of gaming broadcasts each and every day. Users can follow their favorite players, titles, and even build a following of their own. Live chat is also available during the streaming broadcasts and can actually get pretty lively. Join this growing movement of new-age gamers with the free BlueStacks 2 player with one-click controls to easily stream Hearthstone matches to millions of card players around the world.