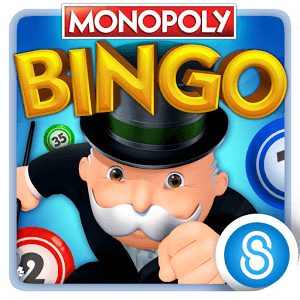 Monopoly Bingo!
Play MONOPOLY Bingo games FREE with the award-winning mobile bingo app! Combine classic MONOPOLY rules with bingo boards and VOILA! You get MONOPOLY Bingo! In our free online bingo game, you can play with MULTIPLE bingo cards – more than any other bingo game out there!
With over 5 million installs, we bet you'll LOVE MONOPOLY Bingo too!
Enter live bingo halls as you advance through the MONOPOLY game board. Land on your favorite classic MONOPOLY properties, wait for the bingo balls with your numbers and BINGO! You win! Soon your MONOPOLY money will grow and you can start building houses and hotels – just like the classic MONOPOLY game you know and ❤!
Multiple Bingo Cards at a time
Play MONOPOLY Bingo with more bingo cards than any other bingo game! Try your luck by playing with up to 8 bingo cards simultaneously, using smooth controls to easily switch between them. Unlock more bingo cards by completing MONOPOLY game-themed collections!
Bingo Tournaments & Weekly Puzzle Events
Compete against friends in our free MONOPOLY Bingo game's tournaments! Play free games and see which of your friends can complete the most Bingo cards! With our multi-level boosts, you can see future bingo numbers, get free daubs, and bonus spaces on your bingo cards to help you win. If you ever run out, you can always use the MONOPOLY money you collected to buy more.
Features
-Collect Community Chests to gain coins, extra boosts, bingo tickets and more as you move along the MONOPOLY board.
-Build houses and hotels by gaining experience in different rooms.
-Visits your favorite MONOPOLY properties such as St. James Place, Electric Company, or Boardwalk.
-Travel across classic MONOPOLY properties to reach places around the world.
-Increase your MONOPOLY fortune!
MONOPOLY Bingo is such a fun game to play! Classic MONOPOLY pieces combined with bingo cards makes for an irresistible, fun time! Play live bingo with other players from around the world. With more bingo cards than any other game, you've got AMAZING chances to win! So what are you waiting for?! Get out your bingo daubers and starting calling out "BINGO!"
The best looking, smoothest Bingo experience available on your Android device.
Please note: MONOPOLY Bingo! is an online only game. Your device must have an active internet connection to play.
Please note that MONOPOLY Bingo! is free to play, but you can purchase in-app items with real money. To disable this feature, go to the Google Play app on your device, tap the Menu button, select Settings > Use password to restrict purchases. Then follow the directions to complete setup. In addition, MONOPOLY Bingo! may link to social media services, such as Facebook, and Storm8 will have access to your information through such services.
Note: READ_PHONE_STATE permission is used to help us remember your progress.
The game is intended for an adult audience. The game does not offer "real money gambling" or an opportunity to win real money or prizes. Practice or success at social casino gaming does not imply future success at "real money gambling."
Storm8 Studios is the #1 Mobile Social Game Developer on Android.
Use of this application is governed by the Storm8 Studios Terms of Service. Collection and use of data are subject to Storm8 Studios Privacy Policy. Both policies are available at http://www.storm8-studios.com/terms/ and http://www.storm8-studios.com/privacy/
The MONOPOLY name and logo, the distinctive design of the gameboard, the four corner squares, the MR. MONOPOLY name and character, as well as each of the distinctive elements of the board and playing pieces are trademarks of Hasbro for its property trading game and game equipment. © 1935, 2014 Hasbro. All Rights Reserved.
Follow Storm8
http://www.storm8-studios.com
facebook.com/storm8
twitter.com/storm8
Developer
Storm8 Studios
Category
Casino
Last Update
December 14, 2016
Update notes
- Daub hints toggle now available in Settings, see which tiles are ready to daub when playing with 3 or more cards!
- Increased tappable area of the Boost Meter
- Bingo button no longer overlaps the card in multi-card view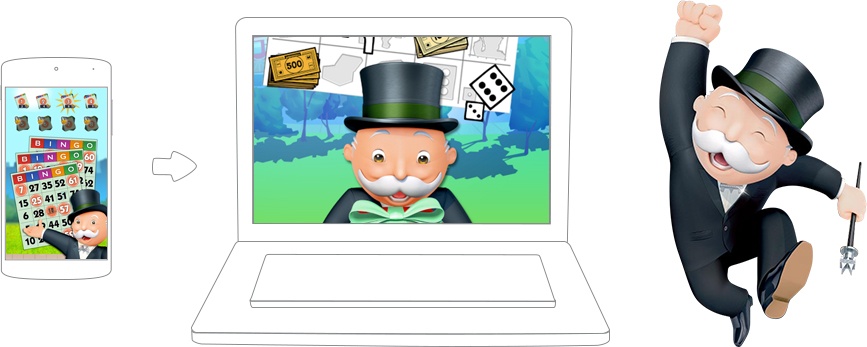 Strike It Rich While Visiting Your Favorite Properties
Monopoly has been America's favorite real estate game for more than fifty years, and that isn't going to change now that we gave entered the exciting age of mobile gaming. There was a time when families would all gather around at night and play games together. While it seems those times are long gone, great new Android apps like Monopoly Bingo! are bringing family game night back in full-force. Enjoy the same thrill and excitement of the classic Monopoly board game but now with even more ways to strike it rich and become the next real estate mogul. The more you play Monopoly Bingo!, the more chances you have to unlock some of the most famous properties in the world. Play bingo on multiple cards as you compete using multiple boosts, complete fun Monopoly-themed collections, and walk away a millionaire. Enjoy one of the most famous board games in a whole new way with Monopoly Bingo! on your computer or laptop.