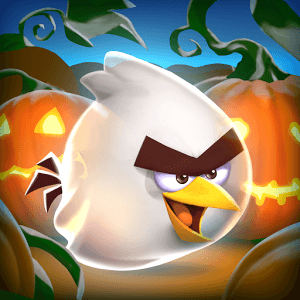 Angry Birds 2
The Angry Birds are back in the sequel to the biggest mobile game of all time! Angry Birds 2 starts a new era of slingshot gameplay with super stunning graphics, challenging multi-stage levels, scheming boss pigs and even more destruction.
CHOOSE YOUR BIRD!
It's the ultimate slingshot strategy – YOU choose which bird to fling next! "But that makes it easier, right?" WRONG! You'll need to choose wisely if you're going to stop those eggs from getting scrambled. Plus, destroy blocks to fill up the Destruct-O-Meter and earn extra birds!
NEW MULTI-STAGE LEVELS!
You've never seen Piggy Island like this – jaw-droppingly stunning levels brimming with exotic plants, quirky details and plenty of peril. And because those naughty porkies are building their teetering towers right under your beak, many levels have multiple stages. Uh oh.
SPECTACULAR SPELLS!
Blizzards, Hot Chilis, Golden Ducks and other outrageous spells give you an added advantage against those swindling swine. And when you need some serious help, guess who's at hand to make a pork-smashing cameo? That's right, it's the sardine loving Mighty Eagle. Oh yeah!
CHALLENGE OTHER PLAYERS!
Challenge players from across the world in the Arena to see who's the most hardcore bird flinger of them all. Play new tournaments every day, earn feathers to level up your birds and face off against the toughest competition on the planet. Game face!
DEFEAT BOSS PIGGIES!
There's some serious bad guys on Piggy Island, and your slingshot skills are needed to take them down. Foreman Pig, Chef Pig and the infamous King Pig will stop at nothing to keep your eggs. Are you gonna let 'em get away with that? It's time to teach the pork a lesson.
-----------------------------
Discover:
https://www.angrybirds.com/
Follow:
https://www.facebook.com/angrybirds
https://twitter.com/AngryBirds
-----------------------------
Angry Birds 2 is completely free to play, but there are optional in-app purchases available. Either way, get ready to rain destruction on those swindling swine!
This game may include:
- Direct links to social networking websites that are intended for an audience over the age of 13.
- Direct links to the internet that can take players away from the game with the potential to browse to any web page
- Advertising of Rovio products and also products from third parties
This game may require internet connectivity and subsequent data transfer charges may apply. When the game is played for the first time, there is a one-off download of additional content.
Terms of Use: http://www.rovio.com/eula
Privacy Policy: http://www.rovio.com/privacy
Developer
Rovio Entertainment Ltd.
Category
Casual
Last Update
October 26, 2016
Update notes
TRICK or TREAT? Limited time unnervingly spooky levels and special offers!
• FEATHER FRENZY! We are giving away more feathers than ever. Go grab them in Chests, Daily Challenges and Arena!
• BIRD POWER! Do you have what it takes? Visit the hat shop in the Arena to find out more
• MORE HATS! Get Spooky, Go Medieval or try a Wig!
• NEW CHAPTERS, NEW CARD TIER, and more

The Birds are Back and There's Gonna Be Trouble!
The biggest game in mobile history is back with the first sequel. Angry Birds 2 once again pits out favorite birds against the forces of piggy evilness. Slingshot your birds at the piggy hideouts to create havoc and mayhem. Destroy all evil piggies to advance to the next level. Unlock new bords with special abilities to better help you destroy the evil pigs and reclaim your eggs.

The highly anticipated sequel is here! Don't waste any time downloading Angry Birds 2 on PC or Mac. Download the new Bluestacks Android Emulator app for free to play Angry Birds 2 on Mac or PC. Thanks to your larger computer screen, you can easily see the entire attack area, including all little piggies. Use your mouse to control your attacks to avoid finger slips and poor aim. Fight even farther into your game with steady and reliable internet service. No more losing your progress mid-game with the free Bluestacks player. When you Play Bigger, you ensure a more rousing gaming experience.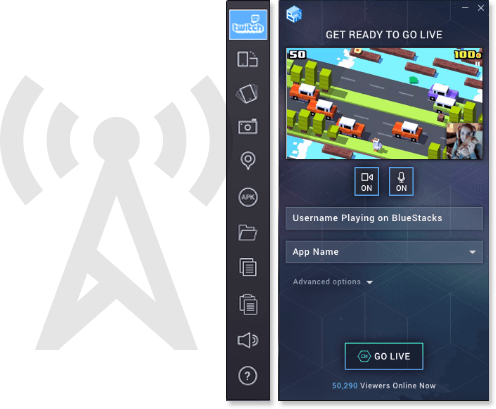 Broadcast Your Birds to the Whole World
The Angry Birds are best taken in large doses with a lot of friends. The zany adventures of the Birds constant struggle with the Bad Piggies is always hilarious and perfect for sharing. That's why the latest version of the free BlueStacks 2 player gives players one-click access to Twitch.tv, the largest gaming community in the world for viewing and sharing video game footage from multiple platforms. Now, you can easily share your gaming experiences with the world and start building your own community of fans and followers. Play Bigger and share more with BlueStacks and Twitch.