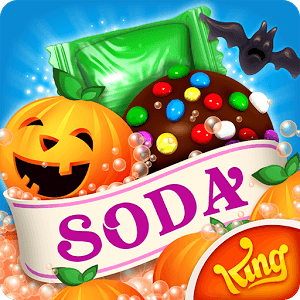 Candy Crush Soda Saga
Download Candy Crush Soda Saga for free now.  It's Sodalicious!
Candy Crush Soda Saga is a brand new game from the makers of the legendary Candy Crush Saga. New candies, more divine combinations and challenging game modes brimming with purple soda!
Candy Crush Soda Saga is completely free to play, but some in-game items such as extra moves or lives will require payment.
By downloading this game you are agreeing to our terms of service; http://about.king.com/consumer-terms/terms
New Candy Crush Soda Saga features: 
* Over 1000 Sodalicious levels
* New Game Modes include:
Soda – switch bottles and candies to release purple soda and save the Candy Bears
Frosting – match candies to smash the ice and set the Candy Bears free
Honey – match candies next to the honey to release the trapped Candy Bears
* Scrumptious new candies and sublime new combinations:
Match 4 candies in a square to make a Swedish Fish
Match 7 candies to create the remarkable Coloring Candy
* Explore juicy new environments and meet the kookiest characters
* Mouth-watering new graphics, Candy Crush never looked so tasty
* Easy and fun to play, yet challenging to fully master
* For players that Facebook Connect, there are leaderboards for you and your friends to compare your Sodalicious scores
* Easily sync the game between mobile and tablet devices and unlock the full game features when connected to the internet
This mouth-watering puzzle adventure will instantly quench your thirst for fun. Join Kimmy on her juicy journey to find Tiffi, by switching and matching your way through new dimensions of magical gameplay. Take on this Sodalicious Saga alone or play with friends to see who can get the highest score!
Are you already a fan of the new Candy Crush Soda Saga?  If so then visit our website, like us on Facebook or follow us on Twitter for the latest news:
www.candycrushsodasaga.com
facebook.com/CandyCrushSodaSaga 
twitter.com/CandyCrushSodaSaga
Last but not least, a big THANK YOU goes out to everyone who has played Candy Crush Soda Saga!
Developer
King
Category
Casual
Last Update
November 29, 2016
Update notes
Sodalicious! It's time for a new update!
-Explore the world of Soda in our bubbly new episodes!
-The Bubblegum Troll sings about Kimmy in Tasty Theatre, prepare to be astonished by his epic stage outfit!
Don't forget to download the latest version of Candy Crush Soda Saga for all the newest content!

The Biggest Mobile Adventure Saga Continues on PC and Mac
From the creators of the original mobile gaming hit comes Candy Crush Soda Saga. Our hero Kimmy must find Tiffi and only you can help her. This follow-up features the same, fun matching puzzle challenges, but on a whole new level. Save the Candy Bears by matching candy and soda bottles to unleash the power of purple, fizzy pop. More than 100 hundred challenging levels, new candies and combos, and many kooky characters.

With so much fun to be had, you are going to have the urge to play for hours. Too bad your data plan doesn't allow for that kind of extreme gaming session. Good thing the free Bluestacks Android Emulator tool is here to save the day. Click the link above to begin your free download of the new Bluestacks player and you will have instant access to almost every Android app and game right on your computer. Only with Bluestacks, can you game into the wee hours of the night without worry or stress.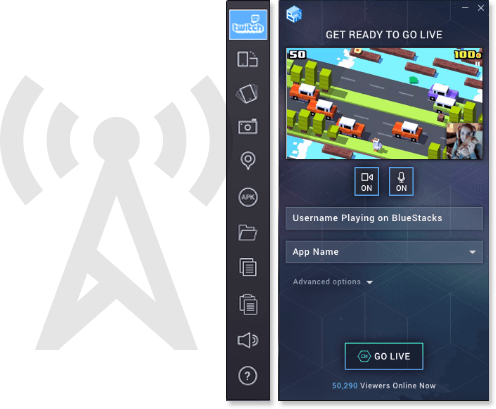 Pop the Top on Easy Twitch Streaming
With the latest version of the free BlueStacks 2 player, users can now easily stream their mobile gaming experiences straight to Twitch.tv. Twitch gives gamers a place to share their video game footage for others to share. Millions of visitors come to enjoy videos featuring players beating difficult levels, making large combos, and even having a little fun. To help gamers keep up with everything going on, Twitch allows following of titles and other players. Now, you can know exactly when your favorite player is broadcasting Candy Crush Soda Saga on Twitch or stream your own gameplay and start building a following.