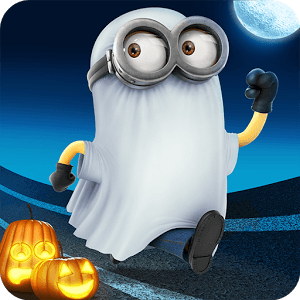 Despicable Me
****** JOIN 750 MILLION PLAYERS WORLD-WIDE! *****
Race with the Minions in the award winning and fan favorite endless runner, Despicable Me: Minion Rush! Collect bananas as you jump, roll, dodge and scramble against others in fun-filled, fast-paced missions! Run as Carl, Jerry and Dave, get awesome costumes, play exciting mini-games and explore locations inspired by the Despicable Me movies!
ALL THE FUN OF DESPICABLE ME!
• Run through iconic locations from the movie and discover secret areas
• Enjoy unexpected Minion moments, like becoming a MEGA-MINION and riding the FLUFFY UNICORN or GRU'S ROCKET
• Use hilarious weapons and power-ups while competing with other players in Minion Races
• Battle exclusive villains such as Vector, El Macho and the Villaintriloquist
• Experience original animations, voice-overs and state-of-the-art 3D graphics created just for the game
______________________________________________
You can download and play this game for free. Please be informed that it also allows you to play using virtual currency, which can be acquired as you progress through the game, or by deciding to watch certain advertisements, or by paying with real money. Purchases of virtual currency using real money are performed using a credit card, or other form of payment associated with your account, and are activated when you input your Google Play account password, without the need to re-enter your credit card number or PIN.
In-app purchases can be restricted by adjusting the authentication settings within your Play Store settings (Google Play Store Home > Settings > Require authentication for purchases) and setting up a password for each purchase / Every 30 minutes or Never.
Disabling password protection may result in unauthorized purchases. We strongly encourage you to keep password protection turned on if you have children or if others could have access to your device.
This game contains advertising for Gameloft's products or some third parties which will redirect you to a third-party site. You can disable your device's ad identifier being used for interest-based advertising in the settings menu of your device. This option can be found in the Settings app > Accounts (Personal) > Google > Ads (Settings and Privacy) > Opt out of interest-based ads.
Certain aspects of this game will require the player to connect to the Internet.
_____________________________________________
Visit our official site at http://www.gameloft.com
Follow us on Twitter at http://glft.co/GameloftonTwitter or like us on Facebook at http://facebook.com/Gameloft to get more info about all our upcoming titles.
Discover our blog at http://glft.co/Gameloft_Official_Blog for the inside scoop on everything Gameloft.
Privacy Policy : http://www.gameloft.com/privacy-notice/
Terms of Use : http://www.gameloft.com/conditions/
End User License Agreement : http://www.gameloft.com/eula/
Developer
Gameloft
Category
Casual
Last Update
October 18, 2016
Update notes
Race into Halloween hijinks in the new Despicable Me: Minion Rush update!
- The Halloween Residential Area is here! Celebrate Halloween and perform more despicable deeds than anyone else!
- Dave is wearing two new Costumes this Halloween season! Get the Bride of Frankenstein and Ghost Costumes.
- Collect all of the spooky Toy Spiders, Toy Skulls and Halloween Candy during the new Special Mission: Haunted Hustle.
- Save the Minions from alien abduction by playing the new UFO mini-game.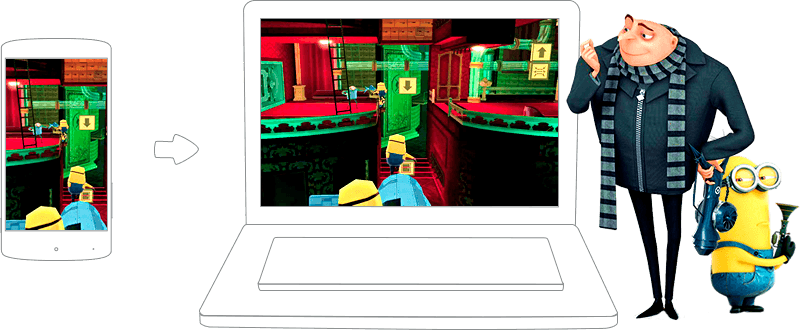 Become the Most Despicable Minion You Can Be
Those little, yellow mischievous Minions from the hit Despicable Me films are back in a brand new adventure. With your help, they hope to find a number of exotic fruits and make the world's best jelly. Along the way, you have the chance to become the most despicable Minion of the Year. In this endless runner, you will have to act quickly to help Gru's Minions explore several locations from the movies and even some created especially for this game. Run, jump, roll and banana your way through challenging courses, fun mini-games and even special events which are updated regularly.

Now you can play Despicable Me on PC and Mac instead of that tiny Android device. Use the new Bluestacks Android Emulator to instantly download and play Despicable Me on your computer, along with any of the other thousands of apps available for Android. By playing bigger on your computer, you can easily control the Minions using your mouse instead of clumsy touch screen controls and accidental swipes. React more quickly and notice oncoming dangers to better avoid them when you play Despicable Me on PC and Mac.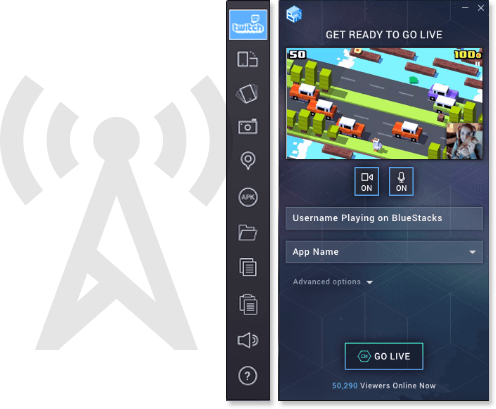 BANANAS!!
The only thing more invigorating to the Minions than a delicious, yellow banana is showing off in front of people. Join your favorite way-yellow creatures and broadcast your despicable actions to the world through the vast Twitch.tv network. Right now, thousands of gamers are broadcasting their latest exploits to live audiences full of hardcore gamers. Feel the rush as you try to best your longest run in front of your own followers and fans. With the latest version of BlueStacks 2, Twitch streaming ability has now been enabled. Simply click, play, and stream your way to the despicable title.