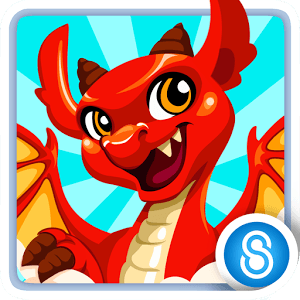 Dragon Story Country Picnic
Hatch, raise, and breed over 400 Dragons on magical fantasy islands! Raise a village of dragons from cute babies to epic adults and breed them to discover new species!
Become the best Dragon Caretaker - you can be the first to discover the ultra rare Diamond Dragon!
Introducing the ALL NEW Leaderboard events! Compete with your friends and other community members for rare, exclusive prizes. Do you have what it takes to come in 1st place?
- COLLECT strong, mysterious, and fun dragons from over 200 species! Each dragon moves with a lively, and sometimes quirky, personality!
- BREED different dragon types to hatch new hybrid dragon eggs! Can you DISCOVER the rare dragons from each color combination?
- BATTLE your dragons to win awesome prizes and compete in Tournaments!
- GROW magical food on farms to feed your dragons. Then watch them grow and evolve through 4 unique stages!
- WIN new dragon eggs, habitats and decorations through monthly World Events with bonus community prizes!
- DECORATE your islands with colorful habitats, castle towers, flowers, and more!
- Stunning graphics, animations, and sounds bring your fantasy dragon city to life!
- Invite your Facebook or Storm8 friends to play with you. Gift GOLD and help each other raise dragons!
- New dragons and events released weekly!
Dragon Story is the BEST dragon game for your Android device with more Dragons than anyone else!
Which dragons will become your favorite? Mighty Fire Dragons, caring Air Dragons, cute Magic Dragons and many more await you in Dragon Story!
Dragon Story is an online only game. Your device must have an active internet connection to play.

Storm8-studios, a Storm8 studio, is the #1 Mobile Social Game Developer on Android.
Use of this application is governed by the Storm8-studios Terms of Service. Collection and use of data are subject to Storm8-studios's Privacy Policy. Both policies are available at www.Storm8-studios.com/terms and www.Storm8-studios.com/privacy
Please note that Dragon Story™ is free to play, but you can purchase in-app items with real money. To delete this feature, on your device go to the Google Play Store, tap the Menu button, select Settings > Use password to restrict purchases. Then follow the directions to complete setup. In addition, Dragon Story™ may link to social media services, such as Facebook, and Storm8 will have access to your information through such services.

Follow Storm8
www.storm8-studios.com
facebook.com/storm8
twitter.com/storm8
Developer
Storm8 Studios
Category
Casual
Last Update
November 9, 2016
Update notes
BINGO ADVENTURE LEAGUES
• Complete Challenges on a BINGO board to earn Adventure Points towards weekly prizes!
• Maximize your Adventure Points by completing Double and Triple BINGOs!
NEW TIMER BOOSTS
• Speed up your Breeding Den, Nests, Evolution Temple and Farms by up to 10x!
• Earn 2x, 5x and 10x Timer Boosts from the weekly Adventure Leagues!
NEW TICKET TEMPLE
• Earn Adventure Tickets from the Silver & Gold Leagues to craft exclusive prizes!

Hatch and Raise Your Own Dragons
There is no pet as cool as a dragon. With the hit Android game Dragon Story: Country Picnic, you have the chance to experience dragon parenthood for yourself. In this new addition to the popular series, you can collect a whole new batch of dragons and raise them for battle. Each dragon comes with its own habitat and powers. Regular events are held that alow you to win rare dragon eggs, items, and other sweet rewards.

When you have more than 200 dragons to hatch and raise, you will need more space than your phone or tablet has. Play bigger and download the free BlueStacks Android Emulator to play Dragon Story: Country Picnic on PC or Mac right now. Forget about complicated setups or extra hardware. All you need to do is click the link above us and let BlueStacks do the rest. Use your mouse and keyboard to more easily control your farming and hatching while your steady home internet connection ensures you will always have your dragons at your side whenever you want them.