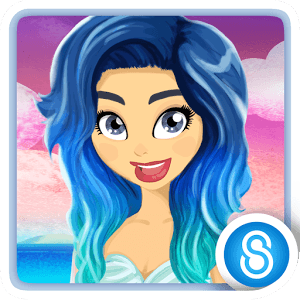 Fashion Story Mermaid Cove
The #1 FREE fashion game returns with Fashion Story: Mermaid Cove, packed with new limited edition mermaid-themed content! Fashion-hungry customers are lined up waiting for the doors of your hot new boutique to swing open! In this special mermaid-themed edition, throw on your fresh, lively and stylish outfit and win the envy of your friends. Pick the latest chic, fun fashions to sell, layout your boutique with hot trendy decorations, and attract customers for this season's biggest hit: your new Mermaids Galore fashion line!
- PERSONALIZE and accessorize your own character! Choose makeup, hairstyles, and stylish clothes to impress your friends!
- TRENDSET by unlocking designer clothes lines and flashy accessories that customers will love!
- DESIGN your dream boutique! Showcase your style and creativity with wallpaper, decorations, and art!
- COLLECT the wardrobe of your dreams! Stock your closet and create gorgeous outfits!
- SOCIALIZE with sister boutiques, and collect bonuses from other fashionistas!
- INVITE your Facebook friends to set up shop next door!
- FREE to download, FREE to play, FREE weekly updates with new clothing and decorations!
Fashion Story: Mermaid Cove is the HOTTEST and most stylish FREE to play Fashion game for your Android device!
Please note: Fashion Story: Mermaid Cove is an online only game. Your device must have an active internet connection to play.
Please note that Fashion Story: Mermaid Cove is free to play, but you can purchase in-app items with real money. To delete this feature, on your device go to the Google Play Store, tap the Menu button, select Settings > Use password to restrict purchases. Then follow the directions to complete setup. In addition, Fashion Story: Mermaid Cove may link to social media services, such as Facebook, and Storm8 will have access to your information through such services.
Storm8 Studios is the #1 Mobile Social Game Developer on Android.
Use of this application is governed by the Storm8 Studios Terms of Service. Collection and use of data are subject to Storm8 Studios Privacy Policy. Both policies are available at http://www.storm8-studios.com/terms/ and http://www.storm8-studios.com/privacy/
Follow Storm8
www.storm8-studios.com
facebook.com/storm8
twitter.com/storm8
Developer
Storm8 Studios
Category
Casual
Last Update
July 31, 2015

The Price of Fashion is FREE
Welcome to Mermaid Cove, the newest and freshest fashion boutique on the water. As the doors to your latest store open, you will have to look the part by choosing only the top fashions and trends to show off and attract the high-paying customers. You choose what to stock your shelves with, so make sure you know the ins-and-outs of the fashion game. It doesn't matter what you have to sell if your boutique looks old and run down. Attract more customers with the hottest decorations and draw attention to your latest fashion line - the new Mermaid Galore line!

Fashion Story: Mermaid Cove gives players a lot of extra features that keep them coming back for more. Collect the wardrobe of your dreams and stock your closet full of the finest clothes and accessories money can buy. Unlock trendy clothes that will have customers flocking to your boutique. Play with friends via your favorite social networks like Facebook.