Hay Day
Best. Farm. Ever.
Welcome to Hay Day, the most popular farming game on mobiles and tablets, number one in 122 countries.
Learn the lay of the land, tend to your crops, and trade goods with neighbors and friends. It's a real special place where the crops never die even though it never rains. Sharing the farm with our quirky animals only makes things more fun!
PLEASE NOTE! Hay Day is free to download and install. However, some game items can also be purchased for real money. If you do not want to use this feature, please set up password protection for purchases in the settings of your Google Play Store app. A network connection is also required.
~~~~~~~~~~
FEATURES
~~~~~~~~~~
♥ Grow and customize your farm
♥ Trade crops and fresh goods with neighbors and friends through your very own roadside shop
♥ Fulfill orders with your truck and even by steamboat
♥ Repair your dock and cast your lure to fish the waters
♥ Build your own town and welcome visitors
~~~~~~~~~~~
MEDIA MENTIONS
~~~~~~~~~~~
Hay Day's presentation is fairly cinematic for a mobile game. It's eye candy. [...] If you're a fan of simulation games, Hay Day is visually pleasing and will definitely keep your inner agriculturalist giddy for hours
http://www.gamezebo.com/2012/07/03/hay-day-review/
Watching your crops grow and your twee factories spew out products is a quietly pleasing experience.
http://www.pocketgamer.co.uk/r/Multiformat/Hay+Day/review.asp?c=42764
~~~~~~~~~~~
PLAYER REVIEWS
~~~~~~~~~~~
Hay Day is very proud to announce over 5 million five star reviews on Google Play!
~~~~~~~~~~
SUPPORT
~~~~~~~~~~
Neighbor, are you having problems? Visit https://supercell.helpshift.com/a/hay-day/?l=en or contact us in game by going to Settings > Help and Support.
Under our Terms of Services and Privacy Policy, Hay Day is allowed for download and play only for persons 13 years or over of age.
Privacy Policy:
http://www.supercell.net/privacy-policy/
Terms of Service:
http://www.supercell.net/terms-of-service/
Parent's Guide:
http://www.supercell.net/parents/
Developer
Supercell
Category
Casual
Last Update
November 4, 2016
Update notes
New update:
• Rose doesn't feed animals unless needed
• Bug and crash fixes
Previous Update:
• Welcome your new neighbors, Rose and Ernest!
• They'll help out with the farm, while you play and when you're away!
• Rose tends to your animals. Ernest keeps the dairy and sugar maker running.
• Both come with their own storage space.
The Life of a Farmer Has Never Been More Fun
Are you ready to spend your days outside in the sunshine with animals all around you? Join millions of other players around the world in the most popular farming game on Android. Hay Day has more than five million 5-star reviews on Google Play, and that number is only getting larger as more players get addicted. Now, you can play Hay Day on PC and Mac to experience all the fun of planting and tending to crops, raising animals, and trading your goods on a global marketplace without the tiny screen. Grow and customize your farm with hundreds of amazing decor items, lots of cute animals, and even go out and catch some fish for dinner. Erect factories to start turning your raw materials into goods to fill orders and sell to other players around the world. Find friends and join a close-knit neighborhood to seek help and more easily trade and sell your goods.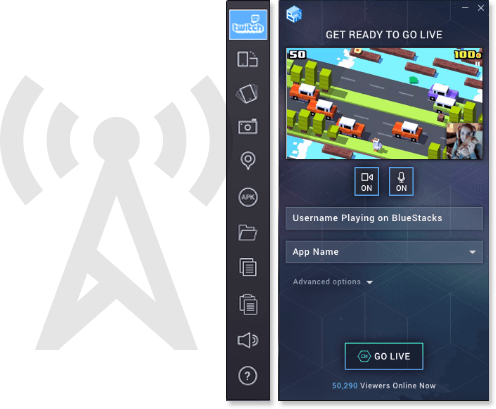 Share Your Farm With the Twitch Community
Twitch.tv has become the largest social gaming site in the world by allowing users to broadcast their favorite video games to a live audience of fans and players all over the world. Every day, there are over one million live gaming feeds hosted on twitch, and now you can join them when you change the game with the new and improved BlueStacks 2 player. Start broadcasting Hay Day to millions of players and farm enthusiasts by simply clicking one button. No more fumbling around with wires and cables when you have the unmitigated power of BlueStacks 2 on your side.