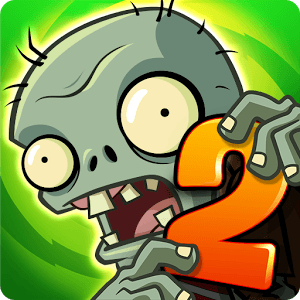 Plants vs Zombies 2
"Best Games of 2013" Collection on Google Play
Play the sequel to the hit action-strategy adventure with over 30 Game of the Year awards. Meet, greet and defeat legions of zombies from the dawn of time to the end of days. Amass an army of powerful plants, supercharge them with Plant Food and power up your defenses with amazing ways to protect your brain.
This app offers in-app purchases. You may restrict in-app purchasing using your device settings.
100 Million Downloads – This app has received more than 100 million overall downloads.
Winner: Best Mobile Game at E3 – Game Informer
Winner: Best Mobile Game 2013 – Mashable
Winner: Game of the Year 2013 – Slide to Play
Game Features
NEW PLANTS! NEW ZOMBIES!
Meet Fire Peashooter, Pepper-pult, Bonk Choy, Laser Bean, Pea-nut, and the prickly Homing Thistle: Just a few of the powerful new plants that will defend your lawn through time. Go toe-to-missing-toe with dozens of new zombies including Troglobite, Swashbuckler Zombie, Chicken Wrangler Zombie, Jetpack Zombie, Wizard Zombie, Mermaid Imp and Weasel Hoarder – the wiliest zombie of them all!
AMAZING WAYS TO PROTECT YOUR BRAIN
Choose your plants wisely for each level and plot out your winning strategy. Use Plant Food to supercharge your plants when you need it most. Freeze, flick and zap zombies off your lawn, using your fingers with simple touch controls.
GET CRACKING IN VASEBREAKER
Defeat endless zombie waves in Vasebreaker, the #1 mini-game from Plants vs. Zombies. Use smashing power-ups like the Butterizer, X-Ray vase vision and more.
UNLOCK YOUR ZEN GARDEN
Battle zombies to win sprouts, then plant them in your very own Zen Garden. Tend to it carefully and be rewarded with extra BOOM in your blooms.
LOOK OUT! ZOMBOT TUSKMASTER 10,000 BC!
Take on Zomboss at the end of each new world. He's coming for you with a host of diabolical inventions designed to challenge your best defenses!
NEW LEVELS OF EXCITEMENT
Unlock ultra-challenging endless levels in every world — Pyramid of Doom, Dead Man's Booty, Big Bad Butte, Terror from Tomorrow, Arthur's Challenge, Tiki Torch-er and Icebound Battleground.
EXPLORE MORE WITH THE TRAVEL LOG
Stumped about where to go next? Consult your Travel Log to embark on exciting Quests created just for you. Complete Quests and level up by earning points and prizes.

Requirements:
• Requires Android 3.0 (Gingerbread); ARMv7 1.0 Ghz or higher; 1 GB of RAM
• Features may vary by mobile device

Follow us on twitter.com/PlantsvsZombies
Find us on www.facebook.com/PlantsversusZombies
Visit the Plants vs. Zombies store: http://www.pvzstore.com

User Agreement: terms.ea.com
Visit https://help.ea.com/ for assistance or inquiries.
Requires acceptance of EA's Privacy & Cookie Policy and User Agreement.
Developer
ELECTRONIC ARTS
Category
Casual
Last Update
December 1, 2016
Update notes
Ravenous zombies are cooking up a mouthwateringly good time in our Food Fight event, from Nov 15 to Dec 1! This update includes:
• Parsnip, the happy, snappy, all-new premium plant
• Sweet Potato, back for a tasty return
• Sneaky zombies dressed up as waiters, chefs, diners, and delicious dishes
• Plus, fun new costumes for your plants
Thanks for playing, plant fans! Be sure to rate us after each update.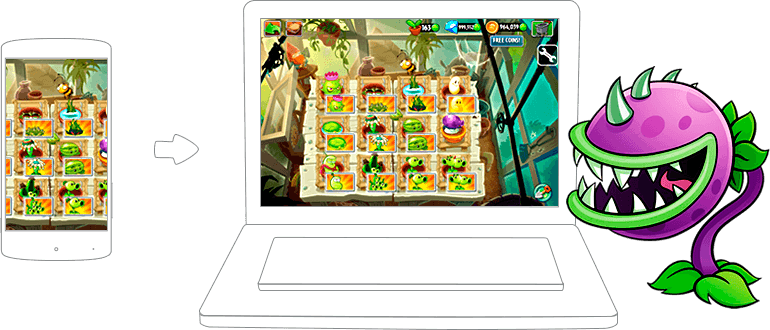 The zombies are coming... To your PC
The 2013 Best Mobile Game of the Year is leaping off your Android device and right onto your computer screen. In Plants vs. Zombies 2, you are once again tasked with helping the living defend themselves against hordes of the undead. This time the plants have called in reinforcements, but so have the zombies. In this new edition to the popular video games series, you must battle your way through a whole series of levels scattered throughout time. Now you have to battle ancient Egyptian mummies, futuristic monsters and even a Yeti or two.

Enjoy all of the undead fighting action of Plants vs. Zombies 2 right on your home computer. Introducing the Bluestacks Android Emulator app for Windows. Using this free program, you can play Plants vs. Zombies 2 on PC anytime you want. With the new Bluestacks app, you don't have to worry about lagging internet connections or poor signals. Using your home internet connection, you will have the speed and dependability needed to save plant-kind from the evil zombies and monsters.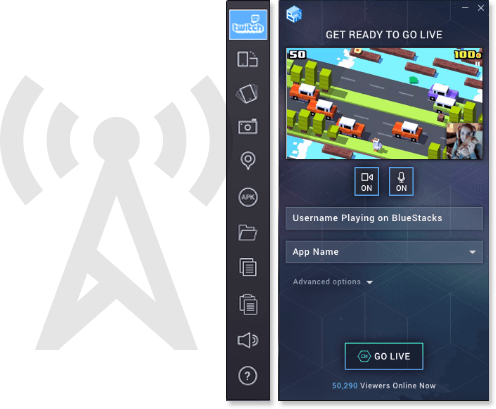 Bring Garden Warfare to the Massses
The days of keeping your accomplishments to yourself is over! Thanks to the fastest growing social network of the last few years. Twitch is more than a social networking site. Each day, more than one million live video game streams are shared across the vast Twitch.tv network. These feeds feature gamers like you trying crazy challenges, killing the most zombies, or simply sharing a game for others to watch and enjoy. No matter what your style of gaming is, Twitch has a live feed that you need to see. Use the convenient controls in the new BlueStacks 2 player to broadcast Plants vs Zombies to millions of Twitch users.