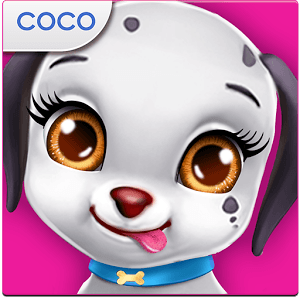 Puppy Love My Dream Pet
~~> Fall in love with your brand new dream pet — the most adorable puppy ever!
~~> Dress up and care for your puppy! Style, pet, feed her and so much more!
~~> Enjoy tons of interactive and playful 3D activities in Puppy Land!
Ahhh, there's nothing quite as sweet as puppy love… especially when your puppy is the most adorable and cuddly puppy in all of Puppy Land! Rumor has it she's totally in love with you too! Your new puppy needs lots of love and attention to help her flourish and grow up! Care for your new love and make her the happiest pup in Puppy Land!
* Customize your dream puppy - exactly as you like!
* Choose from tons of delicious snacks to feed your hungry puppy!
* Bathe your puppy 'till she's sparkling and clean!
* Treat your injured puppy with special vet tools!
* Play sweet and fun-filled games with your adorable dream pet!
* Dress up your puppy in a variety of stylish outfits and cute accessories!
* Race with your puppy! How fast can your puppy run?!
* Photo booth fun! Take a picture with your new dream pet!
* Enjoy adorable and interactive 3D animations!
About Coco Play
Coco Play Limited is China-based developer of creative and unique apps for kids. Founded in 2013, Coco Play provides rich 3D simulation-based games for the whole family. Coco Play is a subsidiary of TabTale, a leading, global creator of innovative games, interactive books and educational apps.
Visit us: http://www.tabtale.com/
Like us: http://www.facebook.com/TabTale
Follow us:@Tabtale
Watch us: http://www.youtube.com/iTabtale
PRIVACY:
* This App is free to play, but certain in-game items may require payment. You may restrict in-app purchases by disabling them on your device.
* By downloading this App you agree to TabTale's Privacy Policy and Terms of Use at http://tabtale.com/privacy-policy/ and at http://tabtale.com/terms-of-use/.
This App may include third parties services, such as ad networks and analytics, and may contain social media links that allow users communicate with others. Collection and use of data are subject to TabTale's Privacy Policy.
Contacts:
Like us on Facebook to get the latest apps and news:https://www.facebook.com/cocoplay
Send us your ideas or questions: http://www.tabtale.com/contact/
Thanks for playing and please leave a review to keep free update coming!
Your support is greatly appreciated
Developer
Coco Play By TabTale
Category
Casual
Last Update
June 27, 2016
Update notes
> New puppy themed coloring pages! Get creative with your favorite puppy!
> Dress your puppy up in new summer clothing! It's getting hot in furrrr!
> Feed your puppy sweet summer foods like cake, ice cream & more!

Come With Us to a Time of Power and Warriors
There is no such thing as an ugly puppy and in the hit Puppy Love - My Dream Pet game, ever single puppy is the most adorable thing ever. Welcome to Puppy Land where you can find the puppy of your dreams and take her home with you today. To help your new puppy grow, you will need to spend a lot of time caring for and loving on her. Play a wide range of 3D activities with your new puppy to help keep her happy and healthy. Perform tasks like bathing, styling, and even racing with your new best friend. Unlock or purchase new customizations and other upgrades to turn your new puppy into the spitting image of you. Share the fun with your friends and family by taking cool snapshots with your dream pet and showing it off to everyone. Come to Puppy Land and experience the joys of being a pet owner without any hassle, mess, or fuss.