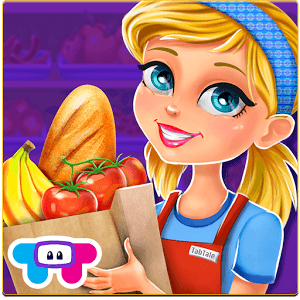 Supermarket Girl
~~> Run the COOLEST supermarket in town with Supermarket Girl! SUPER!!!
~~> Tons of real-life supermarket activities! Help customers shop, run the cash register, organize the storage room and so much more!
~~> Explore the sweets section! Choose from dozens of yummy, sugar coated treats! You can even decorate your own cake!
Ever been to the supermarket with Mom or Dad? It's so much fun! Well guess what? Now it's your turn to run your own supermarket! This supermarket isn't any ordinary supermarket, it's packed with the most delicious sweets and treats! But don't get carried away with all the sweets, make sure to give customers fruits and veggies too!
Features:
> Help customers find the food they want!
> Run the cash register! Make sure to give customer the right change!
> Weigh, scan and pack groceries in environmentally friendly bags!
> Decorate cakes with tons of delicious toppings! Wrap them too!
> Sort fruits and vegetables! Recycle the rotten ones!
> Organize the shelves! Put all the items are in their place!
> Dress up for work! Choose from a variety of adorable outfits and accessories!
> Serve customers yummy food in the cafeteria!
> Play the grocery carts mini game! Help the carts get back to the station!

ABOUT TabTale
A Google Play Top Developer, recognized for its commitment to launching high-quality and innovative apps on Android, TabTale lovingly produces games, interactive e-books, and educational experiences. With over 1 billion downloads and growing, TabTale has established itself as the creator of pioneering virtual adventures that kids and parents love. TabTale's apps spark children's imaginations and inspire them to think creatively, while having fun! Search "TabTale" on Google Play and discover more incredible apps.
Visit us: http://www.tabtale.com/
Google Plus: https://plus.google.com/+Tabtale/posts
Like us: http://www.facebook.com/TabTale
Follow us:@TabTale
Watch us: http://www.youtube.com/Tabtale

CONTACT US
Let us know what you think! Questions? Suggestions? Technical Support? Contact us 24/7 at WeCare@TabTale.com.

IMPORTANT MESSAGE FOR PARENTS:
* This App is free to play, but certain in-game items may require payment. You may restrict in-app purchases by disabling them on your device.
* By downloading this App you agree to TabTale's Privacy Policy and Terms of Use at: http://tabtale.com/privacy-policy/ and at: http://tabtale.com/terms-of-use/.
Please consider that this App may include third parties services for limited legally permissible purposes.
Developer
TabTale
Category
Casual
Last Update
November 16, 2016
Update notes
>Zap! We've swatted the icky bugs! Now your game is creepy-crawler free and faster than ever!
>Thanks for being awesome players! Send us your feedback so we can keep making games you love.
>Keep up with the latest games at facebook.comtabtale

This is Your Chance to Run Your Own Supermarket
Take on the challenge of running your very own supermarket in the new Android game Supermarket Girl. Take on the role of a new supermarket owner as she tries to handle the daily activities of her new position. Just like the real-life supermarket, you will have to help customers find the foods they want, weigh out fruits and veggies, and even organize the shelves to help customers.

No more wishing you could explore the store by yourself. Now, you have a fully functional supermarket that has been created only for you. Walk around and explore any area you want as you complete the required tasks. Be sure you work quickly as the chores will not stop coming. Get too backed up, and it may be time to start over with a brand-new supermarket. Play Supermarket Girl on PC or Mac anytime you want with the free BlueStacks 2 player. Click the link above to begin your download of Supermarket Girl now.