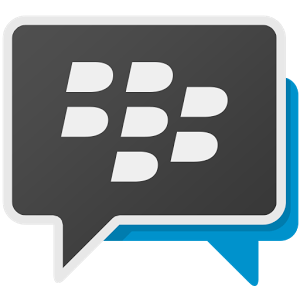 BBM
BBM is not just for BlackBerry anymore. BBM is a FREE messaging app available for Android and other smartphones. BBM has unique features to protect your privacy and keep you in control:
• Retract – The ability to take back messages and photos, even after you've sent them. Retract before they've been 'R' (Read) and they'll never know! *
• Timer – The ability to set a timer so that a message or photo can only be viewed for a set amount of time before it disappears.* Glympse allows you to do the same with location!
• Private Chat – A special chat mode that disappears without a trace when you're finished.
• The BBM PIN – A way to share your contact information, without sharing your phone number or email address. This keeps you in control of who can send you messages at all times. Once blocked, they have no way of contacting you.
PLUS, BBM HAS EVERYTHING YOU EXPECT FROM A MESSAGING APP:
• Free voice calling between BBM Contacts with BBM Voice
• Quickly share photos, files, documents, voice notes and more
• Know when messages have been delivered (D's) and read (R's)
• See when contacts are responding to your message
• BBM is always on and always connected – no app to open
• Hundreds of Stickers and Emoticons for every mood and emotion let you express yourself
• Allow contacts to view your location live on a map, powered by Glympse
CHAT WITH A GROUP
• Invite additional BBM contacts to join a chat to make things more lively! Join at any time, and it ends when everyone leaves - up to 250 BBM contacts in one chat!
• BBM Groups – Setup a permanent BBM Group with your close friends or co-workers - not only can you chat, but also share pictures in a group Album, assign tasks to group members, and create calendar events for group members. Permanent BBM Groups can have up to 50 members.
• Broadcast messages – Get the word out in a flash by sending a broadcast message to multiple BBM contacts at one time.
BBM CHANNELS
• Get more of what you love in BBM by subscribing to BBM Channels that interest you
• Posts from Channels that you have subscribed to appear in your BBM Feeds
• Join the conversation and meet new BBM contacts through comments on Channel Posts
• Create your own channel and build your subscribers to share your thoughts, ideas and passions
Create your own BBM profile:
• Post a profile picture using images, pictures or even animated pictures (GIFs)
• Update your status to let people know what you're up to or how you feel
Download BBM for free today.
Data charges may apply.
* While these features are designed to remove the message or picture the recipient's BBM chat view, they do not prevent recipients from capturing an image of the content by taking a screenshot or using an image capture device.  Retracting a message after it has been read by the recipient will remove the message from the BBM chat view, but will not affect copies of the message that the recipient may have made prior to the message being retracted.
Note features not available on Android smartphones running 2.3.x (Gingerbread)
Developer
BlackBerry Limited.
Category
Communication
Last Update
December 1, 2016
Update notes
Chats now support very long messages!
Access all Free Stickers in one tap from BBM Discovery Tab.
More secure Sign In for Users who Signed Up with Phone.
Bug fixes.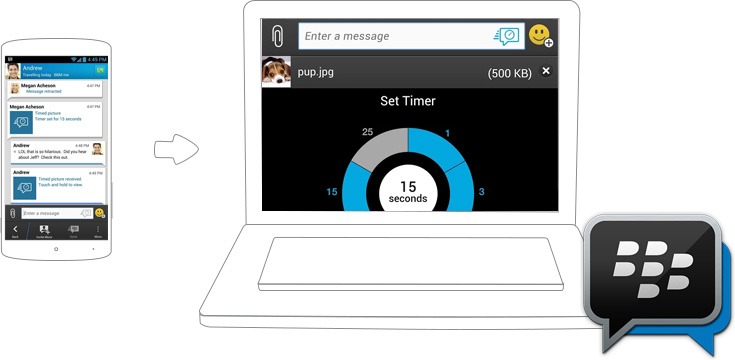 Talk to your friends, family, and business associates securely with BBM for PC
In this day and age, it is rare that we see mobile device users not being able to chat or message one another. This was the case for a long time when it came to Blackberry users and the rest of the world. Blackberry Messenger was created as a communications tool for Blackberry users, but with recent upgrades and releases for Android, Blackberry users can chat and video call all of their friends, regardless of mobile platform.

You can take this one step further by downloading Blackberry Messenger on Windows XP, 7 or 8. Quickly send messages, chat or video conference users on the Blackberry network from the convenience of your living room. The free Bluestacks Android Emulator app for home computers and laptops, allows you to experience all that Blackberry Messenger has to offer, without any of the eye strain, poor signals and lack of internet connection and speed.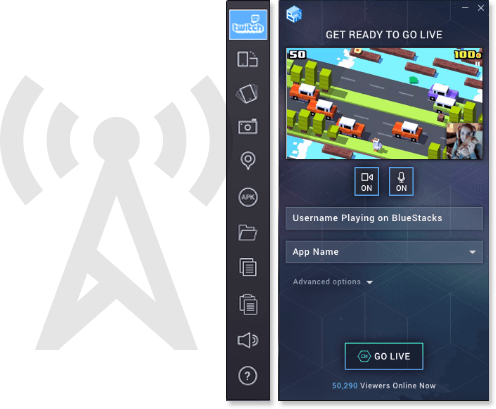 Broadcast Your World to the Entire World
In today's ever-increasing digital society, our mobile lives and home lives are becoming more and more intertwined. Our mobile devices and smartphones are quickly turning into our lifeline for communications. Ensuring you know how to properly use the apps and devices is very important, especially for those traveling often and needing to contact their family members. Twitch.tv has become the number one site for sharing gaming and app footage in the entire world. By using the one-click streaming feature of the new BlueStacks 2, you can share your own 'How-To' videos and find other BBM users.