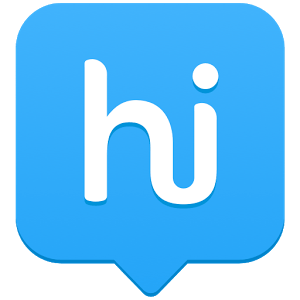 Hike
Why do you need hike?
★ STORIES: Express yourself using Hike's all new Camera and share your moments freely with your friends. A Story lasts for 48 hours, after that poof! It disappears. You can finally share everything with your friends on Hike 😉
★ ALL NEW CAMERA: We've built a Camera right into hike making it super easy to snap and share!
★ NEW PHOTO EDITING: Add a little flavour to your photos by adding Stickers, Text, Emojis and much more!
★ LIVE FILTERS: Tap on your face when the Camera is active in Selfie mode to see the magic happen. We're super excited about this one and we think you're going to love it!
★ 5000+ FREE STICKERS: Why say you're angry when you can show it? When words can't express it, say it with stickers! Share thousands of awesome, hilarious & fun stickers with your friends! With the largest collection of Indian regional stickers in over 30 regional languages, say more with stickers in your language!
★ HIDDEN MODE: An awesome feature which allows you to hide all your private chats from the world and access them only with a password! Your private conversations are now protected & secure from anyone who takes your phone.
★ HIKE DIRECT: Chat & share files WITHOUT INTERNET and ZERO data charges in classrooms, while travelling, pretty much anywhere within 100 meters of a friend! Just open a chat, go to the 3 Dot menu & tap Hike Direct to see the magic!
★ SHARE DOCUMENTS & FILES: Why email when you can send practically anything and everything on hike! Send unlimited amounts of all kinds of non media files and documents of any format like PDF, ZIP, Word, PowerPoint, Excel, APKs, MP3s and much more!
★HIKE VIDEO CALLS - Enjoy free one-to-one video calling with just a tap of a button! You can also look at who's calling you before you answer! Now start talking and never miss a moment!
★ GROUP CHATS: Create groups with up to 1000 member so you can easily stay in touch with those who matter most!
★ CHAT THEMES: What's a romantic date without a candle-light dinner? Boring! Some things are best said in the right setting. So how's this for ambience? With the exclusive 2-way chat themes, set the mood to pour your heart out.
★ FREE GROUP CALLS: Conference voice calls with up to 100 people at once!
★ PRIVACY: Not everyone needs to know when you're online. Avoid the sneaky stalkers and nosy acquaintances not just in life, but on hike too. Get complete control on your last seen and profile picture, so that you choose who knows how much. Switch to hike and take charge of your privacy!
★ HIKE OFFLINE: Unable to message friends because they've turned off their data? Don't worry! Hike does the hard-work to figure out if your friends are offline and then sends them your messages as an SMS, at no cost to you! When they reply, you get the message in hike!
★ NEWS ON HIKE: Best bite sized news personalised just for you at your fingertips! Swipe through all the latest news in a stunning beautiful reader!
★ SEND UNCOMPRESSED IMAGES: Choose to send high quality images in original resolution.
★ FREE HIKE2SMS TO INDIA: We've also built in FREE hike to non-hike SMS. So if your friends aren't on hike you can still message them. And better yet, for free! Free SMS can only be sent to India.
★ BIGGER ATTACHMENTS: Now you can share large files and videos of 100 MB at a time!
★ FAST, SIMPLE, PERSONAL, FREE: hike is super fast. With sent, delivered, read and typing notifications, it feels like you're having a chat with someone in person. The app uses your 2G, 3G, 4G or Wi-Fi (when available) to message with friends and family.
★ MOVE TO SD CARD: hike can be stored on the SD Card!
*** For any PIN Issues: Please contact support@hike.in for any PIN related queries
We'd love to hear from you about hike! If you have any feedback, questions concerns, leave us a review on Google Play Store or email us at:
support@hike.in
Developer
Hike Ltd.
Category
Communication
Last Update
November 25, 2016
Update notes
★ STORIES: Share real moments with your friends. A Story lasts for 48 hours, after that poof! It disappears. You can now share everything with your friends 😉
★ LIVE FILTERS: Tap on your face in the all new Camera to see the magic!
★ NEW PHOTO EDITING: Add flavour to your photos by adding Stickers, Text, filters and more!
★ NEW CHAT DESIGN: New smooth chatting experience! Now effortlessly share Photos, Videos and much more.
★ VIDEO CALLING: Don't just speak, be present with your loved ones.

Hike is a feature-packed messaging app that lets you stay connected - now right on your PC!
Hike Messenger is one of the fastest growing social messaging apps in the world. With over 34 million users from all over the world, this handy little app is becoming the 'go to' messenger app. The only drawback to this, and any other mobile messaging app, is the tiny screens. Even with today's large screen smartphones, it can still be difficult to read the tiny text on your screen.

No more eye strain necessary, my friends. By downloading the free Bluestacks Android Emulator for your computer, you can easily use Hike Messenger on PC and begin conversing with millions of new friends. Instead of touching your screen and accidentally hitting the wrong conversations or stickers, you can use your mouse to easily navigate through conversations, calls, contacts and more. The added convenience of using your computer's keyboard when you download Hike Messenger on PC makes typing a breeze. Talk as fast as your hands can type!
The screenshots show just how easily you will be able to read text and conversations from your friends when your download Hike Messenger on PC using the free Bluestacks Android Emulator. No more fumbling around on your smartphone keyboard and dealing with auto-correct programs. Quickly type, respond and begin conversations as fast s your fingers can type. Use your microphone to make calls to over 200 countries, including India.