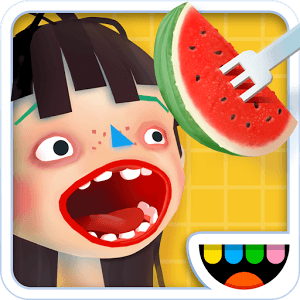 Toca Kitchen 2
The wildly popular Toca Kitchen is back! With new guests to cook for, more tools to play with and new food combinations to test out, Toca Kitchen 2 invites all chefs to get messy and start playing!
GET CREATIVE
Who said dishes have to be pretty and tasty? In Toca Kitchen 2 you can cook however you want! Juice tomatoes, boil the salad or make a burger. Come up with your very own recipes and treat your guests to something special.
MAKE A MESS
With six different kitchen tools to choose from, you have the perfect setup for preparing fun foods! Load up with your favorite ingredients, add a squeeze of messiness and finish off with a pinch of weirdness. Time to let your guest have a bite! Was it a winner?
WATCH THEIR REACTIONS
Discover your guests' preferences by watching their reactions. Oven-baked fish head with fried leftovers and lettuce juice coming right up! Oh, they didn't like it? Try adding some salt. It's fun to get the "ew"!
We added a whole lot of fun stuff! You can now enjoy cooking:
New foods!
- Chicken
- Prawn
- Pineapple
- Corn
- Peach
- Strawberry
- Watermelon
- Onion
- Octupus leg
- Spaghetti
- Rice
New condiments!
- Ketchup
- Dressing
- Soy
Watch the characters react on burning hot sauce, sour lemon and laugh at loud burps.
At last but not least, we added more levels of grossness to the characters. Have fun!
Features:
- New ingredients in the fridge
- New characters to feed
- Stronger character reactions
- New juicer and oven
- Deep fryer! You can now deep fry anything. Get your crust on.
- No rules or stress - just open-ended, kid-directed fun!
- No third-party advertising
- No in-app purchases
***
Subscribe to our YouTube channel!
http://bit.ly/YouTube_GooglePlay
***
ABOUT TOCA BOCA
At Toca Boca, we believe in the power of play to spark kids' imaginations and help them learn about the world. We design our products from the kids' perspective to empower kids to be playful, to be creative and to be who they want to be. Our products include award-winning apps that have been downloaded more than 130 million times in 215 countries and offer fun, safe, open-ended play experiences. Learn more about Toca Boca and our products at tocaboca.com.
PRIVACY POLICY
Privacy is an issue that we take very seriously. To learn more about how we work with these matters, please read our privacy policy: http://tocaboca.com/privacy
Developer
Toca Boca
Category
Educational
Last Update
November 4, 2016
Update notes
Thanks for playing Toca Kitchen 2!
In this version, we've made some minor tweaks and changes.
Happy playing!

Creativity Starts in the Kitchen
Show your children the joy of cooking and creating exciting meals with the new Android game Toca Kitchen 2. This follow-up to the hugely popular Toca Kitchen features even more ways to prepare food, a larger pantry, and a lot more surprises. Give your children free reign of the kitchen and leave the cleaning up to somebody else as your children choose from a wide selection of foods and cut, dice, and cook them any way they like. Once finished, a group of wild and crazy guests will attempt to eat the edible creations, often with hilarious reactions. Enjoy the peace of mind that comes from knowing your children ar enjoying an educational game that is completely family-friendly. There are no in-app purchases or third-party advertisements in Toca Kitchen 2. Just a kitchen full of good, messy fun for the whole family. Start your family's culinary adventure by clicking the link above.