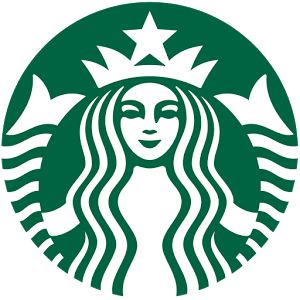 Starbucks app
The Starbucks® app is a fast, convenient way to order and pay. Rewards are built right in, so you'll collect Stars and start earning free drinks and food with every purchase.
• Pay: Use your phone to pay at 7,000 U.S. company-operated Starbucks® stores and 2,500 Target and Safeway Starbucks® locations in the U.S.; 1,000 Starbucks® stores in Canada; and 700 Starbucks® stores in the U.K.

• Mobile Order & Pay: Customize and place your order, and pick up from a nearby store without waiting in line.
• Music: Discover what songs are playing in our stores (U.S. only).
• Card: Check your Starbucks Card balance, reload your Card, view your transaction history and transfer balances between Cards.
• Tipping: Leave a digital tip on purchases made with the app at company-operated Starbucks® stores in the U.S. and Canada.
• Rewards: Track your Stars and redeem your Rewards and custom offers with the My Starbucks Rewards® loyalty program.
• Gift: Send Starbucks eGifts to friends.

• Store Locator: Find the stores nearest you, directions, hours and amenities.
Developer
Starbucks Coffee Company
Category
Lifestyle
Last Update
December 20, 2016
Update notes
New in 4.3.2
Contains maintenance updates and bug fixes.
Thank you for all your feedback.

Use Technology to Make Your Life Easier
Isn't the whole point of new technology to make our lives easier? Then, why is it that most new apps only complicate matters by providing useless 'benefits' or being little more than mobile advertisements? Ditch those other apps and download the new Starbucks Android app to get the most convenience from your smartphone and home computer. The Starbucks app gives you the ability to do a number of things before you even leave the house. Forget about waiting in line for your coffee when you can just order from your computer before you even walk out the door. The Starbucks app gives you the freedom to custom order your drinks and food, pay from your computer, and then swing by and grab your order from your favorite location. This will be the quickest way to order coffee without making it yourself. To make your morning coffee even better, you will earn Starbucks rewards every time you order. Download Starbucks on Mac and PC today.