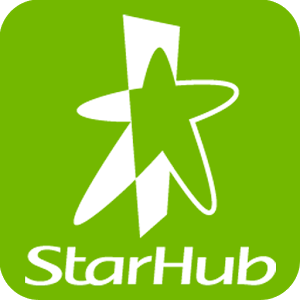 My StarHub
The redesigned My StarHub App helps you manage your StarHub services better. It's easier and faster. With a personalisable homepage you can choose to see what is important to you first.
Features on the My StarHub App:
Usage:
• Keep track of your local & roaming usage data, outgoing minutes, SMS and MMS usage
• Manage your data alert settings
Bill Payments
• Review and pay your bills easily
• Manage your eBill settings
• Download your monthly bills in PDF
Recontract
• Check your contract status and be notified on our promotions
• Enjoy great deals on our Online Store
StarHub Rewards
• Redeem exciting rewards in our EAT, PLAY and SHOP categories
HubTreats
• Enjoy HubTreats, where you can get great shopping deals, earn more points and redeem for bill rebates
e-Appointment
• Visiting our shop? Use our eAppointment to book a time slot with us first!
For help or feedback on My StarHub, please visit our website at http://community.starhub.com/t5/General-Discussions-Community/FAQ-My-StarHub-app-Android-iOS/m-p/11308#U11308
Developer
StarHub
Category
Productivity
Last Update
December 6, 2016
Update notes
1. The redesigned My StarHub app makes managing your StarHub services easier, faster and better. Now, important details of your account status and usage are displayed on the homepage for quick access.
2. Minor bug fixes.

The One to Rule Them All
StarHub is one of the leading telecommunications companies in the country and has dedicated themselves to offering their customers the best service with the greatest ease of access. To further this commitment, StarHub has released the official Android app for customers to have complete access to their accounts. With the all-new My StarHub app, customers can now take control of their accounts anytime the need strikes them.

The purpose of the free My StarHub Android app is to give customers a one-stop spot for all things StarHub related. For troubleshooting issues, the app contains several troubleshooting ideas and advice to help keep your data flowing smoothly. My StarHub also allows customers to subscribe or unsubscribe to services and upgrades easily. More than just another useless app to take up space, customers are giving this app four stars for the sheer helpfulness it offers. Avoid the hassle and install My StarHub on PC or Mac now.