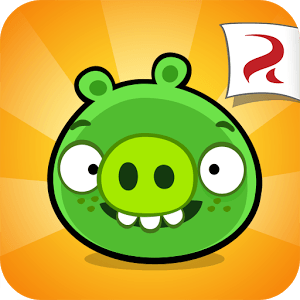 Bad Piggies
From the creators of Angry Birds: a game from the PIGS' point of view! OiNk! Build makeshift contraptions from a huge collection of parts and make it to the goal without blowing your vehicle to pieces!
IGN's "Best Mobile Game of 2012" Winner!
"Extremely fun and very challenging" -- Kotaku
"The best title Rovio has released yet" - IGN
"4/4 - Must Have" -- Slide to Play
"If you can't enjoy watching a pig drive a badly constructed car off a cliff and onto a pile of dynamite, you probably don't have a soul." - Yahoo/BGR
Create the ultimate flying/crawling/rolling/spinning/crashing device and pilot the pigs safely to the eggs!
The Bad Piggies are after the eggs again -- but as usual, nothing is going according to plan! Can you create the ultimate flying machine and steer them safely to their destination? Those tricky pigs have a few objects they can use, but they need your help to turn these into the perfect transportation!
With more than 200 levels, and free updates coming up, you have hours and hours of pig-crashing, exploding, and flying fun! Get three stars to unlock over 40 more levels! HINT: Sometimes you need to play the level several times to achieve all the objectives -- try building a new device or steering in a different way to earn all the stars!
Features:
● Over 200 levels crammed with flying/driving/crashing fun!
● 40+ special levels unlocked by getting three stars!
● Free updates!
● 9+ sandbox levels to stretch your creativity!
● Ultra-special, ultra-secret, ultra-difficult sandbox level to unlock by collecting ten skulls! Oh – guess it's not a secret anymore...
● 42 objects to create the ultimate machine: motors, wings, fans, bottle rockets, umbrellas, balloons, and much more!
Mechanic Pig
● Need help? This little piggy will build it for you!
● Mechanic pig pre-assembles transport for you!
● All you have to do is pilot it!
● Tweak his design to get all three stars!
New Episode: The Road to El Porkado
Embark on an archaeological adventure in an all new episode full of treacherously icy environments and spooky dark caves. Be sure to equip the trusty lamp to find your way in the darkness – or put the new Night Vision Goggles power-up to use!
Get ready to see pigs fly!
Become a fan of Bad Piggies on Facebook:
http://facebook.com/badpiggies
Follow us on Twitter:
http://twitter.com/badpiggies
Terms of Use: http://www.rovio.com/eula
Privacy Policy: http://www.rovio.com/privacy

Important Message for Parents
This game may include:
- Direct links to social networking websites that are intended for an audience over the age of 13.
- Direct links to the internet that can take players away from the game with the potential to browse any web page.
- Advertising of Rovio products and also products from select partners.
- The option to make in-app purchases. The bill payer should always be consulted beforehand.
Developer
Rovio Entertainment Ltd.
Category
Puzzle
Last Update
December 1, 2016
Update notes
– Introducing Cake Race! Grab the cakes before your opponent and win great prizes!
– More crazy crates! Can you get the Marble Crate?
– 15 new custom parts!

Forget the Birds and Join the Piggies!
Those Bad Piggies are at it again, but this time, they need your help. For the first time ever, players can enjoy an Angry Birds adventure from the point of view of the nasty piggies. In Bad Piggies, players must help the evil pigs snatch eggs from the Angry Birds. Each level gives players a series of items and they must use these pieces to create vehicles to help them reach the eggs. With more than 200 levels of egg-snatching and pig-flying fun, Bad Piggies is sure to be the one game the entire family will love to play.

Thre are a lot of other cool features that will keep players coming back to Bad Piggies hour after hour. Each level gives you the chance to earn up to three stars. Earning three stars will unlock up to 40 new levels to challenge. Stretch your creative mind to its limits with more than 9 sandbox modes that allow for never-ending creation and fun. Try out some of your wildest designs and see how well they can fly.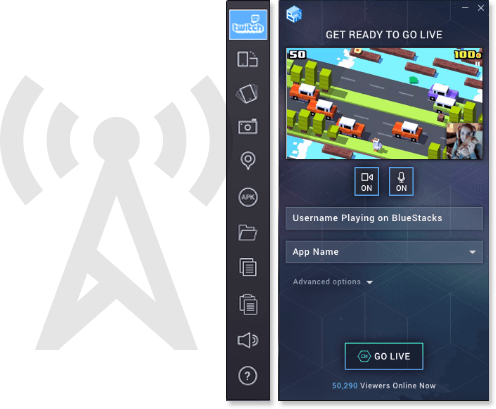 Join an Army of Bad Piggies on Twitch
Twitch.tv is the go-to spot for gamers from all over the globe to congregate and share their gaming experiences with a variety of gaming platforms. No matter type of games you're into, there are sure to be a bunch of gamers sharing and viewing footage right now. When you Play Bigger with the new BlueStacks 2, you can stream Bad Piggies on Twitch and show others how you master the really tough levels. Share your mobile gaming fun and follow the gamers and titles that really interest you on Twitch.tv.