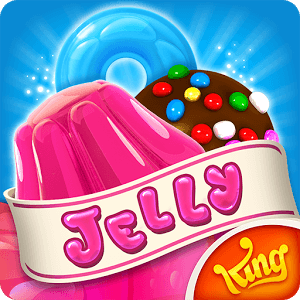 Candy Crush Jelly Saga
There's a new player in town, the wiggling, jiggling Jelly Queen and she's here to challenge you to a game of Candy Crush Jelly Saga! Whatever your favorite moves, you better hope they're Jellylicious enough to take on the mighty Jelly Queen.
The unstoppably spreadable game! New Candy Crush Jelly Saga is full of delightful new game modes, features and boss battles featuring the Jelly Queen! Playing as Jenny, show off your Jellylicious moves and take turns switching Candies against the jiggling Jelly Queen. Every sweet move will spread more Jelly and whoever spreads the most will win the level! Have you got the moves?
There are splendid new Candies, a marvelous new booster and a dreamy treetop world to explore in the Candy Kingdom too!
Take on this delightful Saga alone or play with friends to see who can get the highest score!
Candy Crush Jelly Saga is completely free to play but in-game currency, to buy items such as extra moves or lives, will require payment with real money.
By downloading this game you are agreeing to our terms of service; http://about.king.com/consumer-terms/terms
Candy Crush Jelly Saga features:
• Over 100 Jellylicious Levels      
• New Jelly Queen Boss Modes      
• Marvelous game modes including: Spread the Jelly & Release the Pufflers     
• Tasty new Color Bomb Lollipop booster    
• Mezmerizing new Candies     
• Dreamy new treetop world and a host of quirky characters led by the Jelly Queen and her stooges.
• Easy and fun to play, yet challenging to fully master     
• For players that Facebook Connect, there are leaderboards for you and your friends to compare your Jellylicious scores
• Easily sync the game between mobile and tablet devices and unlock the full game features when connected to the internet

Already a fan of Candy Crush Jelly Saga? Like us on Facebook or follow us on Twitter for the latest news:
https://www.facebook.com/CandyCrushJellySaga/
https://twitter.com/candycrushjelly
Last but not least, a big THANK YOU goes out to everyone who has played Candy Crush Jelly Saga!
Developer
King
Category
Puzzle
Last Update
November 29, 2016
Update notes
Sweet! We have a new update!
- Take a stickylicious stroll through 15 NEW LEVELS in our latest Episode, the Waffle Wetlands!
Fun fact! Honey was used to make the worlds first candy. Traced back as far as 2000BC in ancient Egypt they used honey to make candy by adding figs, nuts, dates and spices!
Don't forget to leave a review and let us know what you think!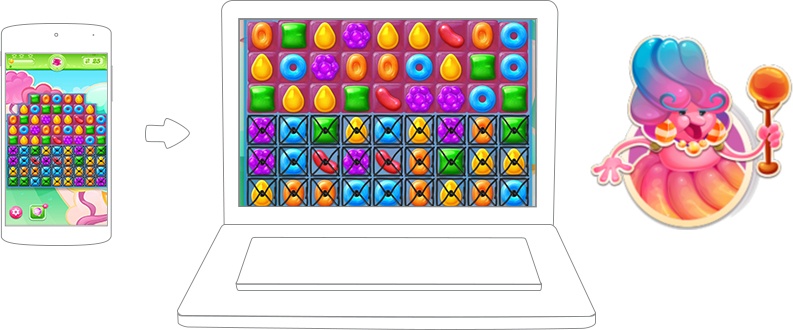 There's a New Player in Town and She Means Business
The Jelly Queen is ready to make her appearance and challenge you to some of the most jellylicious match-3 games of all-time. Play Candy Crush Jelly Saga on PC and Mac to travel to a magical world where you must do battle with the wiggly Jelly Queen. Candy Crush Jelly Saga is the same great game you know and love with some awesome jelly features and content. Play through more than one hundred levels of challenging candy matching fun while you discover brand-new creatures and take on new enemies. To help you defeat the Jelly Queen, the land is full of power-ups and boosts that will give you the edge when it matters.

Candy Crush Jelly Saga is good, clean fun for the whole family. The easy to learn controls makes this game accessible to all age and skill level players, yet the challenging levels and goals will stump even the most avid of gamers.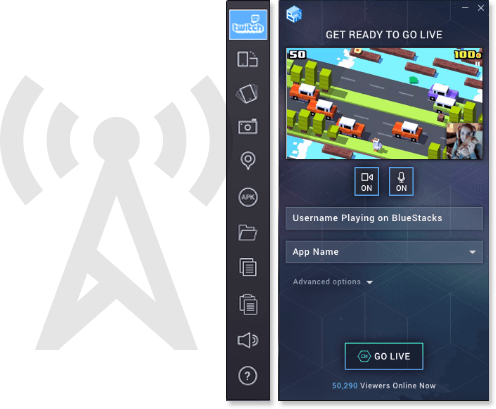 It's Time to Start Crushing on the World
Twitch.tv started as a place for gamers to share the games they're playing, but it has grown into something so much larger than that. Millions of users share and view video game footage on Twitch each day, but they also come to chat and discuss their favorite titles. Right now, there are tons of Candy Crush Jelly Saga fans discussing strategy and talking about the best ways to approach some of the tougher levels. Join them when you Play Bigger with BlueStacks 2 and broadcast your Candy Crush Jelly Saga games to Twitch.tv.