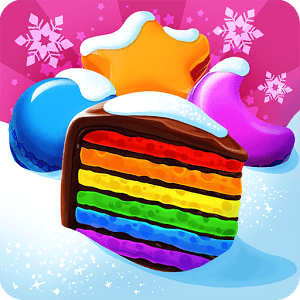 Cookie Jam
JAM your cookies before they crumble in Cookie Jam! Sprinkled with a deliciously sweet twist, this match-3 game is equal parts fun and challenging.
Blast through bakery islands and help Chef Panda match and crunch through hundreds of exciting levels! Hop in your traveling bakery to set sail on this free puzzle adventure. Swap candy, cookies, and cakes to explore mouth-watering patisseries from around the world.
Got a sweet tooth? Curb your ravings with this calorie free treat! You can have all the cookies, cake, candy and treats that you want! Whip your way though hundreds of addictively sweet match 3 challenges by concocting scrumptious cookie combos. Crunch and crush as fast as you can, or your batch will be ruined by the Gingerbread Man!
KEY INGREDIENTS:
◆ Never-ending fun with THOUSANDS of unique levels and more to come
◆ Deliciously sweet supply of power-ups and combos
◆ Swap, crush, and jam your way through fantastical bakery islands
◆ Fun and easy game to learn, but a rewarding challenge to master
◆ Free and filled with adventure!
TOPPED WITH:
◆ Special rewards and events all the time
◆ Facebook connection so you can share the adventure with friends
◆ Seamless sync across multiple devices and platforms!
LIKE: https://www.facebook.com/PlayCookieJam
FOLLOW: @SGNgames
DEVELOPER INFO: Jam City is the leading developer in truly cross-platform social gaming! Check out our other free match 3 puzzle games! You'll love to swap, match, and crunch through ever expanding levels and events. Check back often to see all the new cake and sweet treats that we've added! You'll love to jam through each sweet puzzle. Begin your bakery adventure on this free match three puzzle game today!
Developer
SGN
Category
Puzzle
Last Update
November 9, 2016
Update notes
Update now and join your favorite stone age family in Cookie Jam!
Features:
- Brand new Flintstones themed events and special offers!
- Pass level 5 to check it out!
Download now to access the latest content and get jamming!

It's Time to Jam on Your PC or Mac
If you are looking for an addictive match-3 puzzle game with a delicious twist, then Cookie Jam is the app for you. With hundreds of sweet levels for you to play, there will never be a shortage of cookie-jamming fun to be had. Be sure to act quickly before your cookies crumble and your recipe is ruined. Regular updates bring special events and rewards to Cookie Jam all the time, while the Facebook connect options lets you share all of this fun with your friends and family.

So much cookie-jamming to do, but such a tiny screen to see it all on. Well, not anymore. Click the link above and you will instantly begin your free download of the new Bluestacks Android Emulator tool for PC or Mac. Bluestacks is a way for you to enjoy the fun and excitement of mobile gaming right on your home computer. If you have ever sat around waiting for your battery to charge so you can continue your gaming session, then you realize how important it is to have access to your favorite Android games on your home computer. Now, you are not tethered to your mobile device to play. You can en joy the fun of Cookie Jam on PC or Mac right now.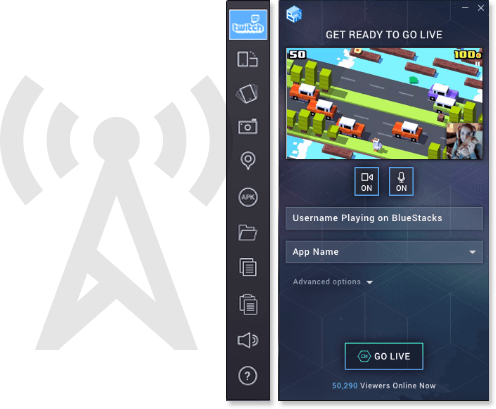 Broadcast With BlueStacks and Twitch to Jam With Other Players
Gamers and video game enthusiasts have always enjoyed watching other gamers play their favorite titles. At one time, this process required extra equipment, lots of cables, and a whole lot of work. Now, players have a much easier way to share their mobile gaming footage with other players thanks to Twitch.tv. Twitch features millions of broadcasts and with the super-easy controls in the new BlueStacks 2, you can join this growing legion of gamers. Share Cookie Jam footage and start gaining followers and even following other players you enjoy and admire.