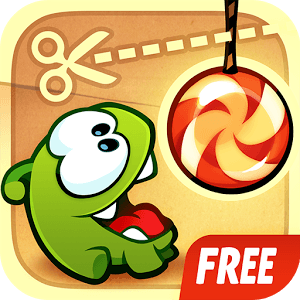 Cut The Rope
750 million downloads worldwide!
Eager to learn more about Om Nom's adventures? Watch "Om Nom Stories" cartoons and other amazing videos on our YouTube channel!
www.zep.tl/youtube
A mysterious package has arrived, and the little monster inside has only one request… CANDY! Collect gold stars, discover hidden prizes and unlock exciting new levels in this addictively fun, award-winning, physics-based game!
Game awards:
Apple Design Award
BAFTA Award
Pocket Gamer Award
GDC Award
Best App Ever Award
Key features:
- 17 boxes with 425 levels
- Innovative physics gameplay
- Adorable character
- Outstanding graphics
- "Om Nom Stories" animation shorts
- Superpowers
ALREADY A FAN? CONNECT WITH OM NOM
* Facebook: http://facebook.com/cuttherope
* Twitter: http://twitter.com/cut_the_rope
* Website: http://cuttherope.net
* Pinterest: http://pinterest.com/cuttherope
* Instagram: http://instagram.com/cuttheropeofficial
---------------------
Now you can earn free superpowers by trying new apps from Getjar. All these permissions allows us to give you Superpowers and Star Key for free.
• "Get Tasks" permission. This allows us to give you free Superpowers. If you install an app for a free Superpower, this permission tells us when you have opened it. No other data is captured or stored.
• "Get Accounts" permission. This creates a user account for you so you can restore upgrades and purchases.
• "Access Network State" permission. This allows us to determine if WiFi is available and use that instead of the Carrier Network.
• "Internet" permission. This allows us to communicate on the internet.
• "Read Phone State" permission. This is required by some advertisers. No private data is captured or stored.
Help us improve our games. We love your feedback. Contact us at support@zeptolab.com.
Developer
ZeptoLab
Category
Puzzle
Last Update
October 7, 2016
Update notes
What's new in 2.7.0
We reduced the amount of advertising and optimized application so it performs even better on all devices.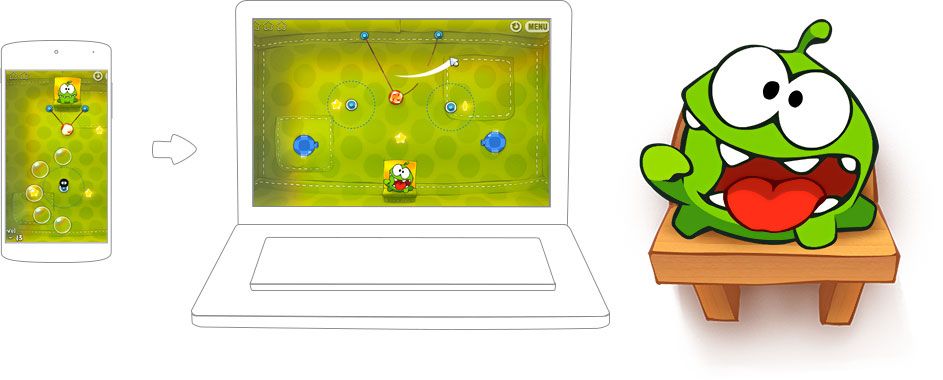 The Award-Winning Physics-Based Puzzle Hit is Now on PC
Cut the Rope has enthralled fans and players around the globe. With nearly 1 billion downloads since it was originally released, Cut the Rope is a definite classic in the modern era of gaming. Along the way, Cut the Rope has won a number of awards from groups, websites, and publications worldwide. Now you can see what the buzz is all about when you click the link above to download Cut the Rope on Mac or PC using the free BlueStacks 2 player.

A mysterious package lands on your doorstep one day. Like any wise person, you get curious about the package and open it up. To your surprise, you find a cute little creature named Om-Nom inside. This little guy wants nothing more than to eat candy all day long. Use physics to help you release candy from a rope for this little guy to eat. Enjoy hundreds of levels, special superpowers, and a cute animations shorts featuring our favorite candy-living monster.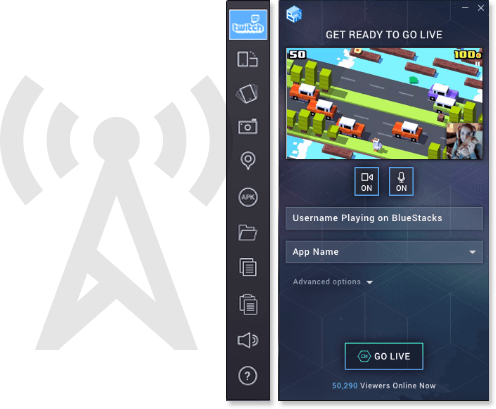 Use BlueStacks 2 and Twitch.tv Together for the First Time
For the first time ever, you can now stream Cut The Rope gameplay right to Twitch.tv from your BlueStacks 2 player. The controls are easy to learn and use, making them accessible to all users. Twitch is a gaming community set up for gamers to find and connect with other gamers into the same titles. Besides being able to share and view video game footage, Twitch gives gamers the ability to follow specific players and titles to stay current with all the new footage that gets uploaded daily. Broadcast Cut The Rope to twitch and maybe you will grow your own following.