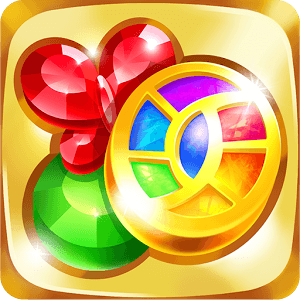 Genies & Gems
Get Ready for the holidays - Festive updates!
The jewels have gone missing from the palace, and there is only one person that can grant the wish to get them back!
From the makers of Cookie Jam and Panda Pop, comes the best match 3 puzzle app: Genies & Gems! Help Jenni the genie navigate through mystical worlds and crush the thieves that jeopardize the palace! Play this Aladdin themed game and get ready to be transported to a new world!
Coins are scattered throughout the magical worlds, and only Jenni can spot the matching gems to pick up along the way.
-Collect coins online to advance to new worlds!
-Use the Gilded Butterfly to simplify the search and pick up more jewels!
-Avoid the cursed stones and play games to win back the online treasure!
Join Jenni the genie on her fun, enchanting adventure through the supernatural in the best new game for free!
Having powers isn't necessary to win in this match 3 jigsaw puzzle app! Just follow Jenni's lead and crush the gems in each level! This fun, new game will make boys and girls believe in magic!
Jenni the genie is able to fly from one magical world to the next by collecting coins! With the help of Jenni's fox, Trix, bring candy home to the palace along with matching jewels!
Jennie only uses her powers to win for good. Crush the thieves and grant the palace's wish with your help!
The thieves think that they've won, but Jenni is better than them at playing games! This match 3 app shows off Jenni the genie's secret puzzle crushing powers.
Travel through each land on your magic carpet to solve hundreds of jigsaw puzzles. Collect coins that the thieves took from the palace!
Play now to win back the stolen treasure and crush jewels along the way. You'll love this Aladdin themed game! Available now on your mobile device for free!
Developer
SGN
Category
Puzzle
Last Update
November 17, 2016
Update notes
Chapter 42 - "Like Clockwork"
"This place is spooky," shuddered Trix.
"Oh, it's not that bad. Unless you're afraid of the color purple," replied Jenni.
"Why would I be afraid of a novel?" Trix asked.
"You know that's not what I meant," Jenni giggled. "You'll be fine."
"That's what you think," Trix said nervously. "I'm terrified of cogs!"
"I'll keep you safe," Jenni winked at Trix. "Now get your rear in gear!"

Thieves Have Stolen the Palace Treasure!
In a land full of wonder and magic, a peaceful kingdom sits on the brink of anarchy. The famed palace treasure has been stolen by some dirty thieves, and now it is up to Jenni the genie and her fox Trix to save the day. Play the mystical Genies & Gems on PC and Mac to experience the magical journey of a lifetime. Genies & Gems is a match-3 puzzle game for the Android that gives players a chance to pl;ay through an exciting storyline while matching like gems and jewels. Play smartly as you try to avoid cursed gems and blocked pathways on your way to riches and treasures beyond belief. Collect special keys as you play that can unlock new and challenging worlds to take on. Discover ancient relics like the Gilded Rainbow to help you quickly advance through the more difficult levels.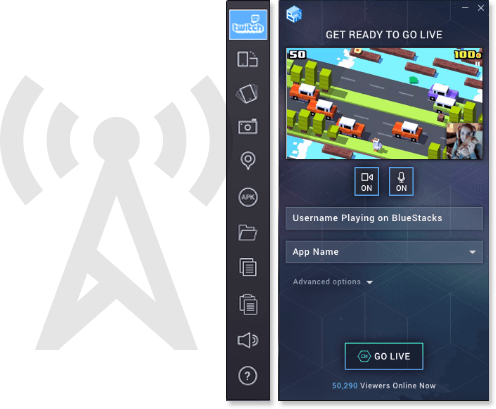 Stream Directly to Twitch.tv
BlueStacks 2 now includes the easiest and most convenient Twitch streaming controls ever. When you use BlueStacks 2 to play your favorite mobile games, you can now broadcast them to Twitch.tv using the one-click broadcasting controls included in the latest version. Twitch is a social gaming network that gives players and fans the chance to connect over live streaming broadcasts. each day, millions of players flock to Twitch.tv to watch in excess of one million live broadcasts featuring games from all platforms, genres, and eras.