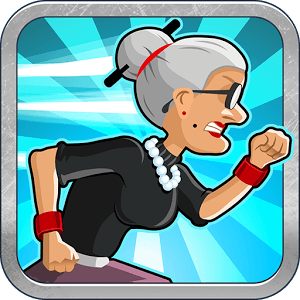 Angry Gran Run
Take to the streets with ANGRY GRAN RUN!
Our Granny has been locked away in the Angry Asylum by Fred the agent in white, she's plotting her escape, and she needs YOU to guide her through the streets once she's busted out!
Run, jump, dash and slide over and around tons of different and WACKY obstacles in this crazy new endless running game!
THE PUNKS ARE BACK! Bash them out the way and grab their coins to clear up the streets once and for all!
Change your look by buying new costumes including 70's hippy gran, wonder gran, zombie gran and even a PENGUIN COSTUME!
Forget the temple, jungles and subway stations - the cities of New York and Rome await you! Run 2
Buy and upgrade loads of different power-ups like BULLET-TIME and INVINCIBLE SHIELDS.
Watch out for ALIENS, DINOSAURS and other INSANE stuff!
Angry Gran Run is the best free 3D running game! If you love grandma games then you will love this cool FREE running game!
Developer
Ace Viral
Category
Racing
Last Update
December 1, 2016
Update notes
Beautiful and updated new graphics for December!
NEW environment set in CHRISTMAS VILLAGE!
Avoid the Christmas Puddings, Elves, Presents + More!
Meet our FESTIVE characters, Santa and The Snowman! - Exclusive to CHRISTMAS!
Mystery Machine with lots of prizes!
Pro Resource Pack!
New themes and characters every month!
Can't get enough of Angry Gran? Ideas for future updates? Then we want to hear from you! Click the feedback button in the options menu and drop the Angry Gran Run Team a message.

Gran is Making a Mad Dash for Freedom
Fred, the agent in white, has taken Gran to the Angry Asylum where she has been held captive for a long time. The time has come for Granny to plot her escape and make a mad dash for freedom. The only way she can make it is with a little help from you and your quick acting fingers. Play Angry Gran Run on Mac and PC to experience one of the craziest running games of all-time. Help Granny as she runs through the streets of the most famous cities in the world and must dip, slide, move, and jump around a variety of zany obstacles. Along the way, Granny will have to do battle with the Punks and bash them to clear the way. Collect coins that can be used for boosts and cool costumes like zombie Gran, hippie Gran, and more. Angry Gran Run running game is perfect for the whole family and features fun animations, characters, and easy to learn gameplay.