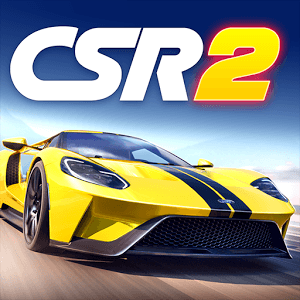 CSR Racing 2
CSR Racing 2 – The next chapter to the #1 drag racing series of all time has arrived!
"Unbelievably good looking", KOTAKU
"So real it hurts", CULT OF MAC
"Obliterates the line between console and mobile graphics", POLYGON
Setting a new standard in visuals, CSR2 delivers hyper-real drag racing to the palm of your hand. Compete against live players across the world with your custom built supercars including LaFerrari, McLaren P1™, Koenigsegg One:1 and many more.
Team up with friends to form a crew, tune your rides for maximum speed and dominate the competition in global crew events. CSR2 is all-new; download for free and start racing now!
3D NEXT-GEN GRAPHICS
• CSR2 redefines what you thought possible on mobile, with stunning detail on all your favorite cars.
• Meticulous level of detail inside every car, incl. original manufacturers' trim options. Racing doesn't get more real than this!
REAL-TIME RACING
• Race towards a new challenge! Compete against opponents from around the world or race against friends in real-time challenges.
CAR CUSTOMISATION
• Cars can be customized with a wide range of paint, rims, brake calipers and interior trims just like a real car.
• Personalize your car with paint wraps, decals and custom license plates!
UPGRADE, TUNE AND FUSE
• Car upgrades are only the start. You can now get under the hood to tune gear ratios, tire pressure, nitrous boost settings and much more.
• Stay competitive by stripping surplus cars for parts, and fuse them into your favorite vehicles.
BUILD YOUR DREAM GARAGE
• Collect beautiful supercars and show them off in your huge warehouse garage.
• CSR2 features over 50 officially licensed vehicles from the world's most desirable car manufacturers including:
• Ferrari
• McLaren
• Bugatti
• Lamborghini
• Pagani
• Koenigsegg
CHALLENGE FRIENDS AND RACING ENTHUSIASTS AROUND THE WORLD
• Prove your skill in fast-paced, synchronous multiplayer challenges. Master the unique timing of each car to come out on top.
• Chat with other players live, and join a crew to roll with your friends.
• Compete in fresh and exciting online events and increase your rank on the PVP leaderboards.
DOMINATE THE CITY
• Compete in single-player Crew Battles across stunning race environments.
• Work your way from rookie to pro by defeating the top crews in a city where nothing is as it seems. Can you uncover the truth?
• Keep an eye out for events to earn extra cash for upgrades and win rare parts for your rides. New events added daily!

---------------------
Make sure you play with your device connected to the internet to gain access to the latest content and features, and to ensure that your profile is backed up.
PLEASE NOTE! Must be 13+ to play. CSR Racing 2 is free to play, but it contains items that can be purchased for real money. You can toggle these purchases on/off in the ""Restrictions"" menu on your device.
To prevent unauthorized purchases, select "Set or Change PIN" from the Google Play settings menu, create a PIN, then enable the "Use PIN for Purchases" option. You will then be required to enter your PIN before every transaction.
Privacy Policy: http://www.naturalmotion.com/privacy-policy/
Terms of Use: http://www.naturalmotion.com/terms-of-use/
Developer
NaturalMotionGames Ltd
Category
Racing
Last Update
November 14, 2016
Update notes
CSR2 announces the arrival of the epic Ford GT as a future Crew Championship season prize car, and the imposing Bentley Continental GT Speed is now available to buy. Test drive both today!
We've also improved the menu showing your cars in the garage so you can see which of your rides have fusion parts, stage 6 parts and tuning boosts available to them.
Finally, EP has been adjusted across Tier 4 & 5 cars for improved tuning potential!

Get Ready for High-Speed Racing Action!

In the follow-up to one of the most successful racing games for Android, CSR Racing 2 amps up every little detail and aspect to make this the most realistic racing experience available on mobile devices. The visuals in CSR Racing 2 are some of the most striking visuals of any mobile game and takes drag racing games to a whole new level. Once you start racing, you'll see the difference speed makes in your racing games. Race head to head against players from all over the world in intense real-time drag races to win sweet prizes and ultimate bragging rights. All of the biggest names in auto racing are here, including Pagani, Ferrari, McLaren, and more. Over fifty officially licensed vehicles from the top manufacturers in the world. Join a crew and dominate the city in solo and crew races and watch for new races and events to be added daily.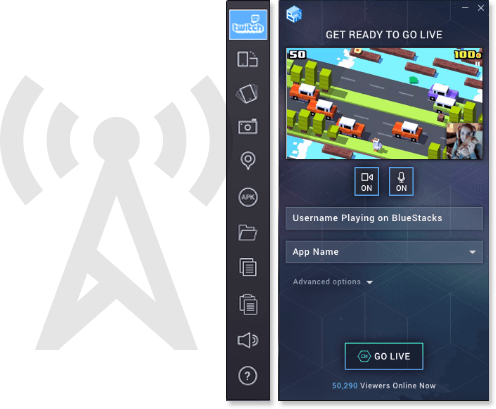 Race Around the Globe in an Instant
The best way to win ultimate bragging rights is by showing off your speed and skills on the massive Twitch.tv network of gamers and racing enthusiasts. Every single day, you can find more than one million live video game streams and broadcasts featuring players tackling a variety of different games. Now, without the need for any extra equipment or cables, you can stream CSR Racing 2 to Twitch with the ease of one-click controls. Become the next video game superstar by building your following, chatting live during game broadcasts, and exchanging tips with other CSR Racing 2 players and fans around the globe.