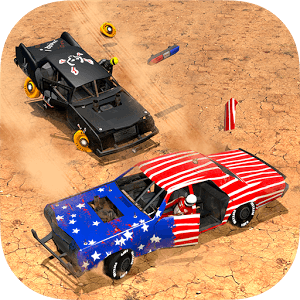 Demolition Derby Multiplayer
The real time online multiplayer Demolition Derby game.
Download and play against your friends and rivals now for free!
Just some of the awesome features:
– Real time player vs player (PvP) multiplayer (random opponents)
– Private multiplayer matches against friends
– Practice offline
– Choose your own car
– Customize controls for steering + nitro boost (incl. tilt / touch)
– Multiple tracks / arena's
– Bragging rights – level-up and earn badges
– Pixel perfect polished UI
– Realistic wreckage and damage simulation
– Nice and small apk to help you free up space
Choose from various cars and tracks and hit the Play button to instantly play against demolition derby rivals across the globe worldwide. Easy to play, but buckle up and fasten your seat belts as you smash your way to victory and become the next big demolition derby champion. Bang and smash the wannabee competition in this next generation racing game experience!
Play private matches against friends (HOW TO?)
improvements to private matches currently under development!
Not only can you play against (random) players, but you can also setup your own private matches against your friends, family or rivals.
One player should first select HOST from the main menu to host a private match, then select the preferred track. The host will then get a LOBBY ID which can be shared with friends to join the private match. The other players can now select JOIN from the main menu and enter the LOBBY ID / CODE to join the match.
Multiplayer redefined
Chase, smash and crash into your opponents and see the full physics and damage emerge in front of your eyes even when playing online (3G, 4G, or WIFI) in real-time against rivals. Play live PvP games with up to 5 real players using the Destruction Crews' new breathtaking peer-to-peer multi-player technology that has been optimized over the past years. This game extends the horizon of multiplayer gaming like never before.
Racing tips – most requested
1. Cornering: Steer while applying the nitro turbo will give you enough torque to make a sharp turn. Release throttle just after nitro boost to make a rapid turn.
2. Turbo (nitro): It launched you like a rocket, but try not to burnout your nitro completely. For a quick recharge don't use completely and smash a rival quickly.
3. Contact time: Be sure to hit a rival before the contact timer runs out; be aware that failing to do so will dismount your wheels and you'll be wrecked.
4. XP: The best way to level-up quickly through the XP league is to earn badges during the races.
Your Demolition Derby drivers career
Welcome to the club! You are now one of the proud owners of your own derby racing car with a driving permit to join the derby events! The voyage is long with many challenges ahead as opponents all over the world will soon test your driving skills. Building your own driving style is key to find what best works vs. your adversaries; do you choose to become a smart driver who waits for its prey at the moment of truth, or are you the dare devil that goes for an all out combat approach to knockout and annihilate its rivals. You have access to multiple venues like the round dirt pit track and the parking lot where things can get dirty. Hear the dinger loud and be seated for a 2 minute derby event where all your honor and glory is at stake. May the best driver win!
NEW capture the flag
Destruction Crew (DC) offers you the new keep/capture the flag mode which lets you chase down your rival that holds the flag. Be careful as you aren't indestructible when you keep the flag and you'll need to avoid capture vs your racing opponents.
Welcome to demolition derby paradise and unite in a world tour against other demo derby rivals. This is not your average multiplayer racing game! Hit the install button and join the destruction and mayhem with Demolition Derby Multiplayer. Download and install for free now!
Developer
Destruction Crew
Category
Racing
Last Update
October 12, 2016
Update notes
– You can now play with up to 5 others players!
– Added new Flag Hunt game mode
– Added new lake arena
– You can now customize matches in practice mode
– Adjusted spawn points in Parking Lot
– Reduced aggressiveness of the player name filter
– Fixed a bug that the game to freeze during the loading screen
– Fixed a bug that caused players to not show up properly on the minimap
– Fixed a bug that caused players to disconnect when sharing a lobby code
– Miscellaneous bug fixes & improvements

Strap In for the Ride of Your Life
Destruction and mayhem are only a click away. Play Demolition Derby Multiplayer on your PC and Mac to experience what life ion the rough lane is really like. As the new owner of your very own demolition derby crew, you have been invited to begin participating in races and events all over the country. It won't be long before you're skills are being put to the test against some of the meanest and most dangerous drivers in the world. As you demolish your way through the competition, you will earn XP that will make you stronger and increase your chances of victory. Play against your friends or against random players from all corners of the globe. Smash your way to victory with Demolition Derby Multiplayer for Android.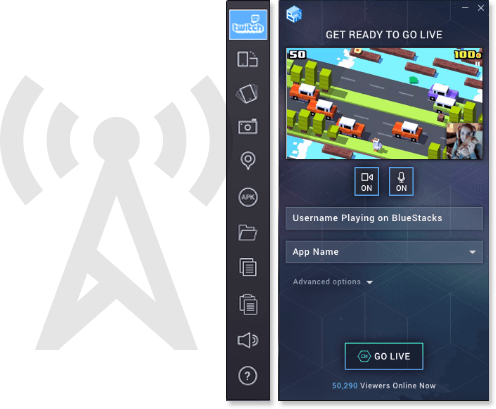 Twitch is Primed for Ultimate Destruction
Everyone loves watching a little destruction and mayhem and the users of Twitch.tv are no different. Show the world what a little tough love really looks like when you broadcast Demolition Derby Multiplayer events directly to the Twitch community. Each day, millions of gamers stream their live video game footage and now you can join them without needing any extra cables or hassles. Simply start up your BlueStacksw 2 player, select your game, and click the Twitch broadcasting button, and you;re good to go. Join the Twitch revolution and enjoy sharing your gaming experiences with destruction and mayhem fans all over the world. Follow the players you enjoy interacting with and even start building your very own following of Twitch users with BlueStacks 2.