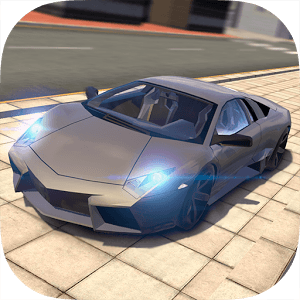 Extreme Car Driving Simulator
Extreme Car Driving Simulator is the best car simulator of 2014, thanks to its advanced real physics engine
Ever wanted to try a sports car simulator? Now you can drive, drift and feel a racing sports car for free!
Be a furious racer on a whole city for you. No need to brake because of traffic or racing other rival vehicles, so you can perform illegal stunt actions and run full speed without the police chasing you!
Drifting fast and doing burnouts had never been so fun! Burn the asphalt of this open world city!
GAME FEATURES
------------------------------------------
NEW: Mini game checkpoint mode.
NEW: Drive with traffic !!!!!
Full real HUD including revs, gear and speed.
ABS, TC and ESP simulation. You can also turn them off!
Explore a detailed open world environment.
Realistic car damage. Crash your car!
Accurate physics.
Control your car with a steering wheel, accelerometer or arrows
Several different cameras.
Developer
AxesInMotion Racing
Category
Racing
Last Update
October 19, 2016
Update notes
SUPER SUMMER 2016 UPDATE!!!!
Day-Night mode!!
New dynamic light system!!
Improved speed feeling!!
Tons of bugs fixes!!
NEW UPDATE 4.09!!!
New crash special effects and improved damage system!
Improved lightning system!
New irrestible offers!
NEW UPDATE 4.08!!!
NEW enhanced offroad environment!!
Bugs fixes and performance improvements!!
NEW UPDATE v4.07
DESTRUCTION EVENTS!
Destroy all the boxes!
New car pack!!
NEW UPDATE!! v4.06.1
Speed cameras events!!!

Bring Sports Car Racing to Your Home Computer
Most driving simulations have the same problem - too many reasons to stop. No matter if it's traffic, other racers, or a bunch of obstacles in your way, there is alway a reason to hit the brakes. Not with Extreme Car Driving Simulator. While you can opt for traffic, it is much more fun to hit the city streets and do whatever crazy stunts you feel like. The cops are on a break and the people are gone, leaving only you and your sweet rides. Earn cash to unlock new cars and find new city maps to explore.

Exploring your very own city isn't a lot of fun on a small mobile device. Unleash the true power of your sports car and Play Bigger with the new Bluestacks Android Emulator app. This tool enables your home computer to run just about any Android app, opening the door to a wide variety of gaming possibilities. Use your mouse to control the action and drift your way into stardom.