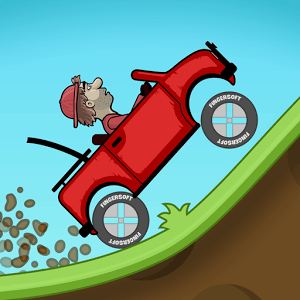 Hill Climb Racing
One of the most addictive and entertaining physics based driving games ever made! And it's free!

Meet Newton Bill, the young aspiring uphill racer. He is about to embark on a journey that takes him to where no ride has ever been before. With little respect to the laws of physics, Newton Bill will not rest until he has conquered the highest hills up on the moon!
Face the challenges of unique hill climbing environments with many different cars. Gain bonuses from daring tricks and collect coins to upgrade your car and reach even higher distances. Watch out though - Bill's stout neck is not what it used to be when he was a kid! And his good old gasoline crematorium will easily run out of fuel.
Features:
- Lots of different vehicles with unique upgrades (many different vehicles: bike, truck, jeep, tank, etc.)
- Upgradeable parts include engine, suspension, tires and 4WD
- Numerous stages with levels to reach in each (Countryside, Desert, Arctic and the Moon! +++)
- Share your score with a screenshot with your friends!
- Cool graphics and smooth physics simulation
- Designed to look good on low resolution and high resolution devices (incl. tablets)
- Real turbo sound when you upgrade your engine!
Like us at Facebook and stay tuned with all new games and updates: http://www.facebook.com/Fingersoft
We'd appreciate if you'd report any issues you're having with the game to support@fingersoft.net, please include your device make and model.
Hill Climb Racing is a registered trademark of Fingersoft Ltd. All rights reserved.
Developer
Fingersoft
Category
Racing
Last Update
September 10, 2016
Update notes
1.30.3:
- Critical bug fixes
1.30.0:
NEW VEHICLE
- Community design contest winner Finger Screw is here! Put your skills to the test with this monster of a vehicle!
IMPROVEMENTS
- Bug fixes
1.29.0:
- New level: Seasons
- Minor corrections and improvements
1.28.0:
- New vehicle: Electric Car
1.27.0:
- New level: Factory
1.26.1:
- New vehicle: Hot Rod
- Vehicle upgrades can be now downgraded (fixed)

Upgrade your racer and play bigger on your PC!
Nobody said this was going to be easy, but then winning never is easy. If you want some hardcore racing action with unique challenges, then download Hill Climb Racing for Android and experience the thrills of racing mixed with the fun of off-road driving. Choose from a whole host of crazy vehicles. You can choose everything from pick up trucks and cars to Segways and tour buses.

Take your racing to the next level by using the free Bluestacks Android Emulator app for your laptop or home computer. This great app allows you to play virtually any Android app on your home computer. No more eye squints to see bonuses, or dying batteries to worry about. Just install Hill Climb Racing on Windows XP, 7 or 8 and you are ready to travel to the mountains and beyond.
It is easy for us to sit here and tell you how awesome the free Bluestacks Android Emulator is, but take a close look at these screenshots to see what you are truly in store for. Reach for the stars as you gain big air time and do triple flips through the air, all from the ease and convenience of your home computer or laptop. The only way to experience racing this epic is by download the new Bluestacks app today.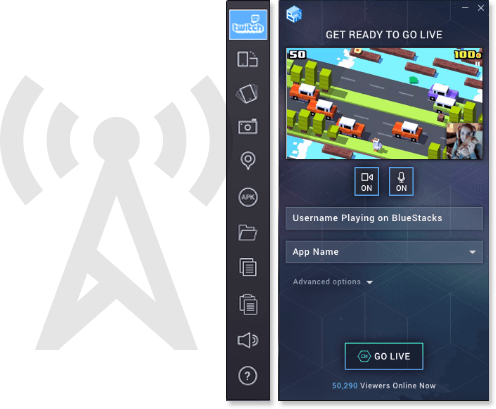 Climb the Toughest Hills with the Toughest Crowds
It's no secret that gamers can be pretty harsh on each other, so being able to keep your cool while being heckled by a room full of gamers can be the ultimate test of anybody's skills. Do your best to tackle the toughest challenges when you broadcast Hill Climb Racing to millions of Twitch users around the world. With Twitch, you can follow other gamers, watch hours and hours of video game footage, and chat with gamers that love Hill Climb Racing as much as you do. Play Bigger and start streaming your mobile world to Twitch with BlueStacks 2.