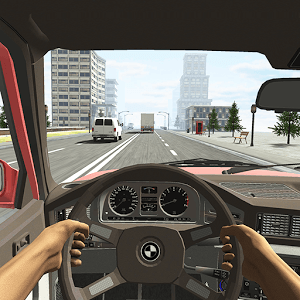 Racing in Car
Sick of endless racing games with third person perspective? Racing in Car is the best mobile racing game you have been looking for. You drive your car in cockpit view through the endless traffic and realistic environment. Tilt your device to drag your car wherever you want, overtake traffic, earn coins and buy new cars.
Features
- Easy to learn and drive
- 3D realistic cockpit view
- Endless game mode
- Different locations and cars to choose
- Simulator-like controls
Try Racing in Car now to see how far the mobile racing experience come nowadays.
Developer
Fast Free Games
Category
Racing
Last Update
November 22, 2016

Control the Fastest Machines on Four Wheels
When you're sick of playing the other racing games in the Google Play store, give the best racing game around a shot. Play Racing in Car on PC or Mac to experience full=speed racing from the driver's seat. Forget those lousy third-person views and terrible camera angles. When you play Racing in Car, you get the true immersive racing experience with amazing 3D graphics and animation directly from the driver's viewpoint. This first-person approach to racing may not be new, but the other games don't have it. To make matters even more interesting, Racing in Car is not simply another racing game. Drivers will have to weave in and out of heavy traffic to score points and collect coins. Use the coins to upgrade your car and even purchase new vehicles to cruise through the streets in. Enjoy the most realistic driving simulator controls available for Android-powered devices when you click the link above to start driving now.