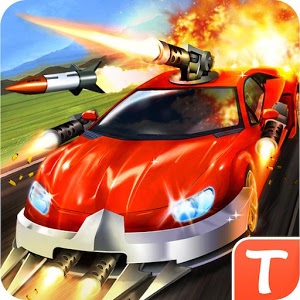 Road Riot Tango
Road Riot is the global sensation that defined the Combat Racing genre!
This addictive, action-packed shooter will put your driving skills to the ultimate test! Dodge missiles, destroy enemy cars, and leave a trail of destruction as you race to the top of the worldwide rankings!
Engadget.com says Road Riot Combat Racing "pays homage to arcade classic." What's not to love? Fast cars, big guns, sleek armor, and glory are waiting for you!

~~~~~~~~~~~~~~~~~~~~~~~~~~~~~
Racing cars has never been this much fun! Road Riot Combat Racing challenges you to::

* Race, shoot, and destroy all kinds of rivals while speeding down the road!
* Customize your ride with 15 levels of weapons, armor, side weapons and turrets as well as five types of specialty cars: Sports Car, Magnet Car, Missile Car, Laser Car and Blast Car.
* Dodge away from random rockets, missiles, and roadblocks while jumping over to grab power ups like, boosts, wrenchs, score multipliers, and magnets to gain additional advantages over enemies and bosses.
* Earn coins along the race to wisely finance your upgrades on weapons and armor.
* Earn gems by completing missions and achievements to extend your life, beat your old records and rule the leaderboard!

The super smooth and simple controls make your playing intuitive and enjoyable whether you're on a phone or a tablet. Most importantly, it is FREE TO DOWNLOAD and FREE TO PLAY!

Join millions of players worldwide today as you race past enemy cars, tankers, and choppers while dodging incoming missiles and gun fire![EL4]

~~~~~~~~~~~~~~~~~~~~~~~~~~~~~
Game features in a nutshell:
✔ AMAZING RACING EXPERIENCE.
- Speed your way through enemy traffic while shooting down your enemies in 3 different environments
- Fight head-to-head with dangerous Tank Bosses as well as shooting cars from rival groups
- Dodge missiles, gun fire, and traffic barricades
- Race through over 100 missions and achievements
- Pick your favorite colors with 6 different paint choices

✔ COOLEST SHOOTING WITH VARIOUS WEAPON, ARMOR, AND CAR TYPES
- Upgrade your main weapon and armor up to 15 times to blast through enemy cars
- Fire side-mounted weapons for wide range shooting
- Add automatic gun turrets to lock onto enemy cars during combat
- 5 combat vehicles to customize for maximum destruction: Sports Car, Magnet Car, Missile Car, Laser Car and Blast Car

✔ TONS OF BONUSES AND POWERUPS TO EARN
- Get daily coin and jewel rewards to upgrade your car even quicker
- Grab an edge with 5 different power ups: nitrous boosters, double weapon
mounts, repair kits, powerful loot magnets and score multipliers

✔ PLAY WITH FRIENDS AND RULE THE LEADERBOARDS
- Connect to Tango and race with your friends all over the world to compete for higher scores on the weekly leaderboard
- Brag, send lives and invitations to challenge your friends and get coin rewards.
- Test your luck and win surprising rewards by playing Mystery box

Road Riot Combat Racing is one of the best fast paced racing games around that is sure to get your adrenaline pumping! Step on the gas and download Road Riot Combat Racing today!

~~~~~~~~~~~~~~~~~~~~~~~~~~~~~
-For more info about Road Riot Combat Racing - Tango, check us out here: http://www.tango.me/games

-For any questions or feedback, reach us here: gamessupport@tango.me.
Developer
Tango
Category
Racing
Last Update
August 11, 2016
Update notes
- Build two new drones: the Shield Drone and Barricade Drone!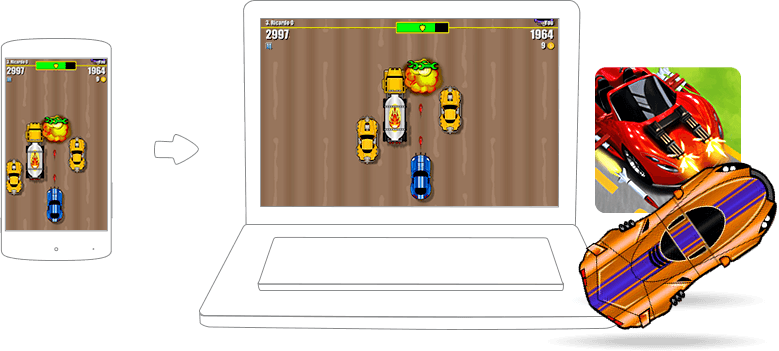 Let the Games Begin with Blood and Glory on Your PC
The days of epic gladiator battles have returned in this action packed game. Take your place among some of the greatest fighters in history as you slash and swipe your way through intense battles. Hear the cheer of the crowd as they scream for more. As you battle your way through the ranks of gladiators, unlock a variety of weapons to unleash Hell on your opponents.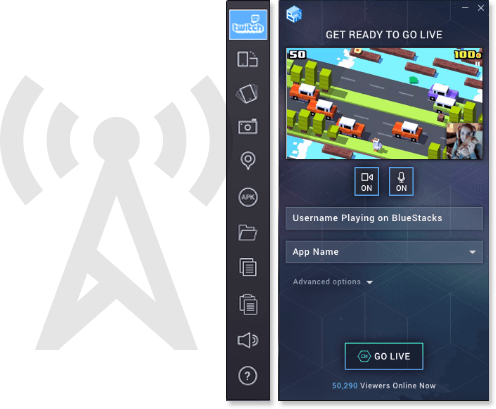 Turn Road Rage Into Twitch Gold
Just about everyone enjoys watching some high-speed action. Give the world what they want when you share Road Riot gameplay with the Twitch network. The growing Twitch community is a group of hardcore gamers that love watching and sharing their live video game footage. Users come out each day to watch more than one million live streams and to follow the players they enjoy the most. With the free BlueStacks emulator, mobile gaming fans can now enjoy super-easy access to Twitch broadcasting and start building their very own group of followers and friends.