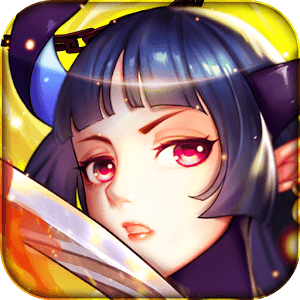 Clash of Cuties
**Anime battle arena with cute girls as heroes, custom story line with outcomes you determine and PvP multiplayer card collecting battles – Cutie Riot is the best anime game of 2016!!**
It has been 17 years since the wicked Orenda's Monster Army attacked the capital city and dethroned the Queen. As Master, it is your mission to gather the brave and beautiful heroes of the Queen's bloodline to defeat Orenda and take back the city! Summon the Cuties' warrior souls from the Chronos Entrance and realize the Queen's dying wish!
Cutie Riot's thrilling story mode, PvP arena games and TCG style card battles are sure to amaze you, with alluring anime art and an epic choose-your-own-adventure storyline. Collect, combine and summon cute anime girls to battle in an exciting TCG meets RPG adventure like none other!
❤ Cutie Riot Features ❤
Summon Cute Girls to Battle!
❤ Brave knights, ninjas, witches and more – Summon over 150 beautiful and powerful Heroes to battle on the frontier
❤ War is here! As Cutie Master, use battle tactics and special moves unique to each Hero and defeat your enemies
❤ Summoners battle with quick tap controls, amazing magic abilities and vicious monsters
Choose Your Story
❤ Story line and Cutie gameplay are completely dependent on your choices
❤ Story mode features tons of different outcomes and options. Choose your path and change your destiny
Dating Simulator Gameplay
❤ Anime romance is in the air! Increase your intimacy levels with Heroes and discover their unique story and true power
❤ Dating sim gameplay feeds into character growth, powering your Heroes up for battle
❤ Strengthen your bond with each Cutie by talking, steam baths, dinner and more!
Execute Strategy and Tactics
❤ Creative battle strategy! RPG tactics and thousands of battle skills give you unlimited options
❤ Strategy and timing will be the difference between victory and humiliating defeat. Time your taps just right and unleash your Cuties true potential!
PvP Multiplayer Combat
❤ Battle online with other players and prove your Cuties are strongest
❤ Multiplayer battle arena – see how your friends trained their Cuties and fight back
❤ Online events for unique Cuties & rare items are added frequently!
TCG RPG With Addictive Collecting Mechanics
❤ RPG card games with unique abilities for each Cutie
❤ Card collector? You'll fall for our amazing Cutie cards. Collect them all to crush your enemies
Manga Fans Will Love the Amazing Anime Art
❤ Manga and anime fans – experience lovingly-crafted character designs rendered in gorgeous anime art
❤ Cute girls and original anime style! Otaku and manga fans will feel right at home
Cutie Riot takes free role playing games to an amazing new level! Battle, collect and date brave knights, powerful ninjas, devout nuns, whimsical witches and more in anime card games. Choose your story and build relationships with over 150 unique Cuties!

Battle me, Senpai! Download Cutie Riot and join in the strategy card game anime RPG action today!
NOTICE: Items are available for purchase in the game.
------------------------------------------
Find us on Facebook: https://www.facebook.com/cutieriot/
Developer
RAFO TECHNOLOGY (HK) LIMITED
Category
Role Playing
Last Update
December 14, 2016
Update notes
1.Add new fuction [Mount feed].After update,you can get new mount [Taurus] by feeding the FlameWolf.
2.Unlock [Awake Rank 6], it will require breakthrough level, cutie level and Tribute.
3.Add new legion task type [Offer Task].
4.Add new cross sever competition [Cross-sever Union War].
5.Add new Christmas cutie [Saber].
6.Fixed some Achievememt.
7.Fixed some text errors.

Come With Us to a Time of Power and Warriors
In a time when the only thing that mattered was power, you must do everything you can to grow your kingdom and exert your dominance over others. Join millions of players from around the globe in a battle for supremacy when you play Empire: Four Kingdoms on PC or Mac. Begin by building a fortress and laying the seeds for your future empire. As you conquer enemies and vanquish your foes, your kingdom will grow into a prosperous empire. To protect your power and your people, build up your defenses while ensuring your army is strong enough to continue showing your might to the four kingdoms. The spoils of war are great and with the riches comes even more power. Join forces to conquer more lands, or go it alone and risk everything in the name of honor. Click the lin above to begin your medieval adventure today.